With my bedroom freshly painted (yay!) I recently began the search for new linens.  Our current duvet cover has most definitely lived a long and happy life with us – it's old, has been washed about a gazillion times, features several tears from renegade cat claws, and, overall, has lost its sparkle.
And we all know how much I love a sparkly duvet cover.  :)
Un-sparkly-ness (and cat-induced tears) aside, I've always loved our current duvet cover, Ikea's Alvine Kvist.  So much so that I seriously considered replacing the current duvet with another Alvine Kvist.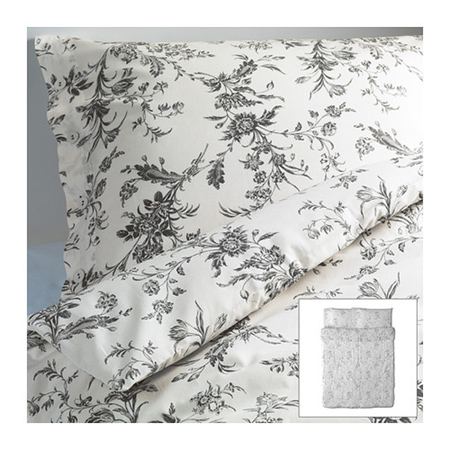 I also considered several coral-coloured covers.  As you might remember from THIS post, I'm newly obsessed with the colour coral (so pretty!!!)  But, sadly, inexpensive coral duvet covers don't seem to exist.  I've found some absolutely lovely options, but all of them are Pottery Barn-priced (and way beyond my tiny little Ikea-sized budget.)
And then, one early morning, having admitted duvet defeat, I was happily browsing the Ikea website (as I often randomly do) and I stumbled upon Alvine Kvist's close cousin, Alvine Ljuv.
And I fell in Ljuv.
Ljuv is colourful, without being screamy.  Pretty, without being too girly.  Cheery without being obnoxious (since no one likes an obnoxious duvet!)  And there may even be a touch of coral hidden in those sweet and swirly flowers too.  :)  Yep.  Lovely Ljuv is absolutely perfect.  And I'm excited to welcome her into my home.
So, obviously, a trip to Ikea is now imminent.  And, of course, this makes me a very happy girl!
Irwin, on the other hand, is indifferent to all of my decorating plans.  Cats are rather silly like that.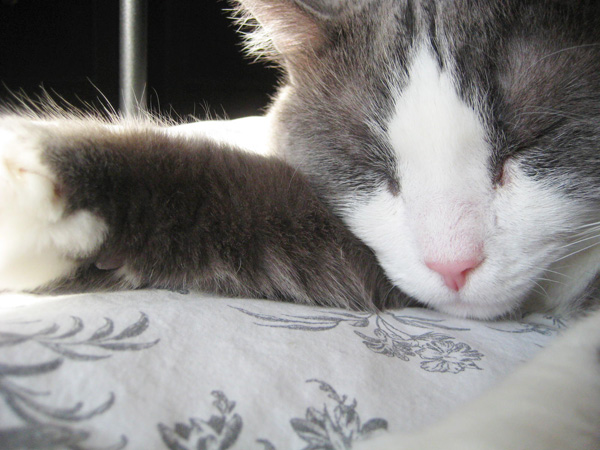 But I think he'll really like Alvine Ljuv.  (After naptime, of course.)
Want something equally awesome? Check these out!: