So I've started taking knitting classes.  And, truth be told, I've become a little obsessed with it.  I've got a knitting Pinterest board on the go.  I'm all signed up for Ravelry.  And my current project travels with me everywhere.  I brought my knitting to my hair appointment last week.  I knitted while sitting at the doctor's office.  I was even able to squeeze in a couple of rows while waiting for my coffee the other day.  Yup.  I've become that girl.  And that's ok with me!  I've always thought (of those serial knitters), "oh, how lovely it must be to be able to occupy oneself in such a quaint fashion without resorting to browsing the internet via cell phone or reading grimey doctor's office waiting room magazines."  And now I know.  It is indeed lovely.
At my second knitting class ever last week, having skillfully (translation: with some minor cursing and only one or two tears) mastered casting on and basic garter stitching the week before, we learned to purl.  And thus began my very first project.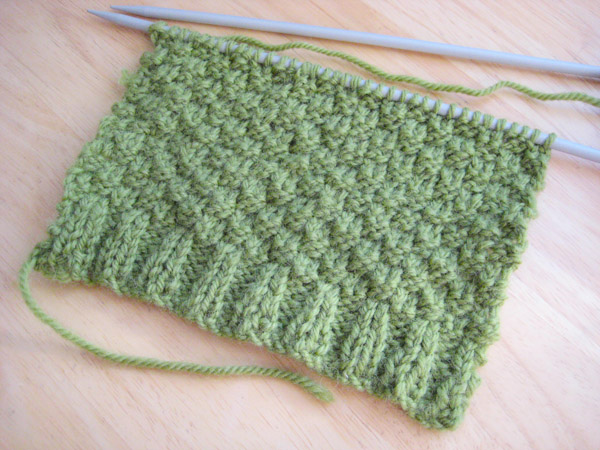 Yep.  A scarf!  Cliche, eh?  I know.  But it's pretty, no?  It's a bit of a variation on this pattern HERE, and I'm rather ridiculously proud of my work so far.  I'm absolutely infatuated with the colour green right now (dear mysterious and wonderful Pantone people – I am truly your slave), and the pattern is simple (knit two, purl two, sip tea, repeat) but interesting and rather impressive looking too (if you ask me!)  Progress is much slower than I'd expected (this is a few hours' effort – how the hell does anyone have the patience to knit an entire blanket?) but I'm absolutely loving it.
So, dear friends and family, please be forewarned that you're all likely getting scarves next year for Christmas.  Surprise!  And if you have specific colour preferences, please let me know now.  Because unless I learn to seriously speed up production (or quit my job and devote my life to scarf-making), I've got a lot of work to do in the next 323 days.  :)
Want something equally awesome? Check these out!: