While we still haven't picked up the lovely linens that I'm longing for (our big Ikea trip is still pending!), we're gradually nearing the finish line of bedroom makeover-ness.
Our latest triumph?  The ugly unbalanced unpretty ceiling fan is gone.  Woo!  Here's the before…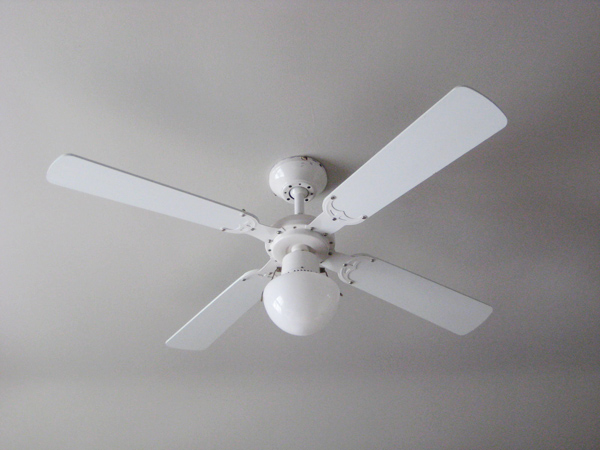 …and here's our much improved bedroom lighting situation now…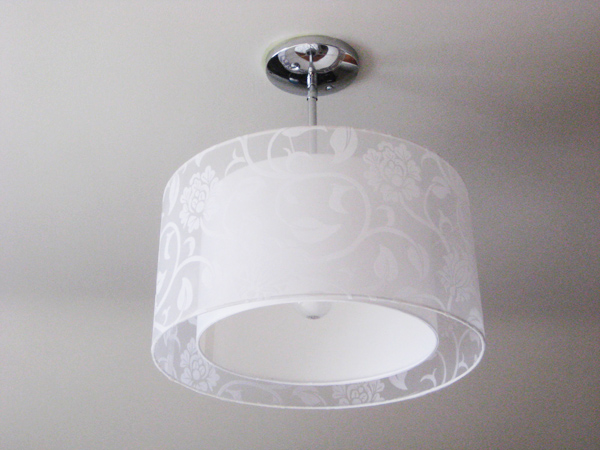 So much better!
Truth be told, I've had this new light forever – it's actually a pendant light (the Hampton Bay 1 Light Barrel Pendant Chrome Finish Fabric Shade light, to be exact) (or, in short, THIS one) that I purchased from Home Depot a while back to replace the monstrosity that originally lived in our dining room.  But it seemed a little dwarfed above our fairly large dining room table, so it's been stashed away in the spare bedroom ever since, just waiting for an opportunity to bear illumination.
The Home Depot website shows the light as intended – all pendant-y and such…
Sweetie cleverly removed the extra length-making rods (technical term) and poof – it's now a semi-flush mount.  And it's pretty!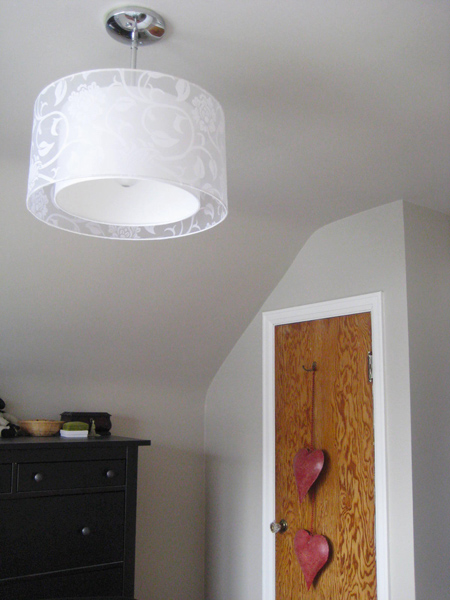 So there!  A brief little bedroom progress update for you.  I can see the finish line for this project approaching rather quickly.  Pretty new Revere Pewter paint?  Check!  Fresh-looking Snowfall White trim?  Check!  New (-ish) lighting?  Check!  New curtains and bedding?  New curtains and bedding?  Bueller?  Bueller?  Bueller?
Stay tuned…  :)
Want something equally awesome? Check these out!: