So we've switched gears a little.  I had alllll these fantastic plans for ways I was going to update the house that I discussed here and here and here.  There were big furniture slipcover replacement plans in the works.  There was a kitchen revitalization strategy being tossed about.  I had lofty goals for our cute little 1940s home.
And then, late last week, I got laid off.  And poof!  Our plans have suddenly changed.  We're now no longer concerned with making the house pretty.  Instead we're focused on making the house sell-able.  And doing so as inexpensively as possible.
Because, truth be told, we moved to this house and relocated from our original area (about an hour away) specifically for this particular job that I was taking (this same job that I'm now losing.)  And despite that we've been here for over two years now, our current city doesn't necessarily feel like our home (even though I absolutely adore our cute little house in our pretty mature-tree-filled neighbourhood), and we haven't yet made a swarm of new friends in our new city, or truly put down roots here.
So, depending on where I find employment next (and I'm applying for jobs like a little job-finding-fiend over here right now – unemployment, and the accompanying lack of income, is an absolutely terrifying prospect) a move may very well be on our horizon.
So, we've given up on decorating.
Instead, we've started staging.
And, in the name of Staging: Phase One, I finally made that Ikea trip I've been talking about for several weeks now.  However, contrary to my original plan, this was a trip with a cheap and cheerful mission.  My main focus – finish dressing the bedroom.
As you likely know (since I obsess quite openly) I've lusted over bedroom textiles and curtain choices for a few weeks now.  I really really wanted the Alvine Ljuv duvet cover from Ikea.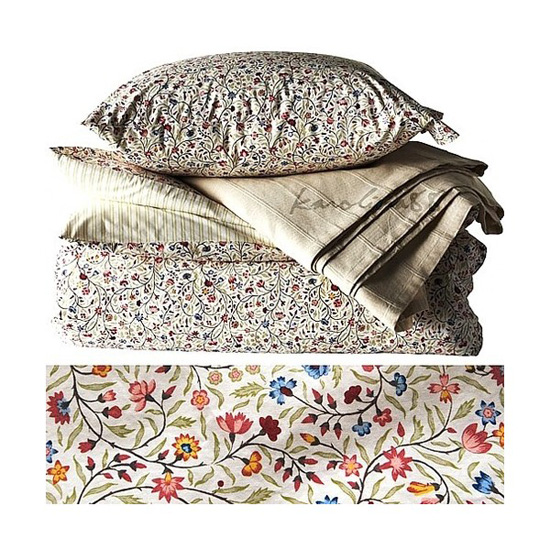 Sigh.  She's pretty.  And I love her.  But, at $54, she's quite pricey as far as Ikea duvet covers go.  So, being all (rather annoyingly) sensible (given my new unemployed state) I purchased the more reasonably priced Alvine Orter set instead.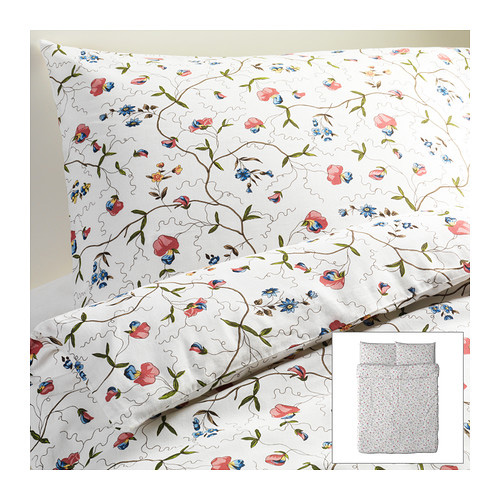 Almost the same, pattern-wise.  A definite difference from a quality perspective (Alvine Orter has a noticeably cheaper feel.)  But at $19 (versus $54) Orter seemed like a much wiser investment for the time being.  And for resale?  Either will do.
The same is true for curtains.  I had big curtain-swapping and new-curtain-buying plans.  Instead, I purchased the simple (and inexpensive) Matilda curtains from Ikea.  They're a little girlier than Sweetie would like, but I'm not thinking about Sweetie's tastes.  (Not that he really has much say in our window-dressing choices anyway.)  I'm thinking of future home seekers who are going to tour our little bedroom and decide that it's lovely (and subsequently buy our house.)  (For full asking price, of course!)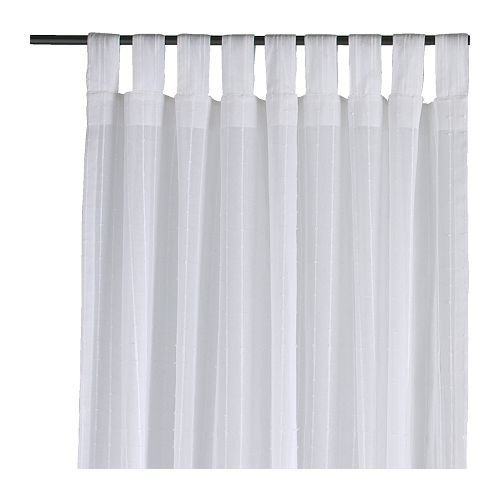 During my Ikea tour, I bravely walked past new throws.  And I stoically sauntered by new cushions.  This Ikea trip was only for the must-haves (despite previous pre-unemployed plans to the contrary.)  And I was rather proud of myself when I strolled up to the checkout line, with only a couple very well-thought-out items in hand.
So there.  That's what I've been up to all week – finishing up our bedroom on a budget.  It's not entirely what I had planned, but it'll have to suffice.
And, regardless of its cost, Jacob is quite happy with the new duvet cover – he's a big fan of florals.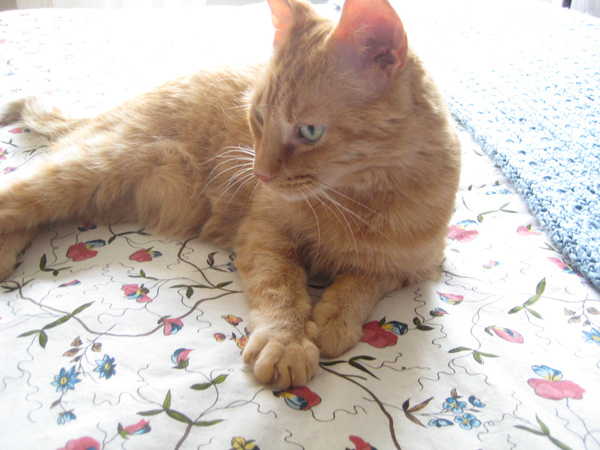 Next in store: staging the rest of the house.  The decluttering and cleaning and purging all begins this weekend.  Because if we do have to sell this spring (and, according to our agent, house-listing season begins as soon as the snow melts), I want to be ready.
And change is good, right?
Want something equally awesome? Check these out!:
One comment on "
Change is good (an exercise in the art of keeping calm and carrying on)

"