Remember the Sears Christmas Wishbook?  I LOVED that thing.  It was like Christmas before Christmas when it arrived in the mail, wrapped in heavy protective plastic (heaven forbid the pages should get soggy en route!)  My brother and I would slowly flip through the toy section, page by page, in wonderment.  We would reference that catalogue like it was a leading authority on toys.  "Did you see page 297?"  "Yes!  And page 304?"  "I hope Santa brings me that!"
Ah.  Simpler times.  :)
The Ikea catalogue is like my grown-up Christmas Wishbook.  I excitedly wait for it to appear in my mailbox each summer.  And by fall, my copy of the catalogue is rather raggedy-looking from relentless page flipping and admiring and earmarking.
The problem?  There is so much awesomeness contained in that pretty little catalogue, but very few rooms in our tiny post-war house.  Which, inevitably, leads to my dilemma – stuff I love, but have no use for or place for in my home.
Take these curtains (Lappljung), for example…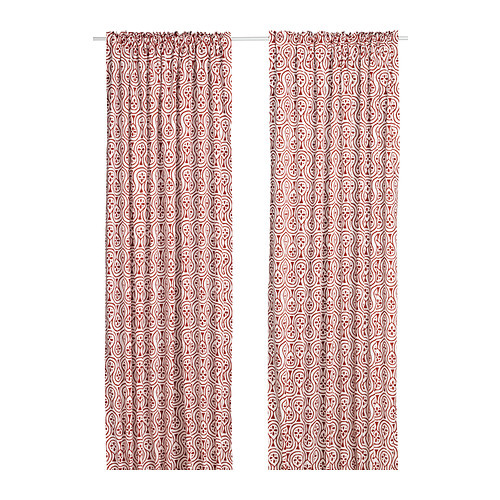 I absolutely adore these and have been lusting after them since first finding them in the catalogue last summer.  Alas, my windows here are all dressed now.  And my house is pretty much a red-free zone (not deliberately, mind you.  I'm just more of a neutral/grays/blues kinda girl.)
Dear Ikea folk: if you could please make these for me in a navy or a gray, perhaps, that'd be swell.  :)
Other Ikea stuff I adore (but have absolutely no need for?)
There are these beautiful Benzy curtains (I'm guessing I may have a bit of a curtain fetish btw)…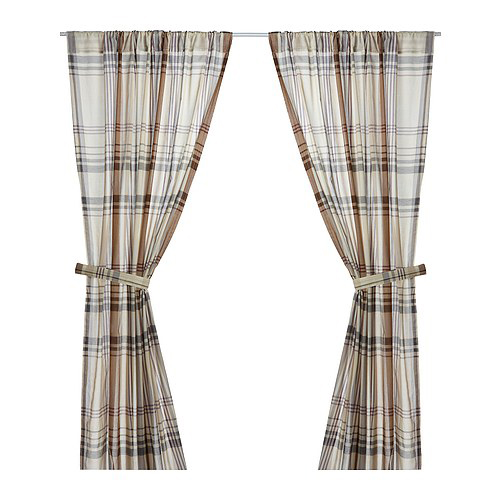 They're very den-ish and sorta make me want to curl up with a good book in a big brown leather club chair.  Sadly, we don't have a den.  Or a leather club chair.  And I'm not much of a reader.  But I do love these curtains!
Or, what about this Billy bookcase with its fanned-pages background…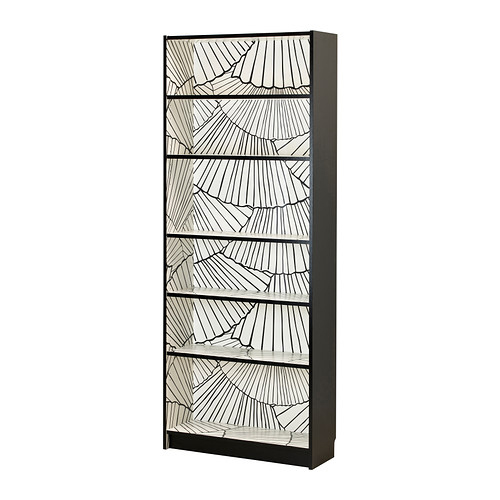 Do I have any real need for it?  No.  Do I really really want it?  YES!!!
I could go on and on and on…  There are lots of items I absolutely adore courtesy of my good Swedish friends.
Oh, Ikea people, why do you taunt me so?
Dear Santa: if you're listening, please bring me any or all of the above.  And a den.  And maybe a kitten too.  :)
Want something equally awesome? Check these out!: