With our closing date quickly (rapidly, in fact) approaching (t-minus seven-ish days!) (insert panic attack HERE…) we've been house hunting like the dickens (in between packing, more packing, and even more packing still.)  While we can absolutely stay with family for a while once this house closes and until we take possession of our next (not yet purchased) home, we obviously do not want to overstay our welcome.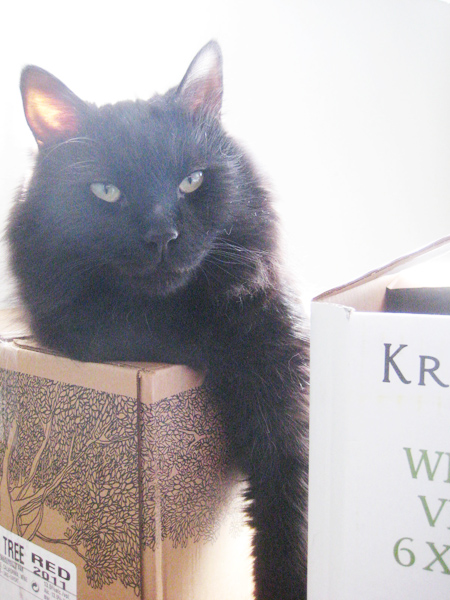 (Erik is a big fan of this moving thing.  Moving = boxes.  And boxes = one very happy cat.)
The problem?  We're having a tough time finding suitable (ie: not decrepit or showing major electrical flaws or just plain old infected with a big case of ugly) properties within our ideal price range and available in our preferred area.  The community we're looking at is a small village that's just outside of the city.  Home prices are smaller, lot sizes are bigger, and it just seems like a very friendly place to live and features most of the amenities we'd need on a daily basis (grocery store?  Check!  Small hardware store?  Yep!  Gas station?  Oui!  Bank?  You betcha!  Liquor store?  Hell yes!)
But, because it's a small town, not many properties are ever available at any particular time.  Currently there are about seven houses available within our price range in our beloved village, and we've visited six of them (and ruled five of them out.)  Two came equipped with copious amounts of knob and tube wiring (which we'd need to have removed before taking possession in order to qualify for a mortgage through our bank.)  One felt very unstable – the upper floors had most definitely shifted to various, rather unsettling angles (Sweetie instantly got vertigo) (and vertigo means NO.)  One had a great deal of water in the basement, and boasted the world's tiniest kitchen (with no room to expand.)  Another had several haphazardly constructed additions, and a rather scary damp crawlspace.  And the house that we have not visited is listed as an "as-is" sorta deal, and claims to be "160 years young" (and, unfortunately, as-is plus archaic doesn't strike me as a particularly good combination.)
There is, however, one house that is in the running.  It's on a beautiful tree-lined street (my favourite kind of street!) and has so much potential!  We've visited it twice now, and haven't yet entirely ruled it out.  However, nor have we agreed that it should definitely be our next home.
First, the layout doesn't thrill me.  For example, there is no defined entryway (you enter directly into the living room) and while I acknowledge that we could definitely create some sort of entryway area with a cleverly placed wardrobe or strategically aligned bookshelf (I've already done some anticipatory "how to create an entryway" searches a la Pinterest, of course) (you know…  just in case…), I like having a formal entry space where shoes can be hidden, coats are out of sight, and all the messiness that tends to form around the main entrance door can quickly be stashed away from view.
Secondly, there's the kitchen counter conundrum.  While I actually like the layout of the kitchen, the counters must go.  They must, in fact, go far far away.  The counters have been (rather haphazardly) tiled with some sort of beige tile, and while I'm not normally a countertop snob (I lived with THIS counter for over two years, afterall), I'm not a super huge fan of tiled counters.  There's the porous grout.  There's the nooks and crannies.  There's just something about it that seems a bit unclean to me.
Then, there's the basement.  I have this same problem each time we've searched for new homes: I don't like scary and unusable basements.  Crawlspaces are even worse.  That said, this basement isn't overly scary.  There's no dirt on the floor, and it's brightly lit.  However the ceiling height is at about five feet, which means that while (exceedingly tall) Sweetie has to pretty much maneuver around the basement on his knees, even I have to duck.  Claustrophobia is a very real type of fear.  Thus, by default, the low ceiling height makes the basement quasi-scary.
But most alarming is the back yard.  Oh, that back yard…  I'm guessing the current owners' goal was to make the backyard into a meadow-like oasis.  Or they're exceedingly bad gardeners.  Or a little of both.  There are various wildflowers scattered haphazardly about, but far more prominent are the weeds and overgrown bushes and… well… just stuff everywhere.  It's more a thick dense jungle than a meadow-like oasis.  The yard does have potential however – it's a rather deep lot (over two hundred feet deep) and it has many mature trees (a must for me!) and tonnes of privacy (a must for Sweetie!) but I'm just not sure if I'm up for tackling that ginormous and overgrown space.  I was an indoor child, afterall.  A spectacular gardener I am not.
Sigh…  Decisions decisions.  Like my friend Jess said one night while I was lamenting all this to her (during one of our rather epic marathon phone chats): you can change a house, but you can't change your neighbourhood.  And I'm definitely keeping that in mind.  Having once lived on a very busy street that I despised from the moment we moved in till the day we moved out, I fully understand that location is possibly the most important consideration when choosing a home.
Yep.  Awesome location may indeed trump all the negatives about this house.  Even the Amazon out back.
I'll keep you posted.  :)
Want something equally awesome? Check these out!:
3 comments on "
House hunting woes (location, location, location! – vs – perfect house, perfect house, perfect house…)

"