So we had our home inspection the other day.  The results?  Meh.  The house needs a lot of work.
Not that any of this was new news to us, of course.  Squishy kitchen floors and a little structural wonky-ness?  These were flaws we were prepared for.
But still, there were a few surprises.
The workshop that Sweetie was so excited about is about to fall over.  Soon.  Some careless past home owner cut out all of the rafters, likely attempting to create a more functional ceiling height in the space.  But, by doing so, the walls and ceiling have been rendered completely unsupported.  Yep, that's right: nothing (beyond a few nails and good fortune) is supporting the walls or keeping the roof from collapsing.  And, as you can likely imagine, this is bit of a concern and immediately needs to be fixed according to Mr Inspectorman.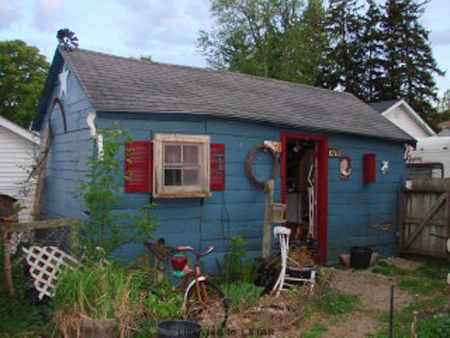 And there are windows that need to be replaced.  And jack posts that need to be added to maintain structure.  There are spots of siding missing here and there.  And the back sunroom is currently being supported by a deck that was never meant to carry the weight of an enclosed room – it most definitely needs to be re-enforced.  The central air unit is completely non-functioning.  The second story bathroom has enough lean to give you vertigo.  And the extremely overgrown and weed-infested backyard needs to be plowed under and re-seeded and completely restarted from scratch.
Oh.  And did I mention that the house is mauve?  Yep.  While watching the inspector poke at prod at our future home, I suddenly realized that the siding is indeed mauve.  What colour door looks good with mauve-coloured siding?  I'm not sure…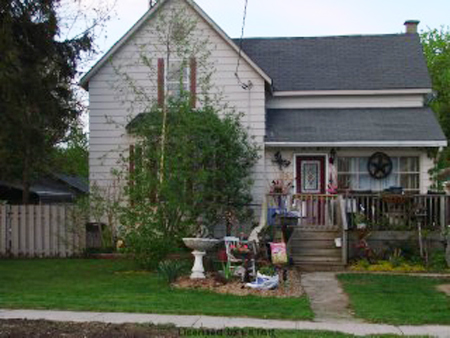 So are we still taking the plunge?  Gather up your swim trunks because apparently we're going deep sea diving in Renoville.  Yep.  Despite all of this, the home inspector said that the house had good-ish bones that just need a little love.  And, you know, we have lots of house-loving love to give, it seems.
Only seven-ish weeks till it's all ours.  Yay!!!  Can't wait to get started on making this house the best little mauve-coloured home it can be.  :)
Want something equally awesome? Check these out!:
One comment on "
Feeling sorta saggy (the results are in: our future home is… meh)

"