Soooo…  (cue fanfare…)… we bought a house.  Yay!!!  Home inspection looming, assuming everything goes well we'll be moving in at the end of September.  And while sixty days wasn't our ideal closing period (we were desperately hoping for a lovely and quick-ish and nice and tidy little thirty day turn around), we're both super excited to start a new adventure in a new home in a new community.
Which house did we buy, you ask?  Remember when I chatted about this house, which, in real life, looks like this…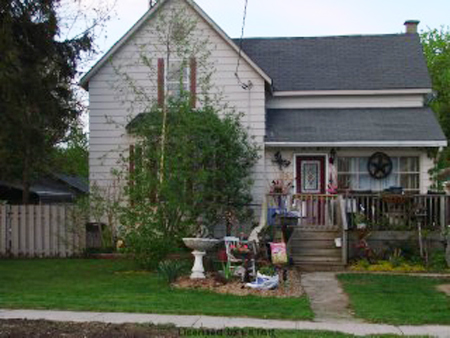 Yep.  We bought that house, squishy kitchen floor and tiled countertops and unruly bushes and far too many tchotchkes and all.  Why?  Location location location.  As much as I tried, I couldn't get that darn place out of my head.  I love the little tree-lined street, I love the big and private (and, sadly, rather overgrown at the moment) yard, and I absolutely adore the community.  The house is most definitely not perfect, but I couldn't stop thinking about how perfect that house would be for us.
And I don't believe that the perfect house has to be absolutely perfect.
A short while ago, a friend (having heard that we were house hunting) mentioned that a mutual friend had recently purchased a house.  In fact, not just any house.  A really nice house, he said.  With an en suite bathroom off the master bedroom and nice finishes in every room and as move-in ready and as perfect and pretty as any house can be.
Truth?  At first I was indeed a little envious.  Sigh, how nice it'd be to buy the sort of house where we could simply move in, shuffle the furniture around a little, put our feet up to test the ever-important ottoman positioning and declare that – poof! – we're all settled in.  Easy peasy!  No painting, no major cleaning, no planning, no obsessing.  Just instant comfy-cozy comfort awesomeness from closing day on in.  Just… like… that.
But then, when my wits suddenly snapped back into action, I realized that as nice (ok, way better than nice perhaps… let's go with FANTASTIC) as it would be to find and purchase our dream home, we're just not in that position right now.  Sure, if we had the available funds and didn't have any other high-priority items currently dominating our monthly budget, and if we both had secure jobs without worry of layoff or strike or other similarly unfortunate potential work-related circumstances, then yes – maybe a sparkly and finished house would be the answer for us.  And sure, if we weren't fairly certain that in five years or so we'll be in a much better financial position and able to maybe buy or even (gasp!) build the house of our dreams, a pre-finished no-renos-required sorta house might be blinking wildly on our radar and we might be excitedly planning our fancy-house buying strategy or signing documents on lovely white corian (swoon!) countertops in our newly purchased swanky and perfect kitchen.
But that's not where we are right now.  As much as it pains me to type this, our next house won't be our forever house.  And as much as I dislike this whole selling/buying/moving/angst-ing process, I've come to terms with the fact that this won't be my last dabble in the rather fickle (and cruel) world of real estate.  This house will be yet another stepping stone house, one that we can use to keep our costs down, freeing up money for other, far more important ventures for now, and hopefully enabling us to once again make a profit when we do (a few years down the line) decide that it's time to find "the one."
But, until then, I'm ok with another fixer upper.  It's just a house.  It's a roof over our heads, walls to keep us warm and safe, and a place that we can settle back into life in.  Whatever else it becomes is completely up to us.  And I guess that's the benefit of a fixer-upper: we are starting from scratch.  The house, despite having a great layout and good bones, needs some work before it'll be the home we want it to be.  And, by bringing it up to our standards, we'll increase the value as well.  Just like we did with our last house.  And just like with did with the house before that.
And, truth be told (since we're divulging everything here!) I am kind of looking forward to finally getting my hands dirty once again.  It's been a long two-month paint-free period.  I'm missing the fun of planning, and the delight of realizing that I've mysteriously and miraculously somehow managed to choose the perfect paint colour or I've rearranged the furniture in the best pattern possible or found the best deal on a much needed somethingmerother in Ikea's As-Is section.
Yep.  I may be entering reno withdrawl.
But soon I will triumphantly hold paintbrush in hand once again and proudly slap some fantastic new colour on our walls in a house that we'll make into a home that's perfect for Sweetie and me and the cats and anyone else who'd like to join us there.
Until then, I'll start planning the fixer-upping yet to come for our next little fixer upper.  Quite excited.  Quite giddy, in fact!  Our new house may not be perfect and sparkly or have an en suite loo or anything else fancy like that, but it'll be perfect for us once we're done with it.
You'll see.  :)
Want something equally awesome? Check these out!: