Get it? Come and knock on our door? Be it black, plum or blue?  We've been waiting for you?  No?  Hmmmm…  K – here… Watch this!
Random fact: I was absolutely fascinated by Three's Company when I was little, but didn't at all understand it.
Random fact #2: John Ritter rocked. As did Don Knotts. And I fully support Team Chrissy (a Cindy and/or Terri fan I am not.)
Random fact #3: this blog post isn't really about Three's Company (although Three's Company is truly deserving of its own blog post, if you ask me.) Nope. This blog post is about a door that I don't yet own.
Yup. That's right. I've been humming and hawing (and thinking and winking) (and obsessing and, um, obsessing) for the past month or so over what colour to paint our (not yet ours) front door at the new house.  We won't officially own this house until the end of September, which means I'll likely miss front-door-painting season (aka late spring/summer/early fall) entirely this year.  Which sort of makes me sad, but (happily!) also gives me lots of time to obsess over consider all of my options.
Just as a reminder, here is our (soon to be ours!) next happy little home (in all its mauve-hued glory)…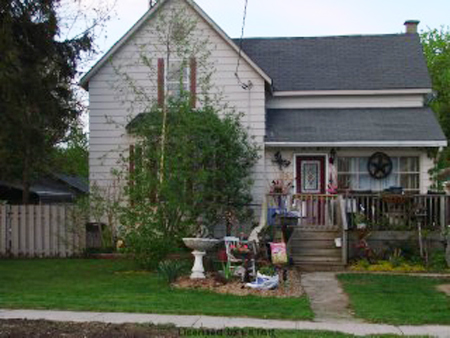 Yep.  That little pink-y-purple-ly house will officially belong to Sweetie and me in a mere 18 more days.  The porch desperately needs staining and painting.  The front yard needs some serious de-bushing (technical term.)  And I guarantee that there will be a whole lot less clutter in the yard (ie: NONE) once we take possession.  So excited!  Can't wait!
But, come next spring, I'll also be (rather enthusiastically) tackling the front door situation.  There's the obvious (and, admittedly, rather elegant-looking) option: black.  Check out this lovely-looking front door from Melissa at 320 Sycamore…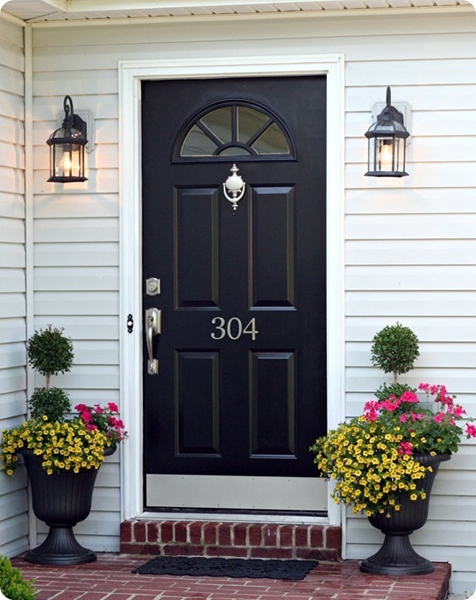 And just look at this one (with its matching black shutters!) from For the Love of a House…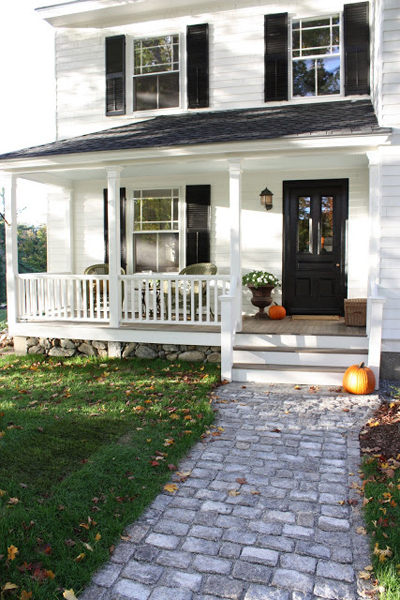 So simple and so pretty, eh?  Black is definitely a very solid option.
However (yep – this is where my indecisiveness kicks in with a big ol' kerbang) this picture (from Jen at IHeart Organizing) (hi Jen!) makes me wonder if a contrasting bright-ish colour would help detract from the unfortunate mundane mauve-ness of our siding…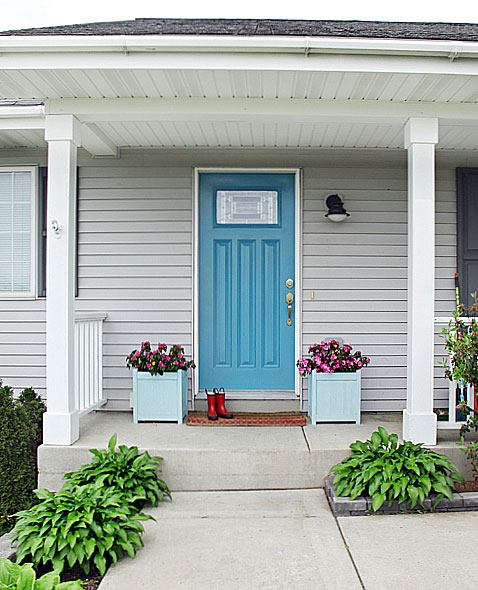 Perhaps our house looks exceedingly mauve because the door and shutters are currently painted a deep-pinky red.  Maybe a little happy tealy-blue (one of my most favourite colours, and the colour of our front door at our last little house) (oh how I miss our little 1940s home!) would help hide the mauve?
Or we could simply embrace (and – gasp! – perhaps accentuate) our mauve-ish-ness.  I found this image of a mauve house with lavender shutters and such on an online forum, and (shockingly!) I sorta like it.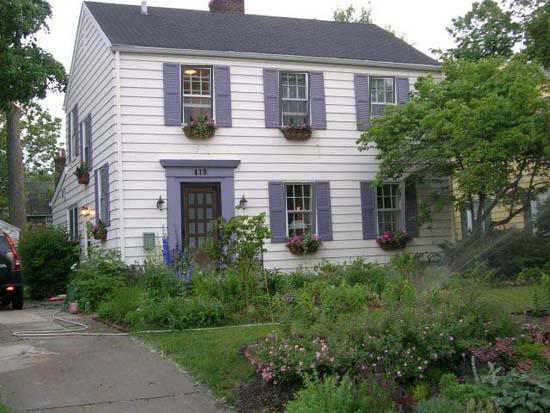 It's a bit country-cute.  Which I'm ok with.  Will Sweetie be ok with it?  I'm not sure.  (Sweetie's edit: No I am not.) But in the meantime lavender is indeed in the running as a possible door/shutter hue for my big outdoor-painting-extravaganza next spring.  If you can't beat (the purple colour family) 'em, join (the purple colour family) 'em, right?
Maybe.
But my most favourite colour scheme of the bunch (I think) is this one from Vivaciously Vintage…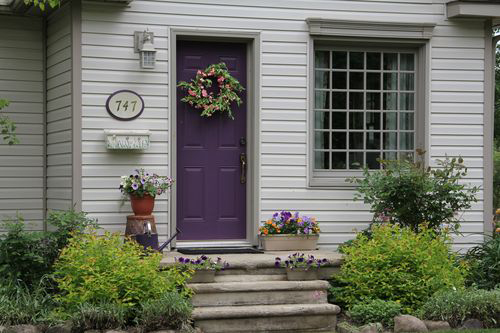 Love love love the taupe-y trim with the plummy door!  Could this all work on our little mauve-coloured house?  I'm not entirely sure.  But I'd really really like to try!
With only nine-ish more months until front-door painting weather returns in the spring, it's going to be a rather stressful front-door-decision-making winter, methinks.  So please excuse me while I resume my humming and hawing.  (And my thinking and my winking…)  (And all of that sort of decision enabling kinda stuff.)  There are some very important front door decisions to be made.  :)
Want something equally awesome? Check these out!:
2 comments on "
Come and knock on our door (be it black, plum, or blue…)

"