So I've officially decided that the awful too-low-to-be-noggin-safe and generally far-too-heavy-and-awkward-looking living room light has to go.  Soon.  Really really soon.  Just to give you a quick reminder, here's the beast I'm referring to…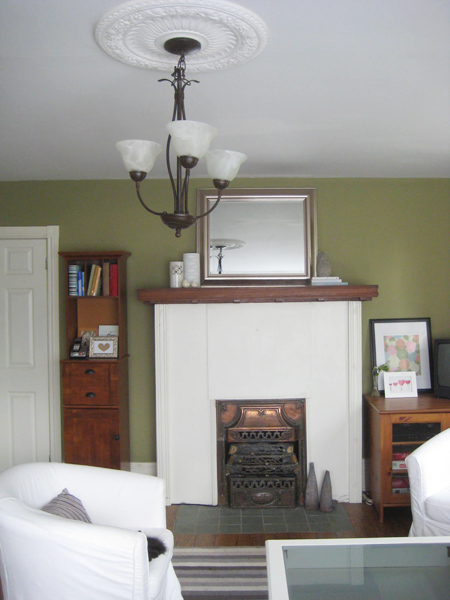 I know: it's not terrible.  And, truth be told, it'd likely look absolutely lovely in somebody else's home!  But it's just not me.  And Sweetie keeps whacking his head off of it (which probably means it's definitely just not him, either.)
I've been struggling for the past couple of weeks with what to put in its place.  Its replacement can't be a flush mount fixture – there's a really pretty ceiling medallion that surrounds the light, so something flush would look sorta silly.  But I also haven't yet found a semi-flush mount light that I love.
Which means I've been looking at pendant lights.
Sounds counter-intuitive, I know.  Sweetie keeps whacking his head off of our living room light, so I'm considering purchasing a pendant?  What?  But many pendants can be pretty easily shortened to create semi-flush mount fixtures.  Which is what I did in our bedroom at our little 1940s house.  And that's likely what I'll do here!
Here are the lights that I'm considering so far…
This one (from Uberhaus at Rona) is sorta flying saucer shaped, but in a rather lovely, rustic kind of way.  (Can a flying saucer be rustic?  I say yes!)  And it's the least expensive of the bunch (only $44!)  And I think it's pretty.  :)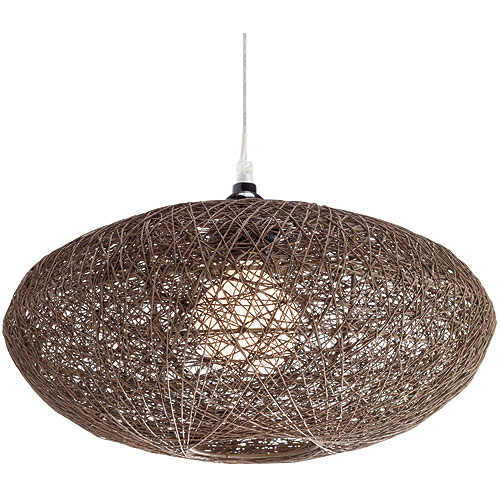 And then there's the similarly natural-looking (but way less alien vessel-shaped) Boja pendant from Ikea…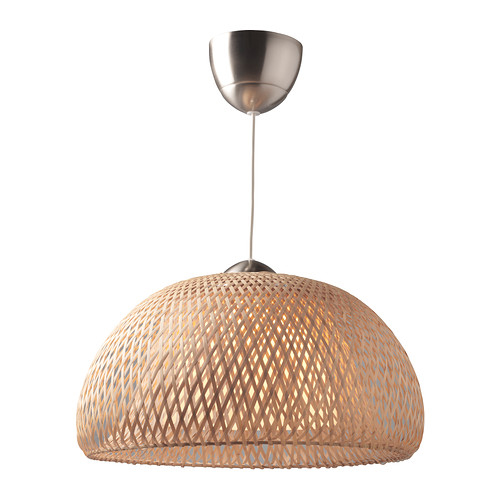 At $79, she's a bit more pricey than the Uberhaus option, but I rather like her mushroom-cap shape (despite that I hate mushrooms) (mushrooms are squishy) (although I rather doubt that this pendant is squishy.)
Winning the "Prettiest pendant in consideration" award (if I was having a pretty-pendant competition) is this one from Home Depot…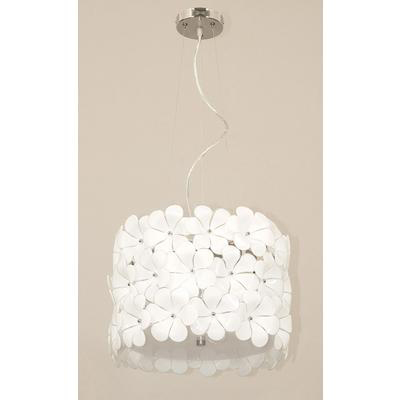 Oh swoon…  How pretty!  How sweet!  How… um, feminine…  Yeah, I don't know if Sweetie will go for it.  But I love this light nonetheless.  (Although it's on the high end of our budget at $149.98.)  (Plus tax.)  (Of course.)
The winner, however, might be this one (from Hampton Bay's Moravian Star Collection)…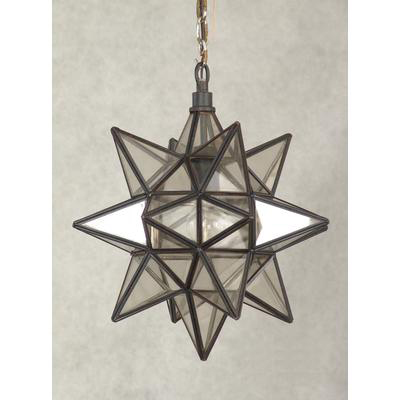 Yes, it's predictable – stars.  I love stars.  At least this means I'm consistent?  And I couldn't help but be inspired by Young House Love's entryway pendant…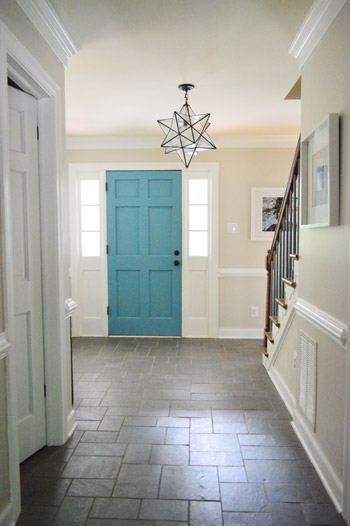 Lovely!  And I think a star pendant could look equally amazing in our little living room.
Yep, I'm pretty sure I'll be making the trek out to our nearest Home Depot store to take a closer look at (and maybe even – gasp! – purchase!) that super starry light this week.
Because Sweetie's head can't take too many more bruises.
And because I'm a bit of a sucker for a pretty little star light.  :)
Want something equally awesome? Check these out!: