I'm already planning my holiday decor.  Is it a little early for that?  I'm guessing no.  The first snowfall of the season appeared all sparkly and pretty on Tuesday morning, so it's most definitely beginning to look a lot like Christmas around here (thank you Mother Nature!)  And my front porch practically screams "adorn me please!"  I've never been one to disobey a porch, so adorn it I must.  :)
The porch at my little 1940s house was tricky.  Because the stairs leading up to the porch were to the side of the doorway, and a rail ran continuously across the front of the porch, it was hard to decorate around my front door (since anything I added to the porch ended up sadly obscured by the railing.)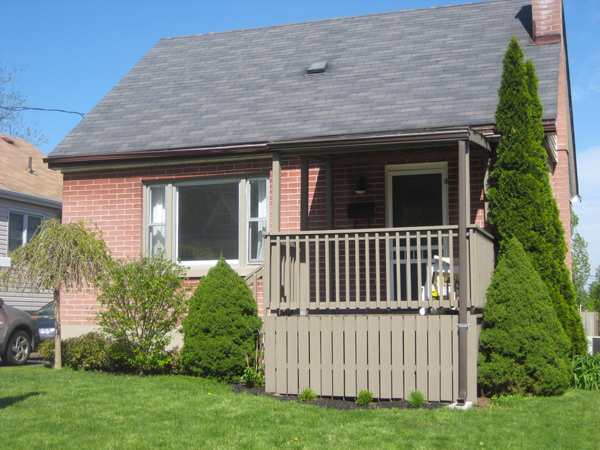 Here, with no door-obscuring rails and with stairs boldly leading straight to the front door, we have smooth front porch decorating sailing.  See?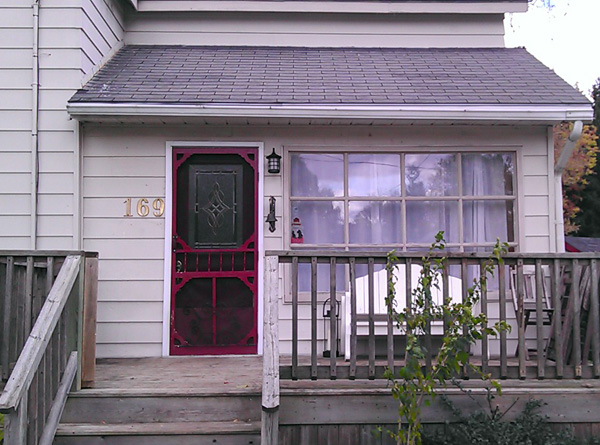 No obstructions.  Just a lovely view of my soon-to-be-adorned front door.  :)
Admittedly, this front porch decorating thing is a little intimidating to me.  Perhaps it's the public-ness of my porch (if it looks silly, our new neighbours will all assume that I don't know my boughs from my baubles and my ribbons from my wreaths.)  Or maybe it's because I've never truly decorated a front porch before for the holidays, so we're totally venturing into unchartered Christmas waters.  Regardless, desperately hoping for a perfectly pretty porch display, I chatted a bit with my Pinterest folk to gather a few decorating ideas.  Here are my faves…
I love this simple "wreath + sparkly little trees in urns" option from the lovely folk over at The McLife: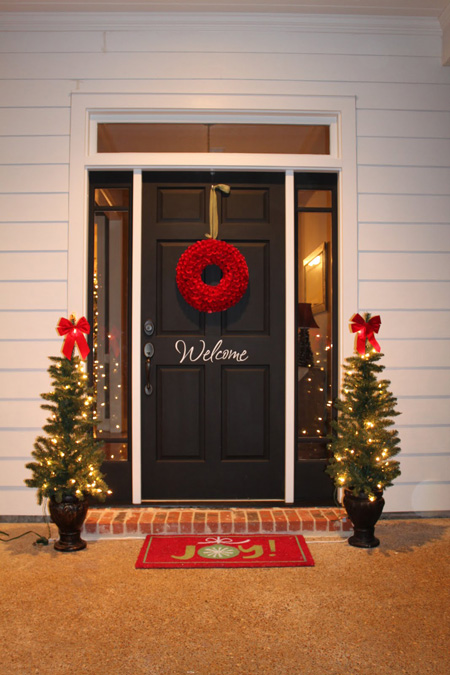 And, speaking of pretty urns, I'd love to try creating something like this this year (although I'm a tad evergreenishly-challenged):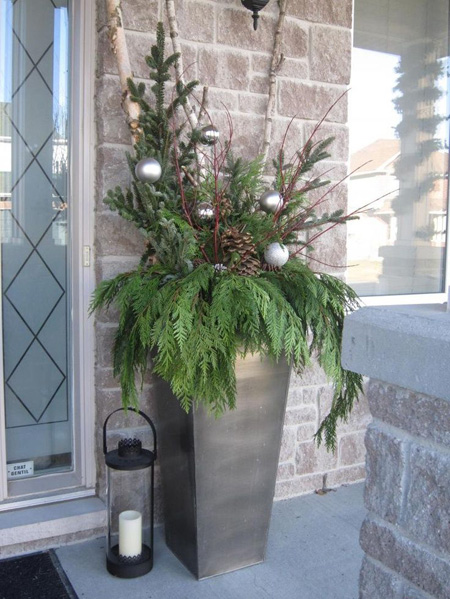 (Original source, sadly, is unknown, but the image appears on THIS website compiling a bunch of Christmas decorating ideas.)
And then there are stars!  I love stars!  (Actually, I'm a bit obsessed with stars, which you might remember from THIS post.)  How pretty is this…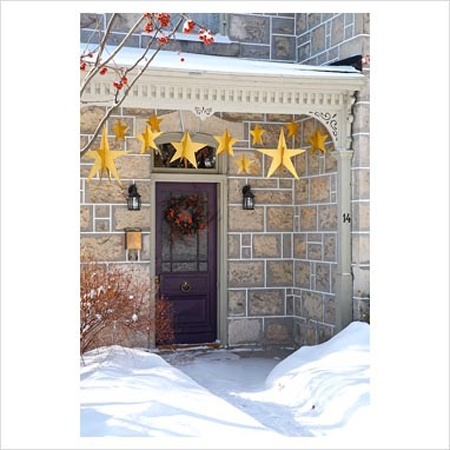 Sadly (again) there's no source for this image.  So dear gorgeous plummy door starry people: please let me know who you are!  I adore your front entrance!
And then lastly, there's this one (which is part of an Etsy-listing, in fact, for JustTheFrosting's shop):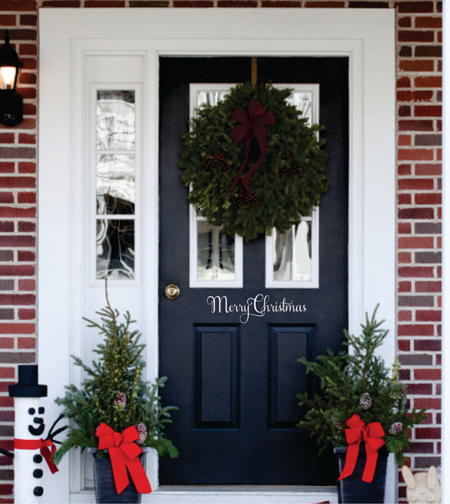 …the perfect, elegant, simple front entrance (with a super smiley little snowman to boot.)  This is my goal.  :)
So all I need now is some evergreeny-sort of stuff.  And a couple of black urns.  And some pretty red bows.  And a big ol' green wreath.  And maybe a quirky little snowman too.  Sounds easy enough!  I'll keep you posted.
But, in the meantime, Christmas?  Bring it on.  My soon-to-be-appropriately-adorned front porch will be eagerly waiting.  :)
Want something equally awesome? Check these out!:
2 comments on "
Getting all porchy for the holidays (it's beginning to look a lot like Christmas!)

"