The day we took possession of the old mauve house, we discovered that the previous owners had left us their kitchen island.  Sadly, I'm pretty sure that this wasn't an altruistic gesture: the island is super heavy, really large, and likely would have required disassembling before moving it out of the house.
The truth: the previous owners were lazy and likely just didn't want to be bothered with all of this.
So we inherited their island.  I probably should have been rather happy about this.  It was a free kitchen island afterall, and not a terrible looking one either.  In fact, it really looks quite nice with the current kitchen cabinets and colour scheme (all of which will hopefully, one day soon, be changing.)  However this island features a lot of open shelving.  And open shelving, in my seemingly stuff-infested world, always seems to equal messy-looking.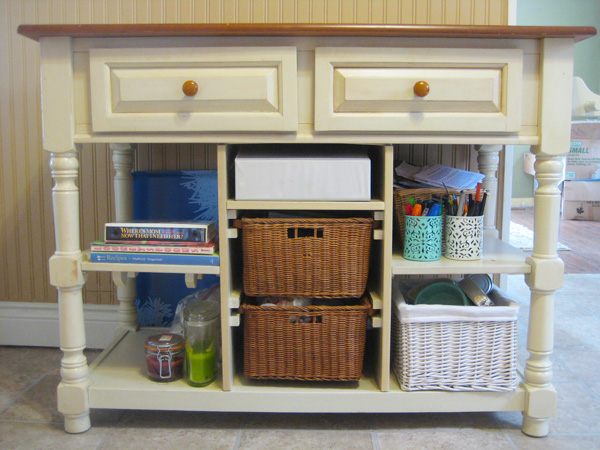 And messy-looking makes for a rather unhappy Melissa.
And thusly began my quest to find the perfect baskets for the island.  If HomeSense offered frequent visitor awards, I would have gained a bundle.  There were many many HomeSense visits in my search for ideal basketdom.  I bought (and returned) baskets that were too small.  I bought (and returned) baskets that were too large.  I pondered dark baskets, light baskets, wicker baskets and plastic baskets.
In the end, I ended up with these…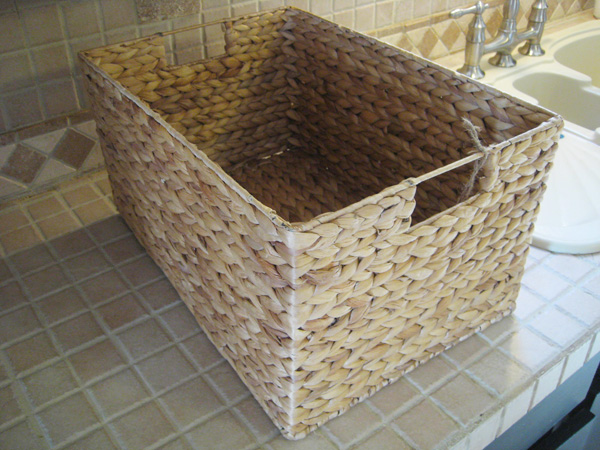 And I did a little baskety-loving kitchen happy dance!  The perfect fit, the perfect colour, and (at $9.99 each) the perfect price!  I had found the perfect baskets for our kitchen island!  I was a very happy girl.
The problem?  My local HomeSense store only had two in stock.
And so my HomeSense basket search continued.  For a while.  For a really long while.
Dear HomeSense peeps – I know your stores and inventory ridiculously well now.  Should you ever need, you know, an adviser or ambassador, call me.  We'll talk.  :)
I finally (finally!) ended up with a basket collection that looks like this: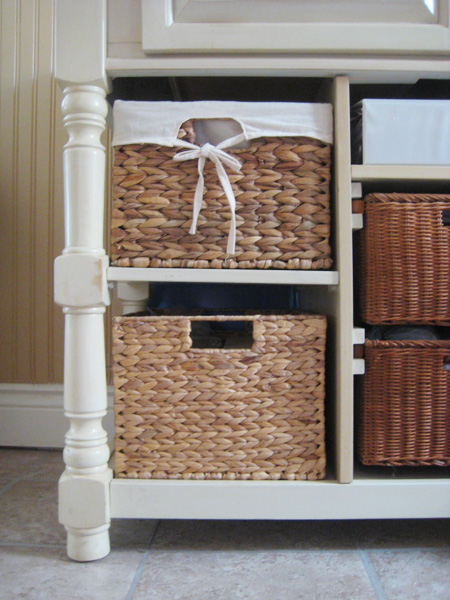 And I'm quite pleased.  The pretty little white cloth liners make the new baskets look a bit more fussy (if a basket can be fussy?) and they're basically the same size and material as my previously purchased perfect baskets.  Of course, the baskets don't all match (which, honestly, is a bit of a bummer) but after venturing out to three different HomeSense stores numerous times to find matching mates for the previously purchased perfect baskets, I gave up and decided to go with what seemed close enough.  The ladies in HomeSense were beginning to whisper whenever I'd emerge, yet again, from the basket aisle.  And it was all starting to get a little silly.
Here's the island in all its newly basket-ed glory…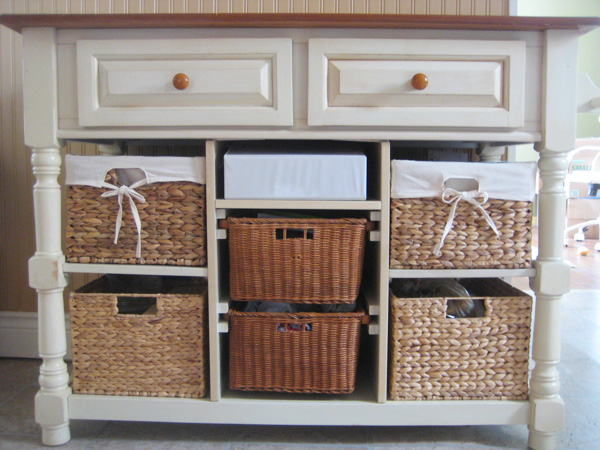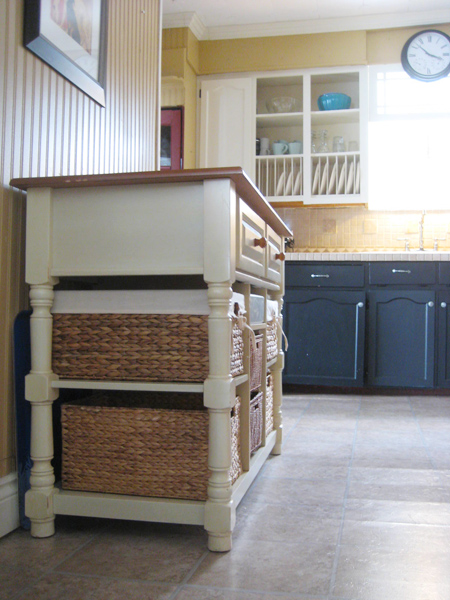 It's not bad eh?  And the clutter is well-hidden.  It'll do for now.  Eventually I'd love to replace the island with a more functional piece that we can converge around with barstools (yep, I desperately miss our awesome kitchen island with its super cute Ikea barstools from our little 1940s house.)  And an island with better and more useful storage would definitely be preferred.
But, for now, we'll use this one, with its newly acquired pretty little (not-quite-matching) baskets.  It was free afterall.  Oh, those crazy generous previous owners.  (Rolling eyes implied.)
Want something equally awesome? Check these out!:
2 comments on "
The inherited island conundrum (and the lesson that not all baskets are created equal)

"