You know that plastic weatherproofing film that you can get for your windows in winter?  You know, the giant cling-wrap-like stuff that you stick in sheets across your windows, securing it to your window frames with "special non-marring" double sided tape?  The type that's supposed to keep your house warmer in the winter by adding another layer of insulating air between the outside world and the inner climate of your humble abode?
Yeah.  I've always hated that stuff.
My hatred harkens back to our first little house, a cute white-sided one-and-a-half storey starter house that had original 1950s windows (and a whole lot of draftiness) (and a ridiculous amount of wallpaper, as well as a salmon and green coloured kitchen, but that's a whole other story.)  As new home owners for the very first time, we enthusiastically plastic-ed the dickens out of those nasty drafty windows the first winter we lived in that house.  And the house was indeed warmer and far cozier than it would have been otherwise.  We were proud in our house-warming triumph, and praised ourselves for being awesome first-time home owners.
Yep.  We'd quite obviously nailed the whole winterizing thing.
But then spring hit.  And we started pulling the plastic film and tape off of the windows so that we could once again open our windows and enjoy the fresh air.  And we sadly realized that the tape we'd carefully placed around each of our windows on my freshly painted window trim, while fantastic in sealing out the much-dreaded window drafts, was taking off a strip of paint in its wake.  And I was sad.  I was so sad.  I sanded and repainted the trim around every single window in our house that spring.  And I swore to never again employ the plastic-film method for weatherproofing a house.
But then we met the old mauve house.
Fast forward ten years (if this was a TV show, some bizarre fast-moving montage of random images from the last decade would have just flashed across your screen) and we are once again in a house with very drafty windows.  Some of our windows are really old (at least one is original to the house, dating it at about 100 years old – the glass is all wave-y and distorted and, in truth, I think it's pretty neat), some are new-er but installed very very poorly (like most things around our beloved old house), and all of them are drafty.  So drafty.  And, as we stand in the midst of one of the coldest winters I can remember in recent history, I'm caving.
Bring on the plastic film.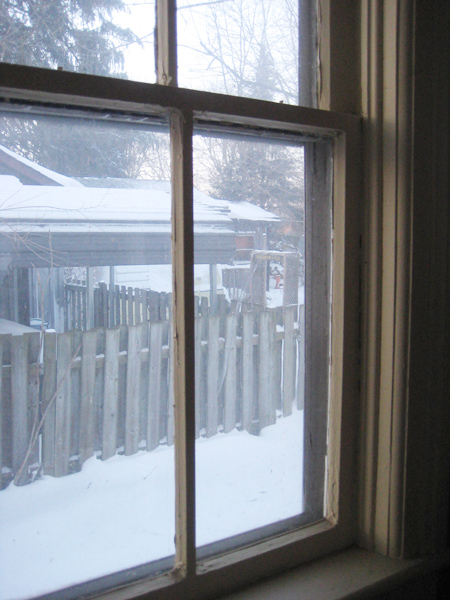 Yep.  I'm throwing my hands up in defeat and admitting that until this house either has new windows or far better insulation (or, ideally, both) we are going to be a window-filming family.  With the recent insanely cold nights and not-much-warmer days, our house has been uncomfortably cold despite that the furnace has been running non-stop, and I'm dreading (oh, so dreading!) our next gas bill.  It's not at all pretty.
This week's project: weatherproofing the windows with a ginormous roll of cling-wrap-like plastic film and specially formulated "non-marring" double sided tape.
And if you need to find me next spring, I'll likely be repainting all of our windows.  (Sigh.)
Want something equally awesome? Check these out!: