I don't normally re-post past blog posts (since, if you've already read all 478 of my rather rambling posts on all of the various things that I'd like to do to my kitchen, do you really need [or, quite honestly, want?] to re-read all of my kitchen gnatterings a second time?  I'm guessing the answer to that is a big fat capitalized NO.)  BUT, in honour of Valentine's Day (and in recognition of the fact that, sadly, baking is the only real way I put any major effort into my favourite heart-themed holiday) (sorry Sweetie!) I thought I'd delve into the archives for a really tasty Valentine's Day recipe (which doesn't just have to be reserved for Valentine's Day – if you throw caution to the wind and pour the canned cherries on top of the cream cheese filling all willy-nilly and haphazardly and without attempting the adorable, but not at all necessary, heart-shape as suggested, this cheesecake is still just as yummy – I promise!)
(The heart just makes it super cute.  And I love super cute things.)
Have a lovely Valentine's Day!
Once upon a time, a long long time ago (pre-marriage, pre-home ownership, pre-multi-cat clan) I made Sweetie a cheesecake for Valentine's Day.  Sweetie and I had only been together for a few months at this point, and I was quite proud of my pretty little cheesecake (and rather excited to show him my culinary skills!)  It was perfect!  I carefully decorated the top with a cherry pie filling heart, and lovingly stashed it away in the fridge so it would set and be ready for Valentine's Day supper.
Then Sweetie came home from work.  And then Sweetie went to look for a snack.  And then…  I heard a shriek come from the kitchen.
"Oh no!  Sweetie?" I heard Sweetie exclaim.  (And, yes, Sweetie calls me Sweetie.)  (Barf, I know.  We're gross.)
"Yes?"  I replied, a little concerned by the panic in his voice.
And then came the saddest question ever: "You have another cheesecake, right?"
I ran to the kitchen.  There, upsidedown and on the floor in front of Bertha (the archaic electricity-sucking poop-coloured brown fridge that dominated our apartment kitchen) was my cheesecake.
It was a traumatic moment, I'm not gonna lie.  And I did not, in fact, have another cheesecake.
It was a very sad Valentine's Day indeed.
But, as always, life must carry on.  And it did, sans cheesecake.  Sweetie and I moved out of our ugly-fridge-filled apartment and bought our first house.  We got married.  We sold our first house and bought another house.  And in the midst of all this moving and marrying we adopted a few cats along the way too.
Yes, cheesecake incident or not, life has been good.
In celebration of Valentine's Day, and in remembrance of that sad, sad day many years ago, I delved into my recipe pile last night and made a cheesecake (much like the ill-fated floor-bound cheesecake of yore.)  The recipe is super easy.  It's my mom's cheesecake recipe (a well-loved recipe I remember her making throughout my childhood) but, truth be told, I'm pretty sure it's actually quite likely Philly's recipe, or Kraft's recipe, or something like that.  (Dear cream cheese makers and/or Kraft execs, I apologize if my mom plagiarized your recipe and called it her own.  It's very tasty!  Thank you!)
Here's the recipe…
INGREDIENTS
1 pre-made graham cracker pie crust (or if you're really ambitious – I am not – you can make your own!)
1 envelope of Dream Whip (prepared)
1 cup icing sugar
1 8oz package of cream cheese (softened)
1 can of cherry pie filling
METHOD
1.  Prepare Dream Whip according to package directions.
2.  Add icing sugar and cream cheese.  Beat until smooth.
3.  Pour cream cheese mixture into graham cracker pie crust.
4.  Refrigerate (far away from clumsy husbands) until set (a couple of hours should do!)
5.  Top with cherry pie filling.  (Heart shape adorable, but optional.)
6.  Devour.
And here's what my finished little heart-adorned Valentine's Day cheesecake looks like…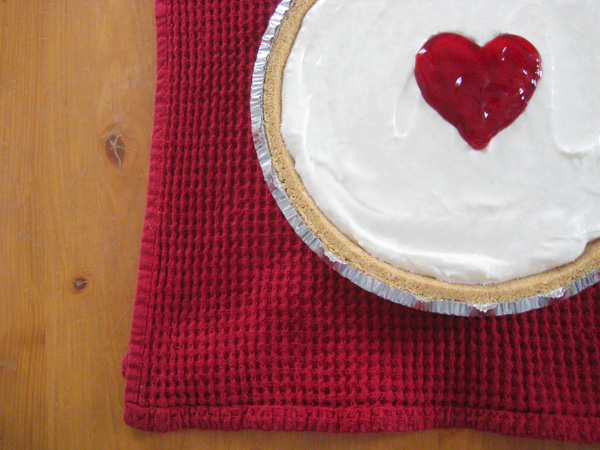 Cute, eh?  :)
That cheesecake is chilling in the fridge as we speak.  And Sweetie has officially banished himself from our kitchen until suppertime, as he does every Valentine's Day.  He knows he only gets one Valentine's Day cheesecake each year.  And he also knows he's prone to dropping things.  Delicious things.
Yep.  He's not taking any chances.
Hope your Valentine's Day is full of love, and food-related incident free.  :)
Want something equally awesome? Check these out!: