If you're scratching your forehead a bit (aside: do people actually do that when confused?  I'm more of a brow-furrower myself) at the random musical reference, here: watch this (somewhat creepy) video (for a very awesome song!)…
Oh Florence.  You rock, and I adore you (despite your rather dark music videos.)  (Seriously: the voodoo parts in that video really creep me out…)
But moving right along…
Random creepiness aside (sorry about all that), what else do I adore?  Our new living room ceiling light!  Remember our old light?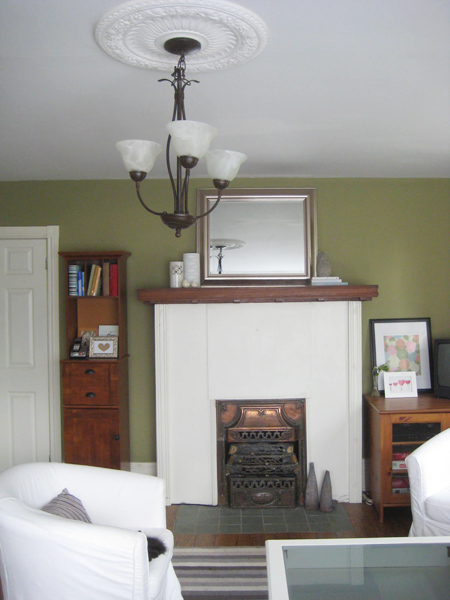 Aka the heavy-looking, ill-placed, not-at-all us, noggin-knocker (since Sweetie bonked his head off of it no fewer than about a gazillion times?)  Gone.  Gone!  And replaced by something much much lovelier (and melon-safe).  Specifically, this: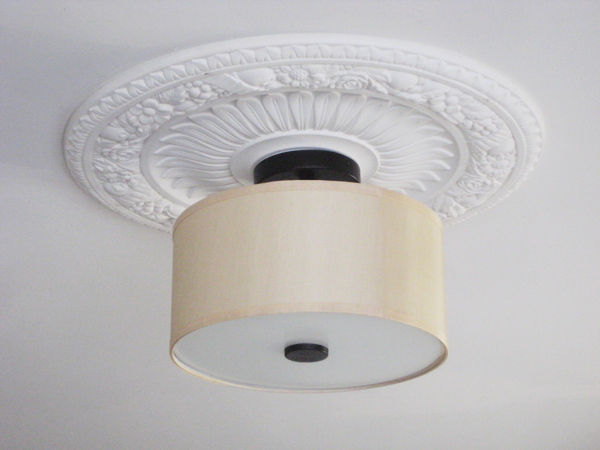 It was cheap.  It is cheerful.  It just seems to fit in our living room.  It makes me very happy.
And did I mention it was cheap?  It was only $44.97 from my favourite folks over at Home Depot.  It's the Hampton Bay 2-Light Oil Rubbed Bronze Glenburn Semi-Flush Drum, to be exact.  On the website, it looks like this…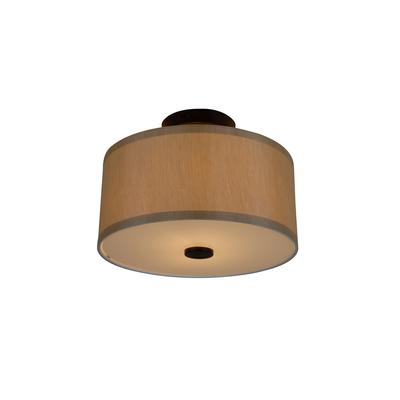 …and I think it fits perfectly in our space.  So perfectly that I actually bought a second one to replace the light at the top of our stairs.  (Don't even get me started on the light that's currently up there – that's a whole other story for a whole other post.  Let's suffice it to say that the existing light is quite the monstrosity.  Sort of gothic.  Sort of antique-y.  Exceedingly ugly.)
For now I'm quite pleased with this small (but significant!) improvement.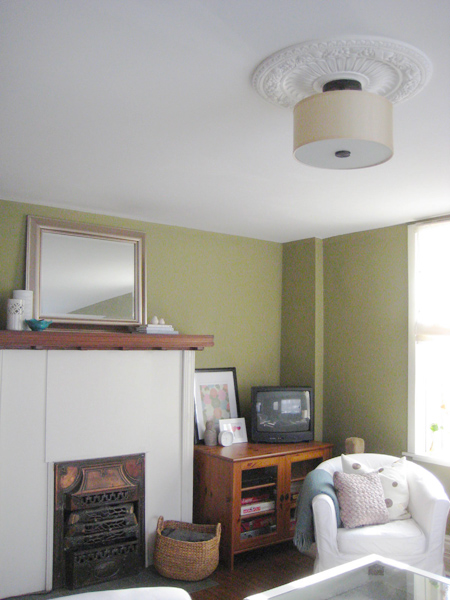 Next, on to other, much needed living room improvements.  Like, um, colour?  The dark mossy green is starting to get under my skin.  A lot.  It's so dark, it's very dreary, and it's just not us.  And, after the winter we've had around here (could it be that spring has finally – fiiiinalllly – almost arrived?) I think I need a little more lightness-and-airyness in my life (and a lot less drab-and-darkness.)
Yep, coming soon to a living room near me?  A little bit of Edgecomb Gray!  Like in our last house (because I liked it just that much.)  I think.  Unless I change my mind.  Which I tend to do a lot.  I'll keep you posted.  :)
Want something equally awesome? Check these out!: