Once upon a time, not so long ago, Sweetie and I bought a house.  A rather sad-looking, old, mauve-coloured house.  This house had a whole lot of P (for "potential!"), but was, admittedly, darn ugly.  Sweetie and I, being the brave house-buying home-renovating troopers that we are, bought the sad little house knowing that we could one day, with a whole lot of work and a little bit of updating, make her pretty once again.  Being ambitious folk with two previous homes under our belts (both of which started as fixer-uppers) we had high hopes for all of the loveliness we'd instill upon this new house, our ugly duckling soon-to-be-turned swan.
And then Sweetie and I received a little news.  Good news.  Fantastic and exciting news.  Unbelievably joyous and wonderful and life-changing news, in fact.  We were going to be parents, with Baby expected in early August 2014.  The future grandparents were thrilled, friends were ecstatic, and Sweetie and I were elated at the thought of becoming a family of three (five, if you count the cats) (which, of course, we do.)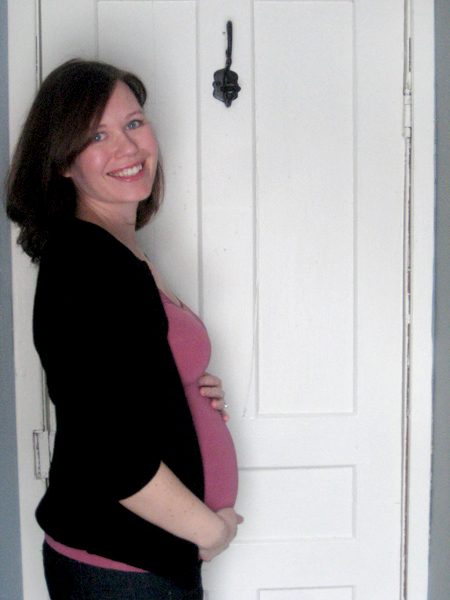 However, what has this news all meant to the fate of our poor little house?
Renovations have hardly begun.  Like, nada.  Nothing.  Zilch.  The kind of non-eventfulness that cues lowly crickets chirping in the background and spiderwebs forming around paint cans.
Why?  I'm one of those crazy pregnant ladies who is afraid to paint.  Yup.  I used to make fun of those people.  "Of course they can paint – that's what low/no-VOC paints are for!" I'd exclaim rather pompously.  Silly lazy pregnant ladies – they can paint, they're just being stubborn, I'd think.  But now that it's my turn, my turn, and it's the health of my baby (who I adore so much already) that could be affected, I'm totally wimping out.  I have been paintbrush-free since October, and I could very well remain paintbrush free until at least August, and likely much longer (because, honestly, I'm not fooling myself into believing I'll be particularly productive during the first weeks of mommy-dom.  I'll have other, far greater (and far cuter) priorities to tend to.)
It's been quite the struggle, I have to admit.  I've painted throughout every single winter for the past nine years (nine years!), since we purchased our very first (wallpaper-filled and salmon-coloured-trim adorned) house way back in 2004.  Painting is what I do – it's my hobby on weekends.  Some people relax by cooking.  Others unwind by reading or doing crossword puzzles or scrapbooking.  Me?  I paint.  And it makes me feel amazingly accomplished and proud to see progress unfolding with each paint-roller roll across my walls.
I've toyed with the idea of bringing someone in to paint our main floor, just to feel like some paint-related progress has been made, even if not by me, even if just to have the living room and dining room painted – the green is so dark and so strong and just so not us.  Our house doesn't really feel like our home yet, because it doesn't look like us.  At all.  There's the (awful) mossy-green walls in the living room and dining room.  There's the gold-coloured kitchen and stairwell (oh how I despise the gold!)  There's the rather offensive red family room at the back of the house.  (Yes, red.  Bright red.  So bright that that room makes me feel a little uncomfortable.)  Our furniture and cats and clothes and interactions are all contained by the old mauve-coloured siding and under our big gray roof, but the house doesn't at all feel like our home.  Yet.
But, it's worth it.  It's completely worth it.  It's only nine months (and, really, only five-ish at this point).  I've given up wine (oh, wine, how I miss you!) and deli meat (despite crazy intense Subway cravings) and coffee (well, most of it at least) and anything that could potentially bring harm to my little growing baby…  I can handle a few months sans paint.  It's our child.  And nothing is more important than that.  Not even ugly moss-green walls and an awful gold-coloured kitchen.
So, until paint returns to our house once again, we'll be making little changes here and there.  The cosmetic non-stinky-chemical sort of changes.  Lights are being swapped out, a few loo improvements are looming, appropriately long non-sheer curtains will soon be in place, and a nursery is slowly unfolding upstairs.
And, truthfully, I suppose that home is where your family lives.  And our home will soon contain Sweetie, me, Irwin, Erik, and someone little and new and perfect, regardless of whether the walls are green and gold and red.
I can't wait.  :)
Want something equally awesome? Check these out!:
2 comments on "
Why the paint ain't a'flowin' (a rather big important wonderful exciting and awesome announcement)

"