It's spring!  Well, sort of.  I'm still wearing a winter coat on some mornings (albeit a very tight one due to my ever-growing and beloved baby bump.)  And I'm keeping my toque and mitts and scarf close at hand.  Just in case the weather turns wintery.  Again.  Since, you know, Mother Nature has cursed us with a never ending winter this year.  (Dear Mother Nature…  I love you, and you're awesome, but you're being completely irrational this year.  Stop it.  Please.  Thank you!)
And while I despise the ridiculously cold snowy winter we've had this year, I despise my current window coverings even more.  The previous home owners (being the insane awesome people that they are!) left us a plethora of flood-ready bright white sparkly-swirl sheers for our windows.  An intended act of generosity?  Perhaps.  But regardless of motive, the result is the same: the curtains are making me a crazy person.
Enter: Ikea.  Yep.  My beloved and dependable go-to for window coverings.  Their curtains are cheap.  They're very cheerful.  They come in really long lengths (for those of us who prefer to set our curtain rods a tad higher than the average population.)  And their curtains come in pairs (which seems to be a bit of a rarity anymore.)  (But really, how many people only need one curtain?)  (Cough, cough, rip off, ehem…)  During an Ikea trip about a month ago I purchased no fewer than six (much needed) new drapery sets along with the accompanying curtain rods and hardware and doodads and such.  After a second Ikea trip a few days later (because a certain someone with a wee bit of baby brain forgot a few crucial curtain rod components…) we finally got everything up last weekend.
Here's my front living room window before (with its icky swirly silver sheers all aglow):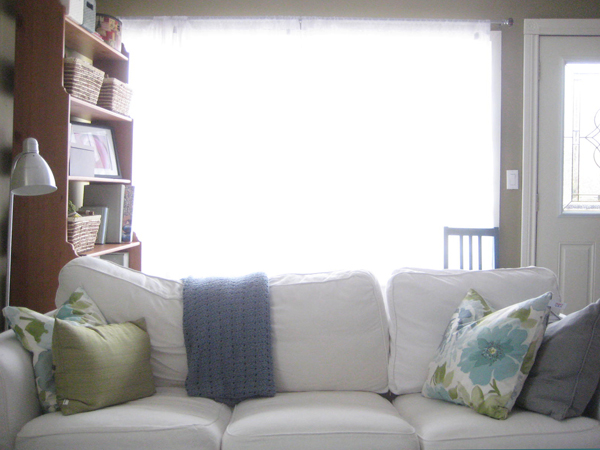 (Here's a closeup of the sheers' sparkly swirls, just in case you're interested.  Snazzy, eh?)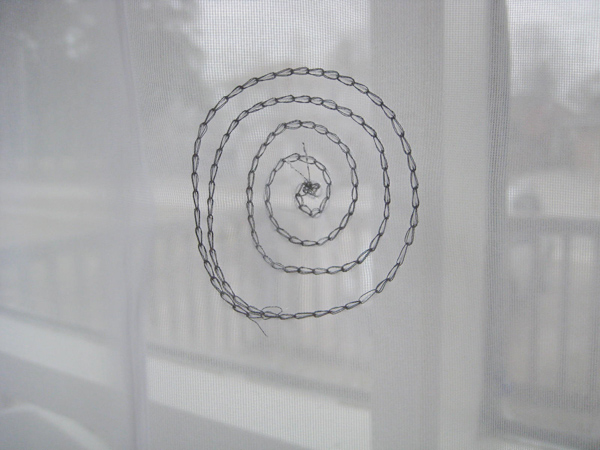 And here's the after, featuring my all-time favourite front window drapes (Ikea's Ritva) and a set of soft-ivory sheers (Ikea's Teresia).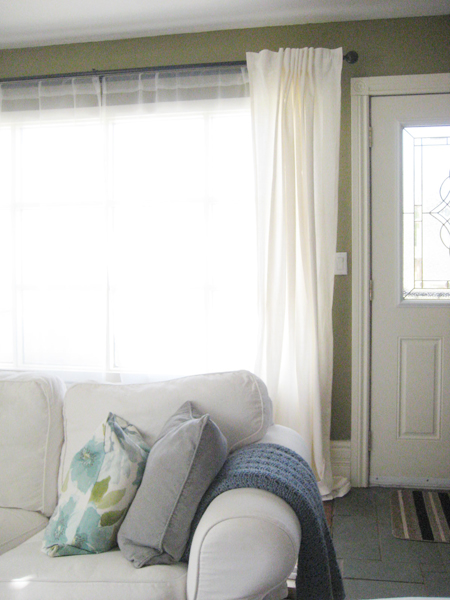 I'm a happy girl!  But why did we get another pair of sheers?  The glass panes in this window are no longer sealed properly (one of the hazards of buying a fixer-upper with archaic windows) so there's condensation and dust between the panes and this window always appears dirty from the street (despite that – I promise! – it's very very clean!)  The sheers help mask that a bit, which means we'll likely be sheer-people until we replace that entire front window (which, sadly, will be a very expensive venture) (which, also sadly, means it's pretty far down on our list of priorities right now.)
The Ritvas are waaay too long right now (I'm all for little drapery puddles, but this is a little silly) and will likely require shortening.  Tip I've learned?  Wash and dry Ikea drapes a couple of times before shortening them.  They sometimes shrink.  A lot.  Whenever they've accumulated enough kitty fur to require a trip through the laundry (which, sadly, will likely be soon) I'll get around to making them a bit shorter.  For now, however, I'm just happy that they're not sparkly.  Or swirly.  Or bright white.
Next up?  Here's the before of my dining room window…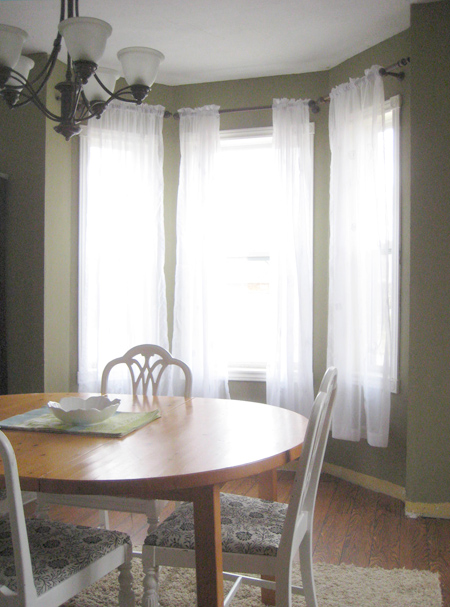 Apparently the previous owners weren't bothered by the too-short panels (or, um, lack of baseboards) but I think the windows look much lovelier now that they're dressed with a few Borghild panels from Ikea…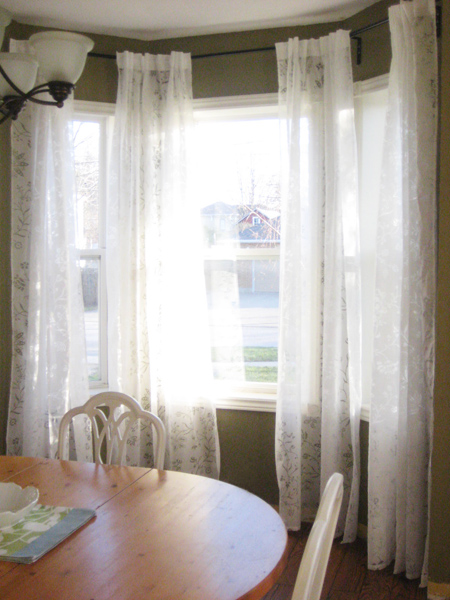 And we added the same curtains to this previously un-adorned window at the end of our dining room too.  Here it is pre-curtaining…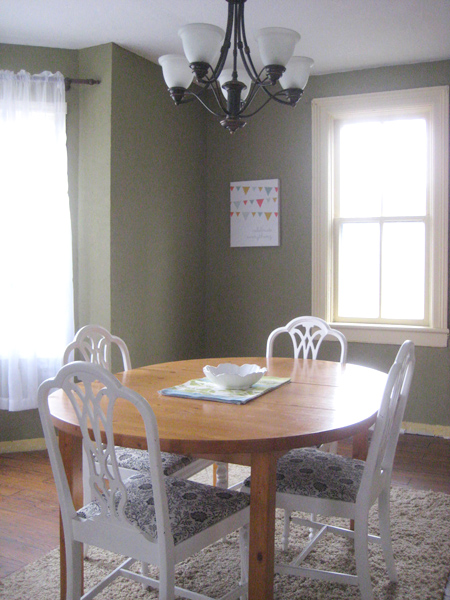 …and here's the much improved after…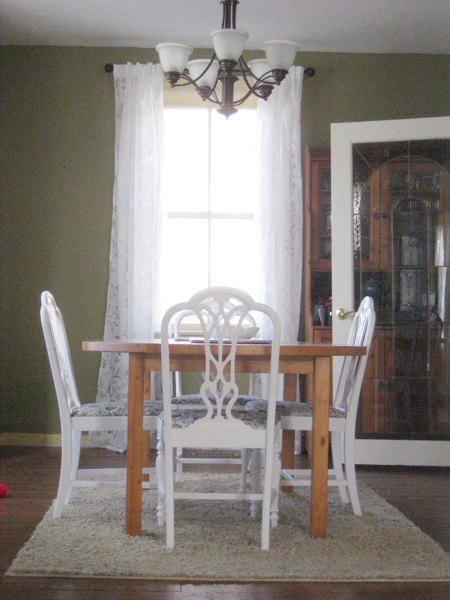 All of which makes me a very happy girl.  :)
The last set of the six sets of curtains I purchased is earmarked for the baby's room (should we ever get around to starting the nursery) (hello?  Ambition?  You should probably kick in about now…)  If they don't end up used in the nursery, we'll hang them in our bedroom (since a certain black kitten has pretty much destroyed our bedroom drapes.)  (He thinks bedroom curtain-clawing is a really fun pastime.)  (Particularly at 5am.)  (It's a good thing he's cute.)
And now, for your viewing pleasure (and a little post-title clarity), here's a little Drapery Safety Dance from Men Without Hats…
…because, well, it's really, really weird, but so fun.  :)
Want something equally awesome? Check these out!:
2 comments on "
Doing the drapery dance (which doesn't at all look like the Safety Dance) (ok, it actually kinda does, but just a little)

"