Sweetie and I were pretty secretive when we first found out we were expecting (despite that I wanted to tell absolutely everyone – the mailman, random children, the lady behind the counter at the gas station, stray dogs, etc – about our very happy news.)  It had taken me quite a while to get pregnant (but that's a whole other blog post for a whole other day) so we were both really cautious about spreading the news to too many people too quickly, before we were out of the scary anything-can-happen first trimester.  (Translation: there was a lot of breath-holding and positive thought-thinking going on around here during those first few months.)
But once we reached our comfort zone (shortly after our 12 week ultrasound showed that baby was perfect and squirmy and had a good strong heartbeat) we decided to finally tell the future grandparents.
Being a rather monumentous and life-changing announcement, this wasn't something I wanted to simply blurt out over dinner, mid-french fry.  I wanted the announcement to be as special as the news itself.  Unfortunately, I'm not an overly creative person.  And while Pinterest showed me hundreds of amazing and elaborate and creative announcements, none of them felt like us.
Here's the card I finally designed to spread the news…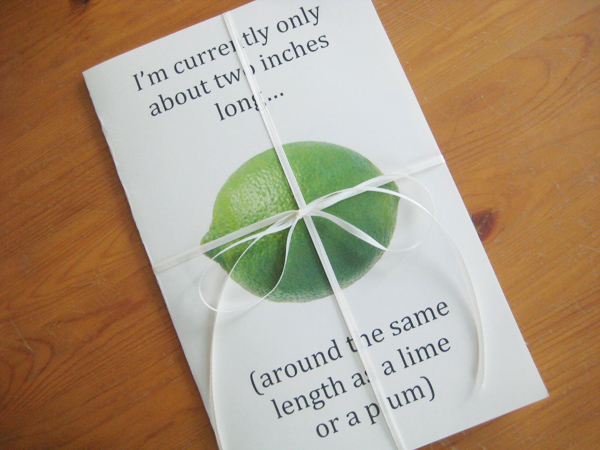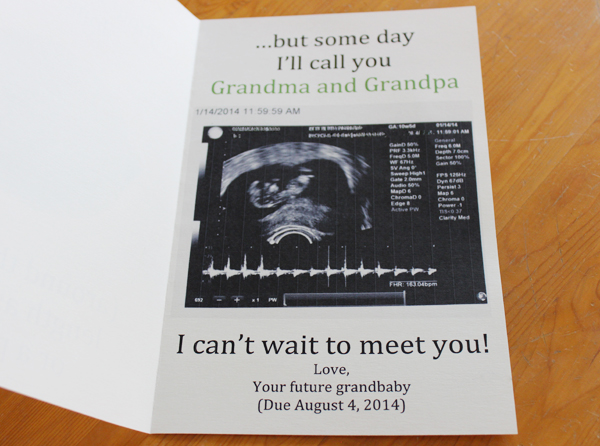 (Please don't giggle too much at my obviously lacking graphic-design skills.  A graphic-design guru I most certainly am not, and the whole thing was put together using – gasp! – Microsoft Word.)
We printed the card on basic cream-coloured card stock that I had left over from some other random DIY project, and then I tied a ribbon around the card (so that the card wouldn't accidentally flop open and ruin the surprise before the recipient had a chance to finish reading the cover.)
When the time came to hand out the cards, there were happy tears from one set of grandparents, high-fives from another (who apparently had speculated, a couple weeks prior at Christmas, that something baby-related might be up), and stunned silence from the third set of future grandparents we told (which quickly erupted into squeals of joy.)  All in all, the announcement (and this announcement method) was a huge success.  :)
And now, several months later, all of the grandparents are eagerly anticipating the arrival of this new little one.  Who is currently way bigger than a lime.  In fact, I'm pretty sure I've got a happy little eggplant or butternut squash or watermelon rolling around in there now.  (A really, really, cute one!)
Want something equally awesome? Check these out!:
9 comments on "
How we announced some really big news (about a teeny tiny little person)

"