Some people have scary basements.  I had a scary closet.  (Well, I have a scary basement too, but that's a whole other story for a whole other blog post.)  How scary was our bedroom closet?  It looked like this when we moved in…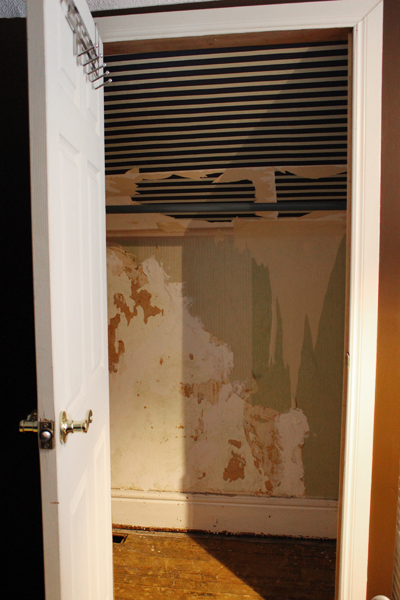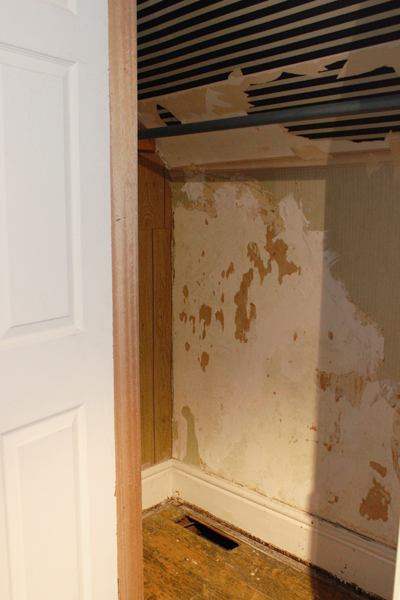 Ack.  Nightmarish, eh?  Yup.  Absolutely terrifying.
And since "make closet pretty" wasn't first and foremost (or even seventh and semi-important) on my big ol' home reno to do list, it stayed that way for the past ten months.  Empty.  Ugly.  Mocking me.  Daring me to step inside (which I would never ever ever do due to the aforementioned scariness factor.)
So where were all of our clothes?  In the nursery closet of course.  (See where this is leading?)  But, with Baby on the way in a few short weeks (yep, you guessed it), it was time to clear out that closet.  Meaning that it was also time for us to face the scariness once and for all and make our bedroom closet a much more hospitable, much less horror movie-esque little place.
So what did I do?
I painted it.
And by that I mean that I really quickly and lazily painted it, using leftover Edgecomb Gray paint that I already had on hand.  Did I remove the wallpaper from the walls?  Nope.  Did I sand down the drywall compound patching job that Sweetie did (since originally there were plaster cracks on the back wall of the closet that made it look even more terrifying?)  Nope.  Did I prime or prep or do anything to make the ugly innards of my closet more humane-looking?  Nope.  I just slapped some paint on those closet walls and called it a day.
And it didn't turn out so bad.  Behold the after…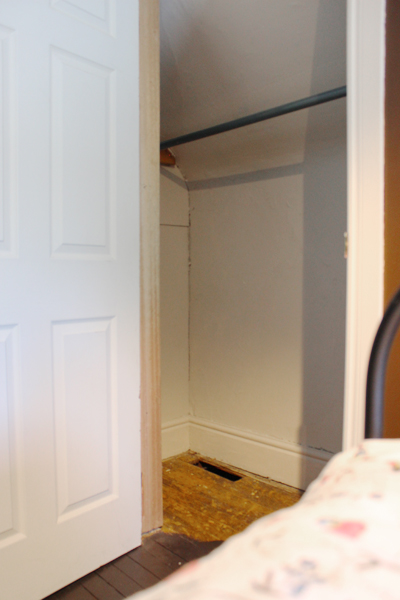 I even tossed a quick coat of paint on the baseboards.  Same colour as the walls.  We're not talking anything fancy here (it is a closet, afterall.)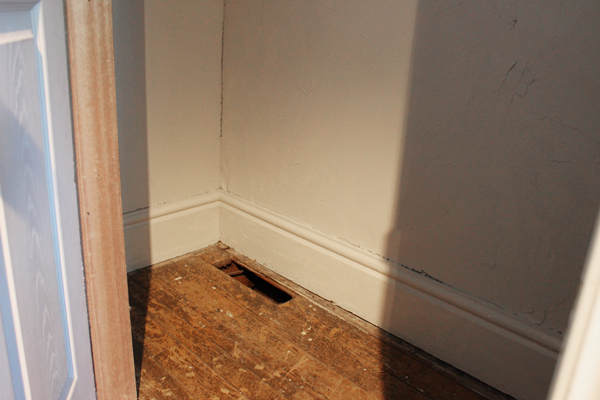 Yep.  A quick coat of paint and suddenly the closet ain't so scary any more.
(I mean, I wouldn't want to hang out and read a book in there, of course, but it's way better.)
So there.  That's my scary-closet-turned-not-quite-as-scary-due-to-Baby's-impending-arrival story for you.  Since I'm guessing that Baby will need its own closet.
You know, for cute little onesies and pretty dresses (if Baby is a girl) or tiny overalls (if this wiggly little belly-mover is a boy) and stuff.  :)
Want something equally awesome? Check these out!: