So last night a post that really wasn't ready to go out into the big wide beautiful world was inadvertently posted.  Not by me.  Not by Sweetie.  Not by a rather curious black kitten.  Nope.  Apparently a hacker found a way into my blog (ehem… complex passwords are important…) and decided that a (rather emotional) post that I wrote last summer and had saved in my drafts folder was ready for general consumption (with a few additions, of course – since, obviously, readers come to this blog specifically looking for ads to gaming sites, you know.)
That post has now been taken down.  Not because I don't want it read.  And not because I don't think you'd all like access to gaming sites.  But mostly because that post doesn't make a whole lot of sense at this point in time and definitely needs a bit of explanation.
Cryptic?  Yes.  My apologies about all that.  Suffice it to say that the post was about some of the challenges that Sweetie and I have faced in our attempts to have a family.  And, given recent events (that I haven't yet had a moment to blog about because I've been too busy being mommy to a squirmy and rather adorable tiny little man!), it no longer makes a whole lot of sense without a bit of additional tweaking.
Yup.  Of course the hackers went for that post.  Not the post that I've drafted about the ridiculous number of faux fireplaces in this house (because everyone needs three faux fireplaces, right?)  Or the post nattering on and on and on about my search for the perfect paint colour for my loo.  Nope.  They went straight for the nitty gritty super personal post that I wasn't sure I'd ever publish.
Figures, eh?
So, for any of you who subscribe to me via email or RSS, my sincere apologies for what I'm sure is a rather confusing and strangely timed post about infertility (given that I just posted our DIY maternity pictures in my last post, and nursery pics in the one preceding that!)
And for those of you who just drop in occasionally and are wondering what the heck I'm talking about, I promise to repost that inadvertently posted post shortly, just with a wee bit of tweaking to make it a bit more relevant to life as of August 2014 (which is very very different from life in August 2013 when I originally drafted that post.)
Except I'll spare you the gaming ads.  Unless you really want links to gaming sites?
No?  I didn't think so.  :)
Leave a comment
A couple of weeks ago I attempted my own DIY maternity session.  Armed with my snazzy new camera, a tripod, the nursery and rather ambitious and self-assured me-myself-and-I, I attempted to document (via the handy-dandy self-timer function) my bump.  Sadly, it didn't go so well.  Of the seemingly gazillion pics I took, I ended up with one that was semi share-worthy.  One.  And even then it wasn't particularly spectacular (or, really, in focus.)  I was a little bummed.
Then Sweetie lovingly offered to take me out to try a two-person approach to maternity shots (he's pretty awesome, that Sweetie of mine.)   With our trusty camera in Sweetie's capable hands, off we went to a local conservation area where we knew we'd find trees and fields and all sort of pretty areas to serve as a lovely backdrop to my ever-growing belly.
What we didn't anticipate?  Humidity.  If it was a tad humid when we pulled out of our laneway, it was a trillion percent humidity (possibly more) at the conservation area.  Positively tropical, you could say.  Rainforest-like, perhaps.  My hair?  It wasn't at all impressed and immediately turned into a massive ball of frizz (as my normally-curly-but-oft-forced-into-straight-submission hair is apt to do.)
And, as one might expect from a humidity-laden area, we also encountered mosquitoes.  Lots and lots of them.  Swarms and swarms and clouds of (rather ravenous) mosquitoes.  It was unbearable at times, but we plugged right along until we couldn't stand it any longer.
Yup.  Sweetie and me?  We're troopers.
Here are a few of my faves…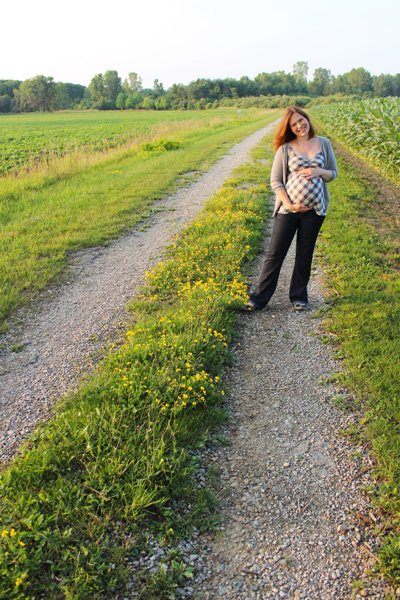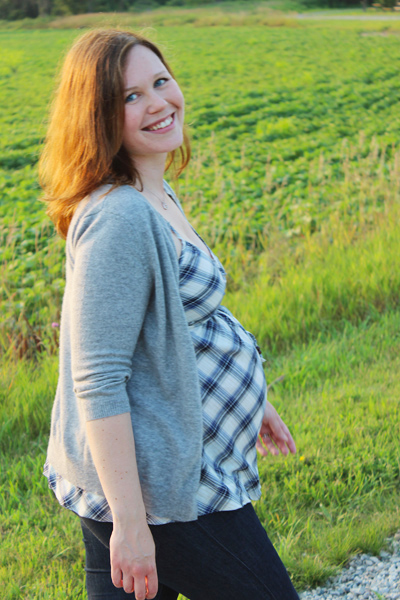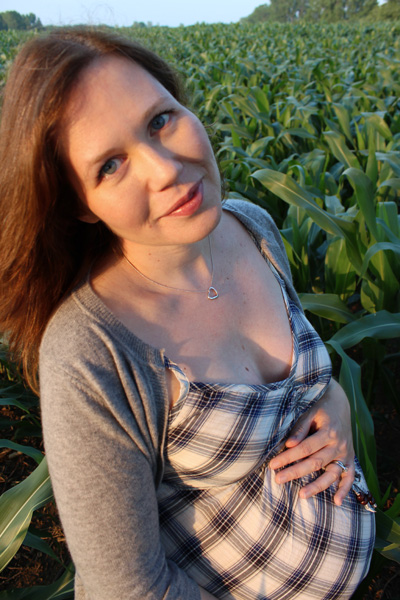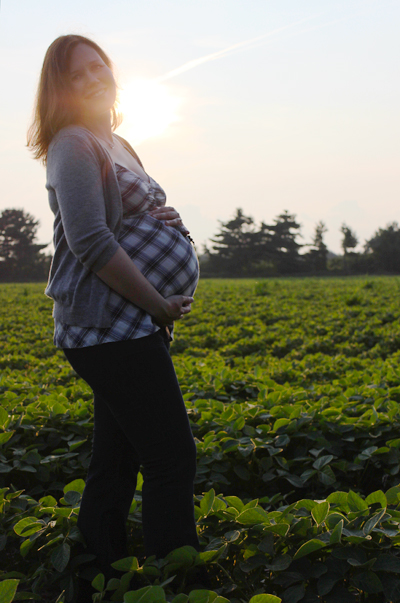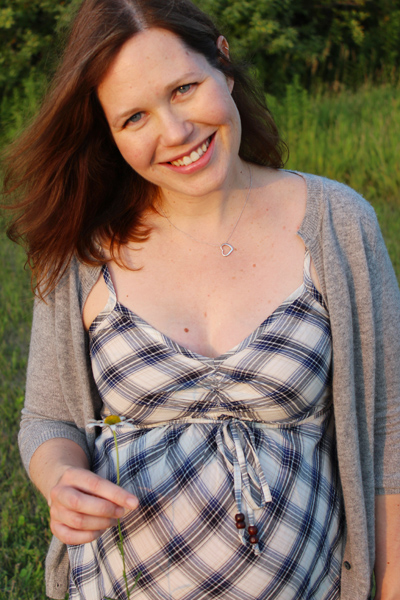 (And, yes.  I'm holding a flower in that last one.  A bit cheesy?  Perhaps.  Hence the "Sweetie, I love you, but I'm not so sure about this" look on my face.)
All in all?  I'm happy.  I could have done a professional session and possibly ended up with somewhat better (and maybe more plentiful depending on the mosquito-factor) results, but with money a bit tight at the moment (with me off on maternity leave and a few items left to purchase for Baby), this seemed like the far more sensible solution for bump-documentation.  And it was fun!  In between hair-obsessing and mosquito swatting, Sweetie and I had a lovely evening out in that tropically humid, bug infested (but pretty!) conservation area.
Which, I suppose, with our time as a two-some quickly waning, is nearly as valuable as the photos themselves.  :)
Leave a comment
Today is my due date.  TODAY.  It's wonderful and unbelievable and crazy and scary and exciting all at once.  As of last week's OB appointment, Baby hadn't yet made much of an effort to join us out here in the real air-breathing world, so I'm guessing that he or she is still feeling comfy cozy in there.  Which, truthfully, is rather fine by me.  That said, I'm very aware that time is now ticking away quite quickly and that Baby could make an appearance at any moment.
And I'm also very aware that I'm ridiculously ginormous…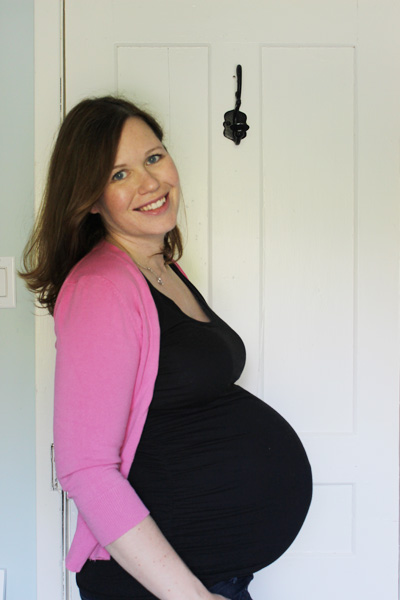 Crazy eh?  I'm still not entirely sure how I manage to stay upright.
Last week, with nesting instincts in overdrive, I put a few last minute touches on the nursery.  Curtains were hung, art was placed up on walls, the more-complex-than-anticipated baby monitor got installed, and I fussed over silly little details (would bashful bunny look better here?  Or here?)  And, with Baby overdue as of tomorrow, I'm happy with the rather peaceful teal, gray, white and mustardy yellow space that this nursery has gradually morphed into.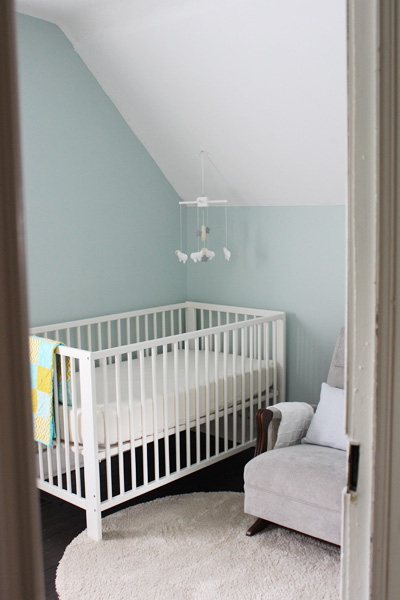 My dad found this metal wall hanging at a street art fair.  I added the ribbon and hung it from the door.  It's perfect in every way.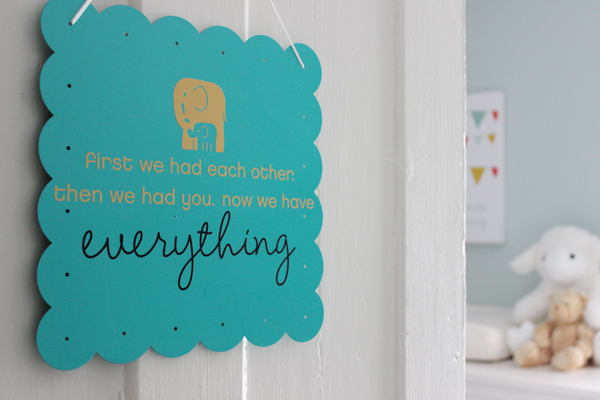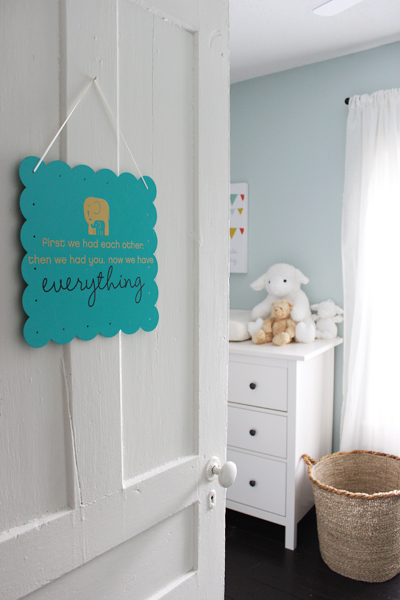 We're using Ikea's Hemnes dresser as our change table: it's a good height for both normal-sized me and super tall Sweetie, it has lots of room for the change pad and diaper related stuff, and (most importantly) it's rather lovely-looking.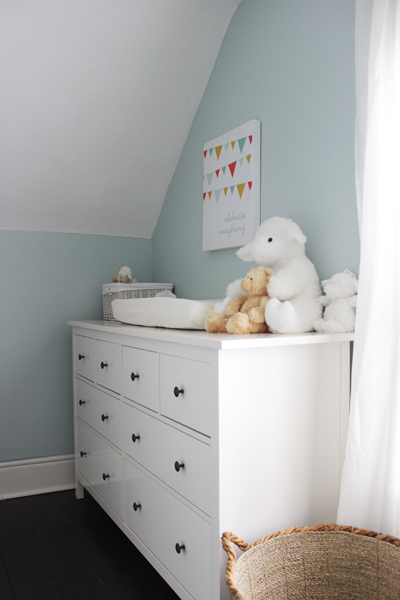 (Unfortunately it was also rather difficult and time consuming to assemble.  But that's a whole other blog post for a whole other day.)
The Celebrate Everything canvas was a HomeSense purchase (on clearance, no less!) made a couple of years ago, long before Baby and nursery planning had ever started.  Again (and again and again): I heart HomeSense.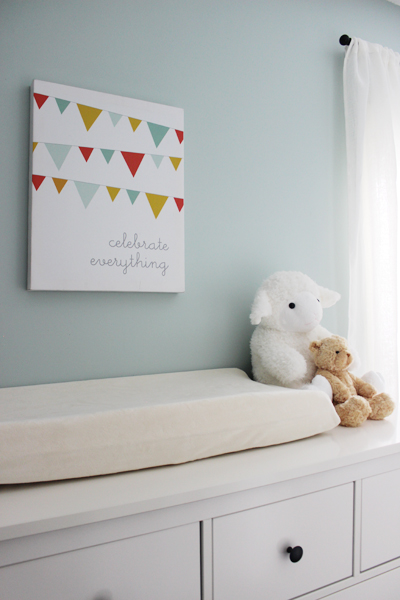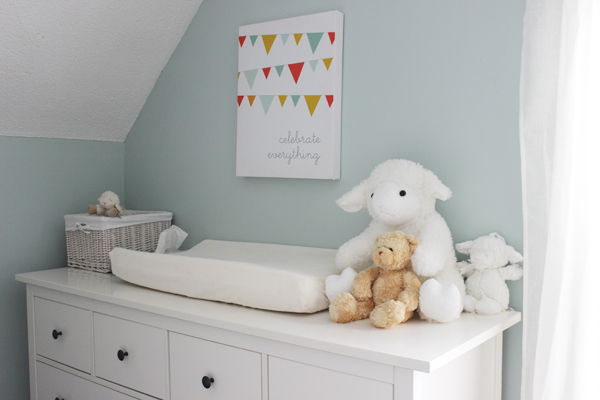 And this trio of friendly stuffed animals will eventually be relocated to a shelving unit of some sort (I'm still in search of the perfect bookshelf for this room.)  I'm hoping to find something fairly small, but still very functional.  Until then, these three will bravely stand guard over the change table.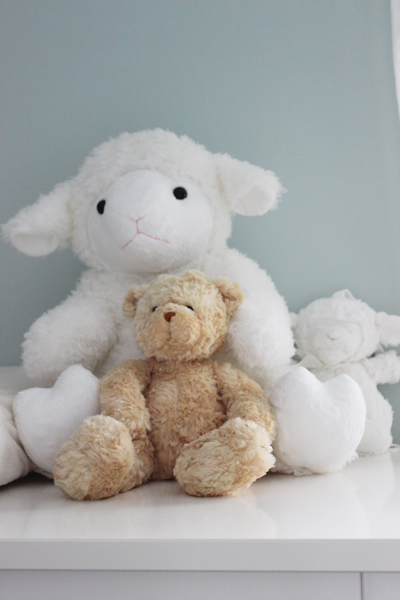 Because the nursery is fairly tiny, we didn't want a crib that felt large and bulky (as so many of them do.)  Enter: Ikea.  Of course.  We fell in love with Gulliver (and hopefully Baby will too!)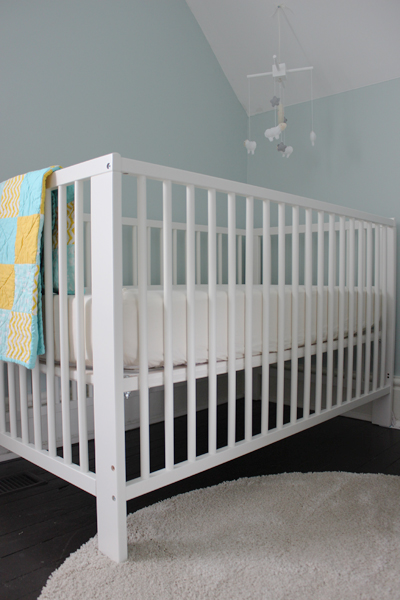 My friend Nadia (we've been friends since Grade Nine) (which means we've been friends for… um… many many years) made Baby this gorgeous yellow and teal baby quilt.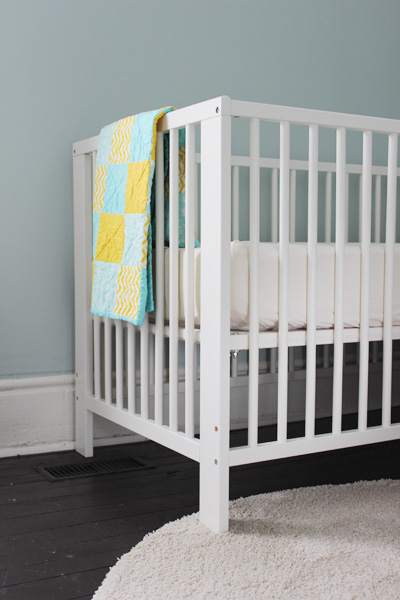 And the small vintage rocking chair, that long ago belonged to my grandparents, was reupholstered by my mom and dad as a gift to Baby.  It's the perfect size for this little space.  And I love knowing that I'll be rocking Baby to sleep in a chair that once belonged to people who, while no longer here, were such an important part of my life growing up.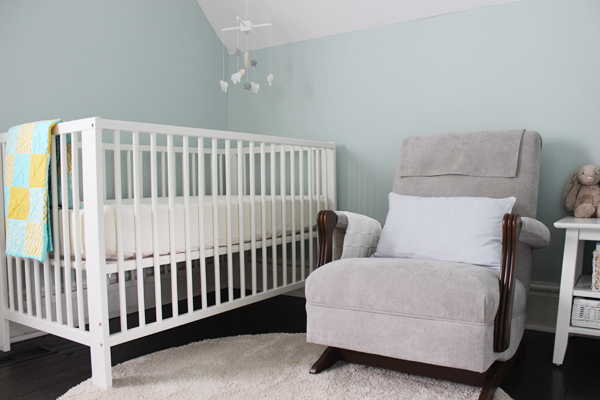 Keeping watch over everything from beside my beloved rocker is the ever adorable bashful bunny (along with his good friends the happy hedgehog and hilarious hare.)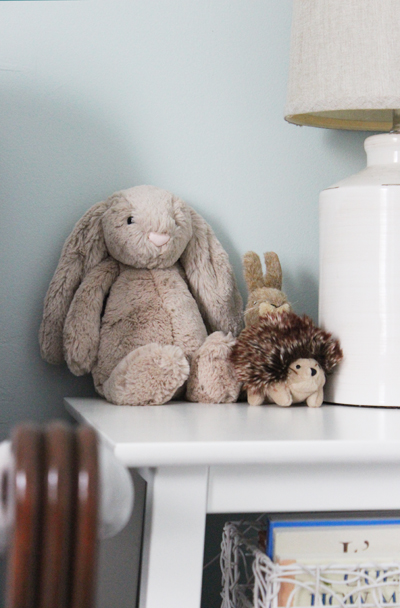 But my absolute favourite part of the nursery?  This sheep mobile from amazing Etsier (and fellow Canadian) TheMemis…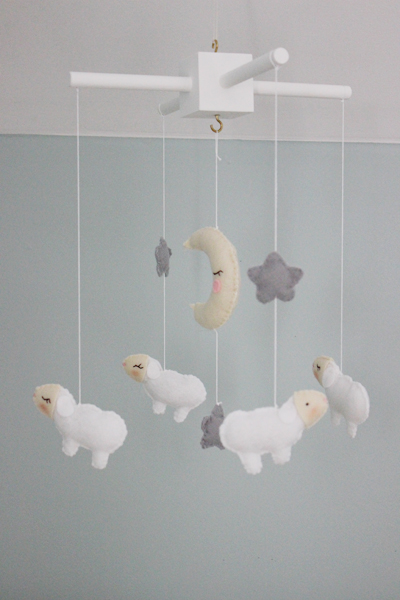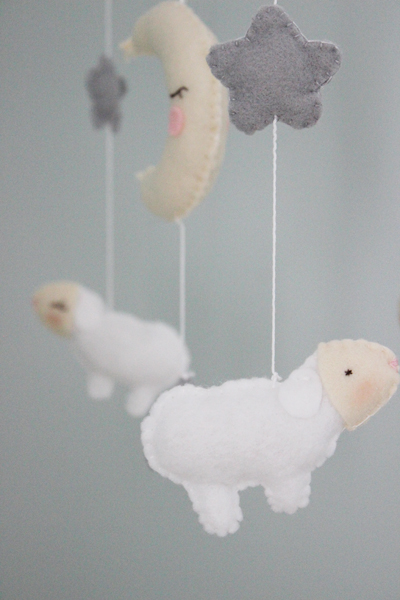 Each little sheep has a different expression on its face.  It's absolutely perfect, and I can't say enough good things about Emi at TheMemis. :)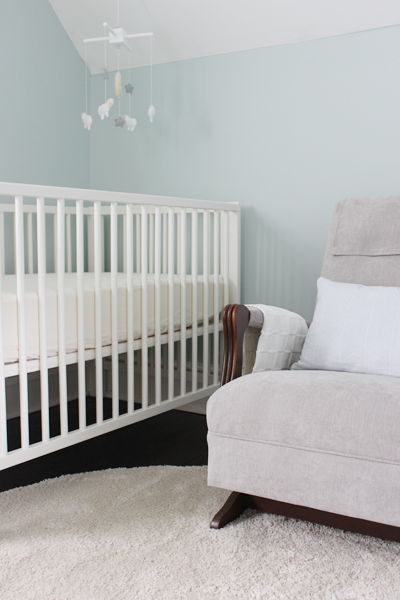 So there you have it.  Our sweet and peaceful (and gender neutral) little nursery.  I'll likely continue to add to it as time goes on – I have lofty gallery wall plans for the wall opposite the crib, I still need to find that bookshelf for stuffies and books and toys and nicnacs and such, and I'd love to add a little more coral (if Baby is a girl) or greens and navy (if this belly-wiggler is a wee boy) once Baby arrives.  And my friend Shawn (who I've been friends with pretty much since forever) has commissioned a baby blanket for me as a gift for Baby from another mutual friend (Sheilagh) who is an amazingly and incredibly talented quilter (you can see some of her work over at her site, Lay it on Me Baby) – I'm so excited about planning the blanket with her once Baby is born!
But for now I absolutely adore this serene little space, just as it is.
Let's hope that Baby does too.
Whenever he or she decides to make a big appearance.
Leave a comment