I miss maps.  Sigh.  Don't get me wrong – GPS seriously rocks (especially for those of us who are directionally challenged even at the best of times.)  But there's something so comforting about pulling out a map that's all soft and worn at the creases from being opened and lovingly refolded many many times.  The challenge in identifying both where you are now, and where you'd like to go, choosing the most straightforward (or leisurely, depending on your plans) route to get you from point A to B, and then seeing it all laid out there on paper in front of you.  The crinkling as you readjust the map just a little – it's far more soothing than the harsh GPS voice (who is that lady anyway?) who tells you rather forcefully "turn right" and then haughtily scolds you for having to recalculate your journey.
Yep.  GPS certainly makes life easier, but given the choice (and, well, a co-pilot to drive while I hold the map and navigate) I'll take a map any day.  :)
So, then, is it any wonder that I yearn for maps on my walls?  Maps are nostalgic.  They remind me of gradeschool and the smell of classrooms and erasers.  They remind me of roadtrips – we had a well-worn map of Ontario in the car at all times growing up (there were two sides to that map: the Southwestern Ontario side, and the "everything else up there" side that never ever got referenced during our trips.)  They remind me of the pride in being able to identify the places we'd travelled to, and the excitement of planning out new journeys.
GPS?  You rock.  But maps?  Maps are the bomb.
(Do people still say "the bomb"?)  (Meh.  I'm sticking with that.  Anyway…)
Where would I put said map?  On what has affectionately become known as my "star wall" (aka the wall where I randomly and temporarily hung a green star, for lack of anything else to put there at the time.)  (Um, like, a year ago.)  The same wall where I've also pondered adding a gallery wall in the past.  But a map?  Hanging one large map would be so much easier than coordinating multiple images in multiple frames (and don't even get me started on the challenge of keeping everything aligned and straight…  All that nitpickyness could indeed become a wee bit much for perfectionist moi.)
Here's the picture that originally got my map-loving-ness all in a frenzy (courtesy of the amazing folk over at Restored Style):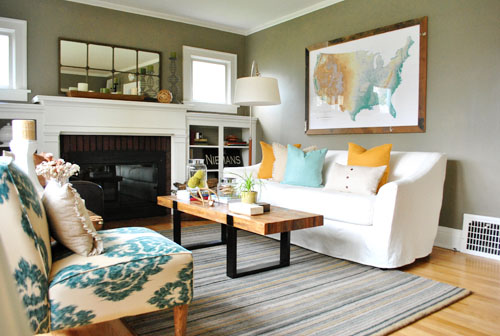 Lovely eh?!  The map is so well coordinated and blends in so well with everything else that it's no longer a map – it's art.
And don't even get me started on all the mappage available online!  Here are a couple I'm considering (both from etsy, of course)…
This one from Here & There Shop is super simple, and super duper cute.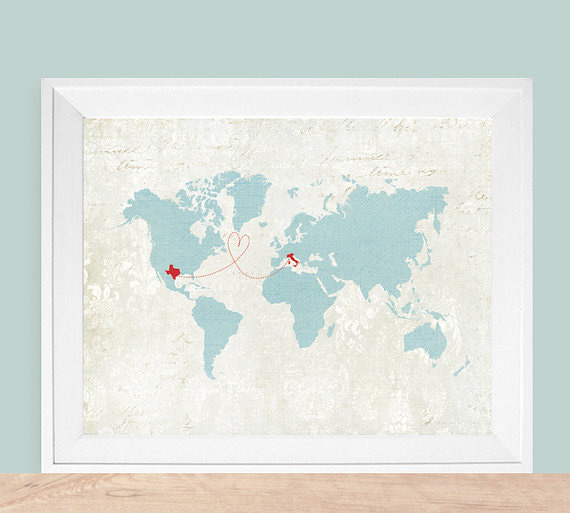 I imagine our map would have a little dotted line connecting the village of Ailsa Craig (where Sweetie and I got married in a pretty little white chapel) to France and England (where we honeymooned.)  :)
Or this one (from English Muffin Shop) is fun and cheery…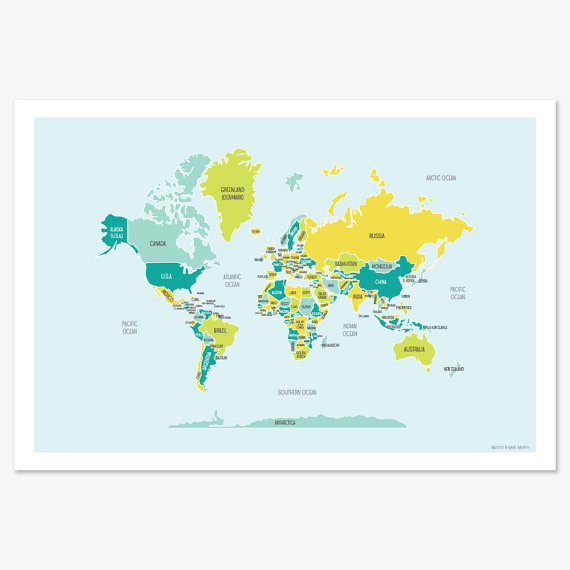 …I think it's meant for a child's room, but I absolutely adore the colours.  It'd look rather nice in our living room, I think!
I might also scour our local antique shops for an actual vintage map (since a map seems like something that an antique store would have, no?)  Really, I'm sure there are a gazillion (give or take a few, of course) different shops (both online and onstreet) where I could find a lovely little map for our living room.  And we could, in fact, simply frame an actual map (which would be the obvious and simple approach!)  (And there are some rather pretty maps out there.)  Yes, the problem may not be where to find myself a lovely map, but instead, which one to hang.  :)
In the meantime, the truth is pretty obvious.  While GPS may indeed make my life a bit easier, a map will likely look way better on my wall.  :)
Want something equally awesome? Check these out!: