Our stairwell painting project is definitely not a wow-er.  I wish it was – I put a lot of work into that silly little dark stairwell!  Sadly, it pretty much looks the same as it did before, just better and cleaner and neater.  Wanna see?  Let's consider this my not-so-big reveal…
Here's where we started…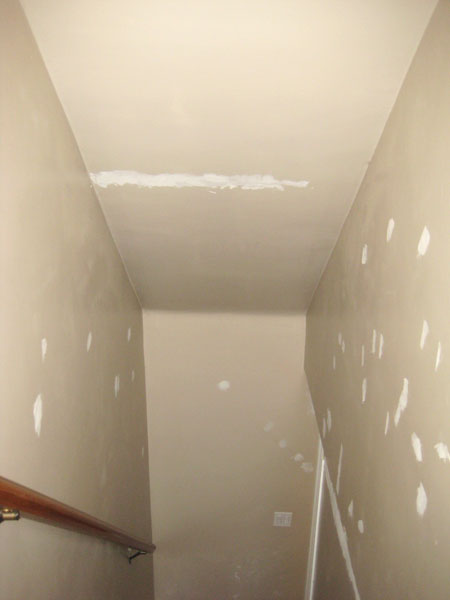 (See all those patches?  Yep.  Our stairwell was just that disasterous.)
Fast forward a couple of months and a lot of paint (BM Edgecomb Gray on the walls, and Snowfall White on the stringers, trim and doors) and here's what that same little stairwell looks like now…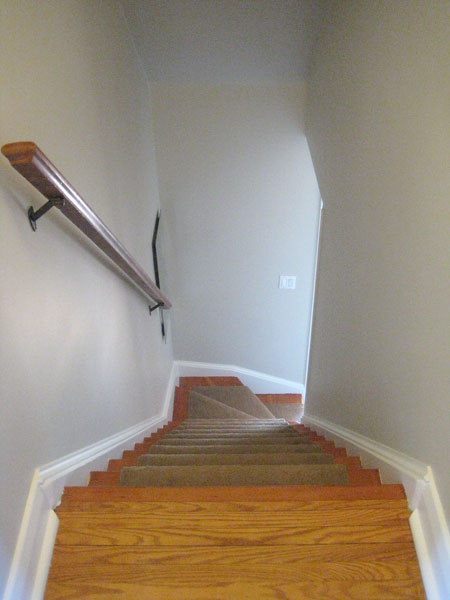 One of my favourite improvements is the mirror at the bottom of the stairs.  It's called Melissa (yep – that's half the reason why I bought it!) and I found it on clearance at Sears a while back (the other reason why I grabbed it up!)  Rona still sells this same mirror at full price (see here), so I'm quite proud of my lovely little bargain.  :)  It's a dark, windowless little stairwell and this just seems to brighten the landing up a bit (plus I just think it's pretty!)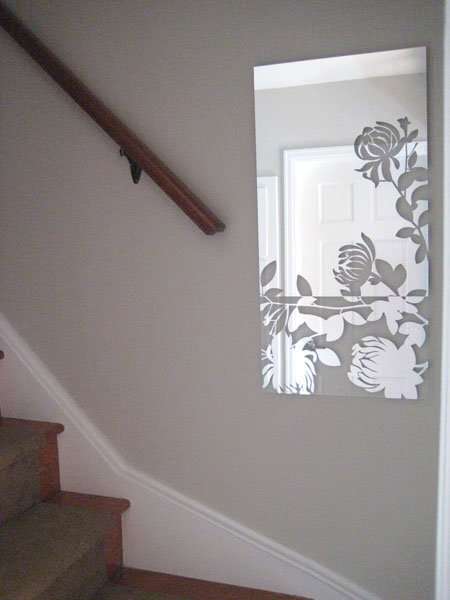 Oooh!  And see those lovely stringers near the bottom of the pic?  They weren't always so lovely.  That loveliness is the result of a whole lot of filler (there was a huge gap between the stringers and the wall originally that yours truly fixed up with loads of caulking), careful (crazy time consuming!) taping (click here for pics of the groovy green tape stripes I had going for a while) and a lick of paint.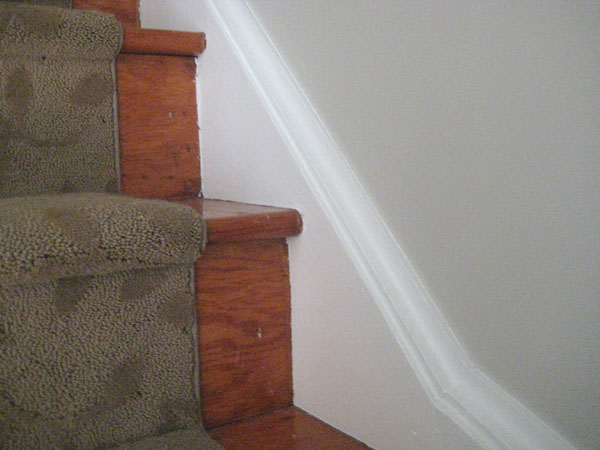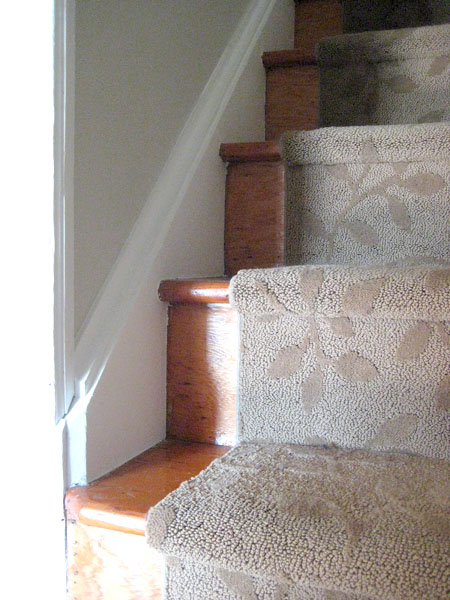 Just looks so much cleaner now.  :)
The boob light at the top of the stairs has been replaced by Ikea's amazing Alang…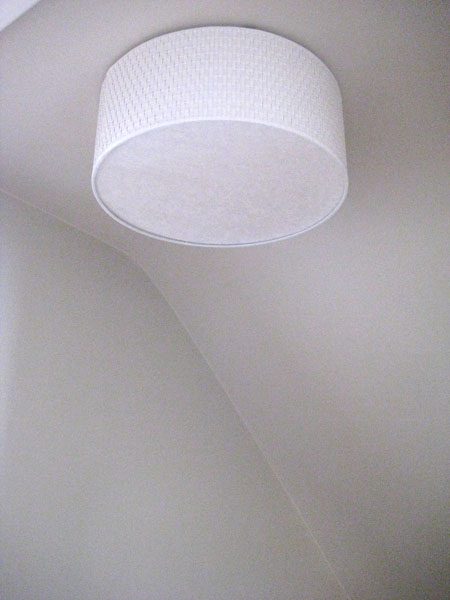 (Alang is indeed a-lovely, non?)
And I painted both the doors to the upstairs bedrooms.  They were originally wood-grain and coated in what appeared to be a gazillion layers of 1940s varnish.  The white is way better (if you ask me!)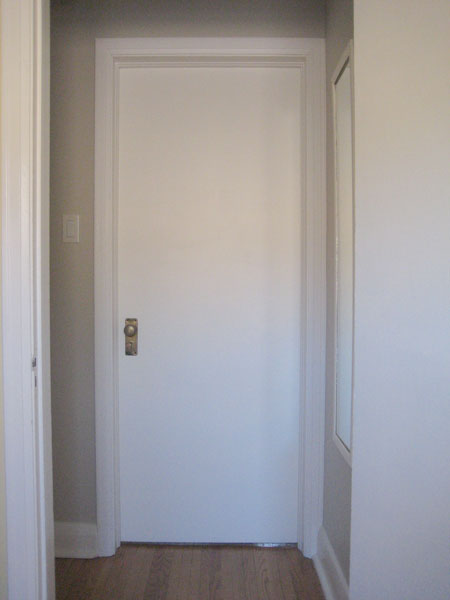 I heart our doorknobs.  They're old and aged and imperfectly perfect.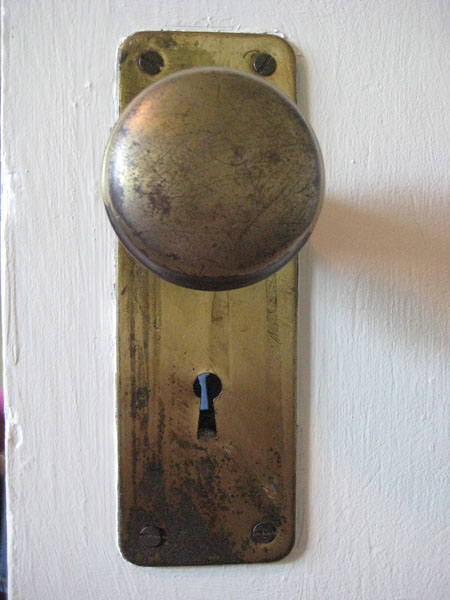 Lastly we added a mirror at the top of the stairs.  Afterall, one must make sure she's presentable before greeting her public.  ;)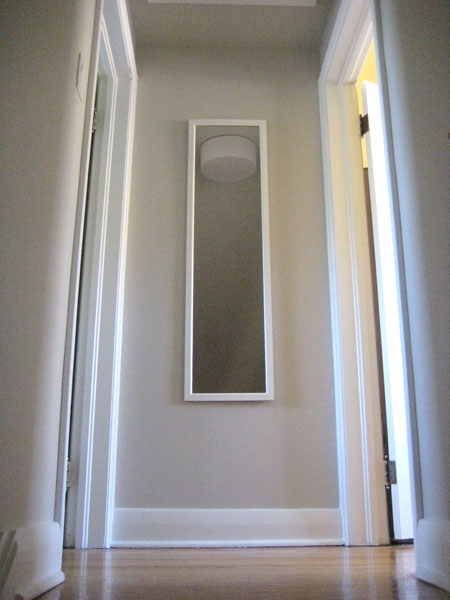 And poof!  The stairwell is done.  Ish.  I'd like to eventually replace the thick brown (leaf-patterned) runner with something fun or striped or something like that, but for now it's in good shape so despite that it's brown (did I mention that it's brown?  Yep.  It's brown…) it's staying, for a while at least.  And I'd like to add something to that wall at the very bottom of the stairs (a pic from our wedding [almost 4 years ago] perhaps?  We should really start printing those at some point…) but that's not an urgent stairwell upgrade at the moment either.
For now, it's better!  If you didn't know I'd put weeks (and weeks and weeks) of weekend-work into that little dark stairwell, you'd just think that it's a fresh clean stairwell.  But it's the projects that you don't notice that add the most value, I think.  At least I hope.  :)
Leave a comment