My baby turned one a couple weeks ago.
Yep.  It happened.  Cue happy/wistful/omg-stop-growing-and-please-stay-little-forever-but-omg-look-at-all-the-amazing-things-you're-learning-I'm-so-proud-of-you tears.
He's not a little baby any more.  He can almost walk, he can say Mama (or, rather, MomMom, which is so ridiculously cute and makes my heart happy every single time those two syllables escape his lovely little lips), he can play independently and clap and wave and do all sorts of things that seemed so impossible a year ago when he was this small squishy helpless little being who merely slept and ate and pooped (and filled my heart with so much love.)
Sweetie and I celebrated his first birthday surrounded by close friends and family.  There was cake and singing and so many amazing gifts and lots of happiness.  Patrick was admittedly a bit overwhelmed by all the people (I may have a budding introvert on my hands… he might be just a tad like his mommy and daddy like that), but he had lots of smiles for people too (from his secure perch in my arms) and loved his birthday cake (and scattered it around for the kitties to sample too.)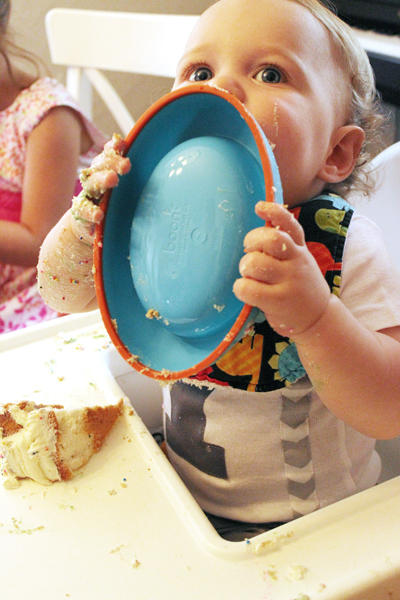 It was such an absolutely lovely special wonderful day.
And where did I go to find touches to make his birthday extra special (and especially cute?)  Etsy.  Of course.
Patrick's bowtie onesie came from an awesome vendor out of BC called Handsome Baby.  And he did indeed look handsome!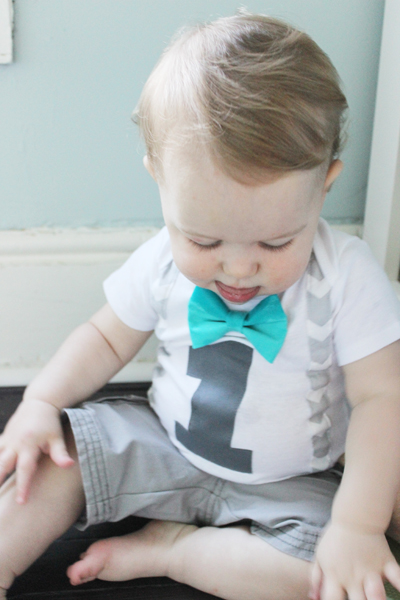 I have big plans for follow-up bowtie onesies.  I foresee a Handsome Baby Christmas bowtie onesie in his future.  And maybe an Easter one too.  And a second birthday onesie for sure.  And, honestly, he might need something with a green bowtie for St.Patrick's Day (because of course he does.)
Yep.  Me and Melissa over at Handsome Baby are going to become really good friends, I think.  :)
And then there was Patrick's first birthday board…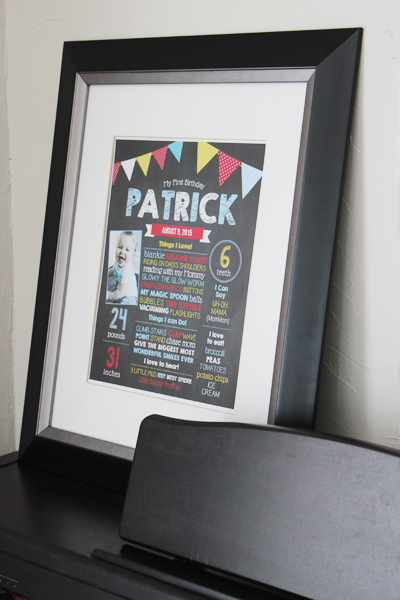 I agonized over birthday boards (there are, admittedly, a gazillion of them available on Etsy.)  I fell in love with this one (put together by amazing Etsier MsFit Designs) because of the colours (which I then turned – loosely – into the colour theme for Patrick's party – red, yellow, and pale blue.)  (Or, I suppose, for those of you who support Captain Obvious, primary colours.)
And, with a few quickly fluffed tissue paper puffs here and there, that was about it for my party planning.  This was not a Pinterest-worthy party, I'm afraid.  I had big decorating plans that I'd planned to execute in the days leading up to Patrick's party.  Patrick, on the other hand, had big playing with mommy plans.  The latter won out (and I wouldn't change that for a thousand carefully made colour coordinated Pinterest-inspired birthday bunting flags.)
Nope.  It was a simple party with just a few simple decorations and a whole lot of celebrating Patrick's first year.  And it was perfect for my little guy.
Although next year there might be bunting.
Because I do love me some bunting.  :)
Leave a comment
So I'm late for everything.  Ev-ver-y-thing.  I have really really good intentions and I strive (oh, how I strive!) to be punctual.  It just never (ever) happens.  I habitually arrive late for appointments.  I'm almost always late for gatherings.  My baby was born five days past his due date (although I might be able to blame Mother Nature for that one.)  I did manage to make it to my own wedding on time, but only thanks to the army of amazing bridespeople I had behind me, gently pushing me to keep me on track.
Yup.  I'm one of those people.
So it's hardly surprising, I suppose, that I just finished up the thank you cards for my baby shower (um, the one I attended BEFORE Patrick was born) (in July) (early July…)  Embarrassing?  Yes.  But, in all honesty, the past few months have absolutely flown by.  FLOWN!  And – poof! – suddenly it was December.  And I suddenly realized that Christmas cards needed to go out.  And it seemed in poor taste (actually, downright tacky) to send Christmas cards out to the same people who first deserved thank yous for their very generous and wonderfully thoughtful baby shower gifts.
Which, given the (embarrassingly long) time that had passed between the shower and the thank yous, makes me really thankful that I took the time (during the early days of my maternity leave, pre-baby) to carefully record what everyone had given me.  Like this…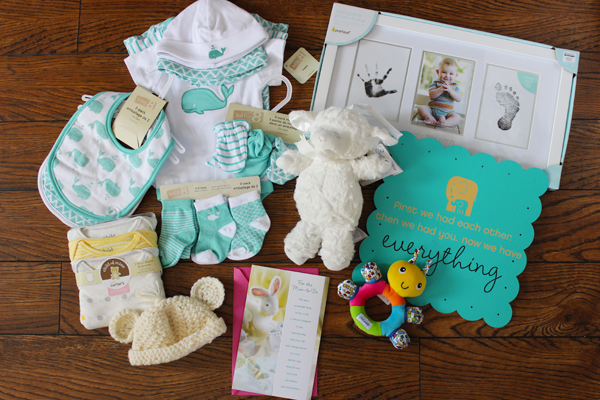 Yup.  I took pictures of all the gifts I was given, along with the accompanying cards.  Clever?  I thought so!  And, if not clever, practical at least, since five months out I would have never, in a gazillion years, remembered what gifts I was given and by whom (despite being unbelievably thankful for all of the super generous gifts I received.)  (Mommy-brain is a bit of a bitch like that.)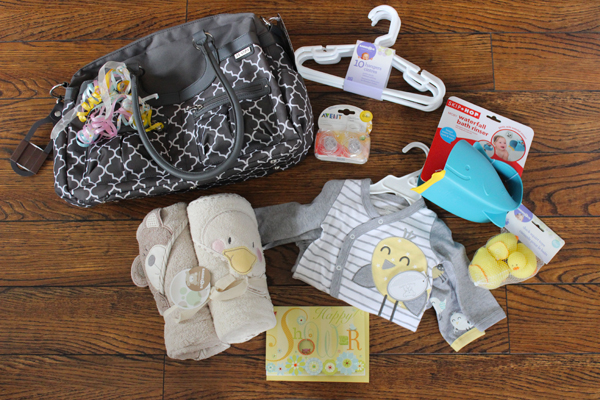 Plus I think it's pretty neat to have pictures of all the gifts we were given.  Yup.  I'm all about preserving memories with my little guy.  Every single memory.  Every one.  Even the tiniest.  Mommy is a little OCD like that.  (Although I prefer to call it "organized.")  Patrick is currently trying desperately to crawl, and I'm sure having the ability to run away from my camera makes mobility particularly appealing.  (I have all of his crawling attempts videotaped, of course.)
So there.  That's my little piece of advice for any soon-to-be mommas out there who are headed to their baby showers shortly.  Take pictures of your gifts.  It's actually quite a lovely keepsake!  And, if you're a bit tardy like me, it'll be a huge help when you go to write your thank you cards.  Several months later.  :)
Leave a comment
So this happened about five weeks ago…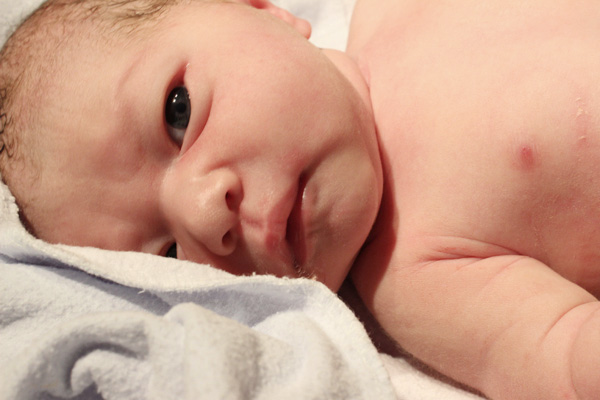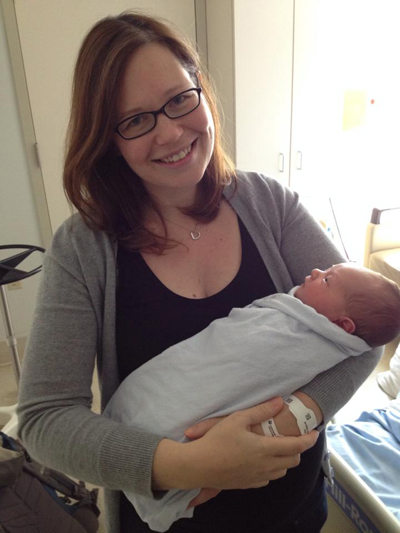 …and I haven't had much time for blogging since.  My days are now spent nursing, diaper changing, and cuddling a certain little boy.  Which all doesn't sound particularly eventful, but the days and weeks are suddenly flying by indescribably fast.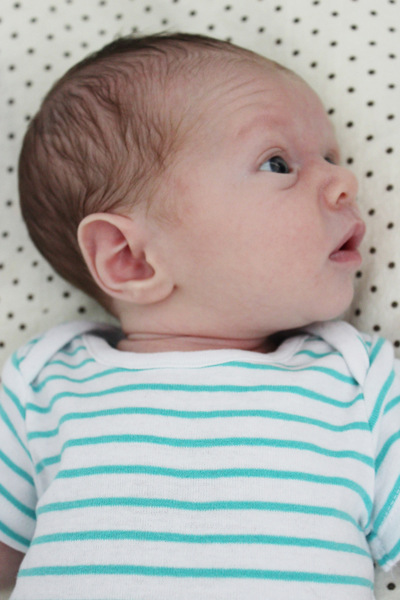 Yep.  Life is suddenly very different.  And very wonderful.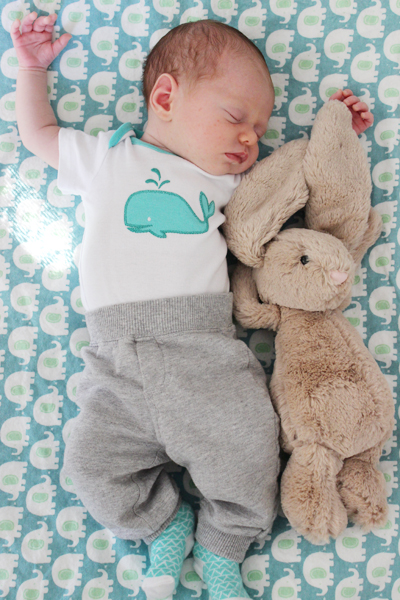 Little Patrick is perfect and squirmy and squishy and he makes me so happy, even on his grumpiest days.  My world revolves around his needs.  Renos can wait.  Meals have become a lot less complex and a bit more premade.  And I've mastered the art of accomplishing all sorts of daily tasks using only one hand, while carrying or cradling a small human in the other.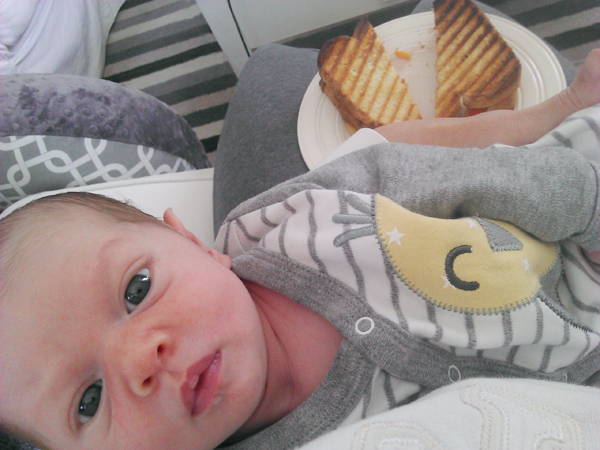 So I apologize for my recent absence.  And I apologize if posts are a tad scarce over the next few weeks.  Me and a certain sweet little mister are still adjusting to life with each other.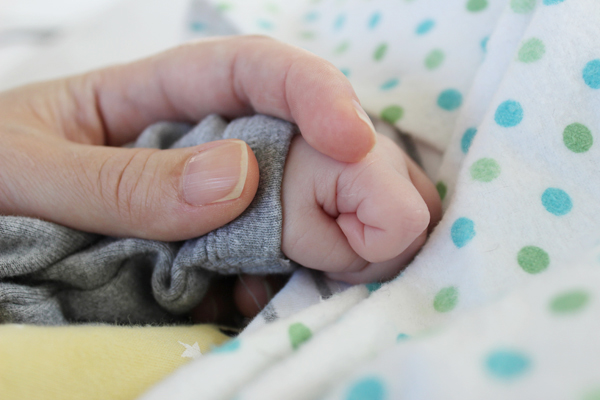 And life with only one free hand.  :)
Leave a comment