So I'm skipping a room.  The back/sun room is all ready for paint (and already had its own "Befores" post HERE.)  The walls have been patched, the ceiling has been painted, and lovely (I hope!) dark Chelsea Gray paint has been purchased.  It's just begging for a good rolling!  However, that room is currently hosting two very cute (and not yet Jacob-approved) recently adopted kitties (the very kitten-like Erik, and his BFF, the oh-so-sweet Irwin.)  SO, while they're vacationing back there for another few days (hoping for a full-fledged kitty-introduction this week) I'm moving right along to the second floor.  Specifically, our very green bedroom.
The colour isn't terrible.  It's pea soup green, alright, but it's not offensive pea soup.  It's just not me.  Plus there are some big ol' cracks in the plaster that need patching, and I don't have the name/make of the current colour, so I've decided to use all that as an excuse (not that I've ever needed one) to paint the whole room in a colour that feels more us.  (That's my logic at least.  :)  The room will probably either end up being either Stonington Gray (the same colour I already love in our kitchen) or the next colour down/darker on that same paint chip, Coventry Gray (which apparently reads quite blue, but I'm ok with that – I rather like blue-grays.)
Here are a few befores for you (note: our bedroom is tiny!  Most of these are taken either with my back up against the wall or standing out in the hallway.  Yup.  It's small.  But we spend the majority of our day in the rest of the house, so a tiny place to sleep is a-ok with us!)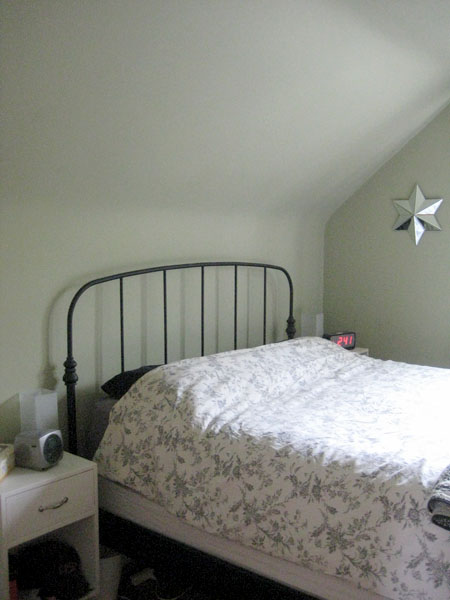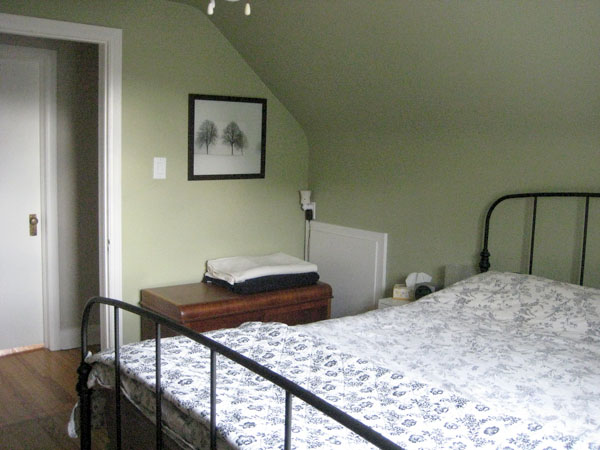 (See the hope chest in the corner?  That's the one I'm not allowed to paint LOL.)  (Not that I would anyway…)  The little white attic door behind the hope chest is getting painted as well in whichever wall colour I choose.  While it's super quaint having attic access behind the knee wall, I wouldn't necessarily call that door a feature worth highlighting.  (Although the previous owners obviously did!)
And see that little wood door?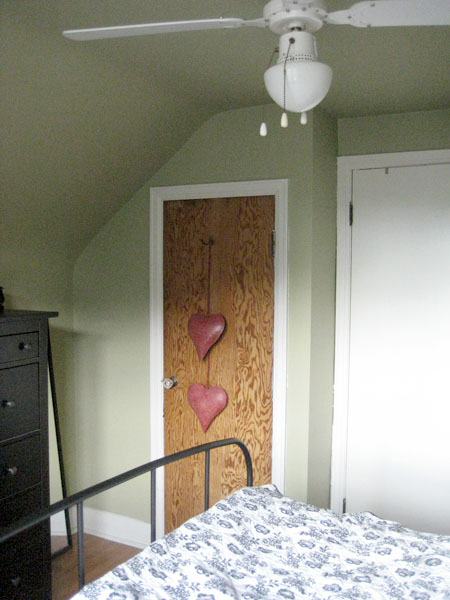 That there would be our closet.  Please note: the closet is about 3 feet wide on the inside.  In total.  And there is no walking-in.  Nope.  None at all.  Sigh.  The closet door will be getting a coat of Snowfall White paint (I painted the also-once-orangey-wood bedroom door when I painted the hallway and it's sooo much better.)  I wish painting the door also meant more closet space…  At least it means prettier closet space, I suppose.
(Oh!  And the ugly white ceiling fan is getting swapped out too.)
Due to our (very) limited closet space, we bought big huge Ikea Hemnes dressers last summer.  (Remind me, some day, to tell you how much fun Sweetie had assembling these!)  Admittedly, they're massive, but for some reason they don't look out of place in our little room.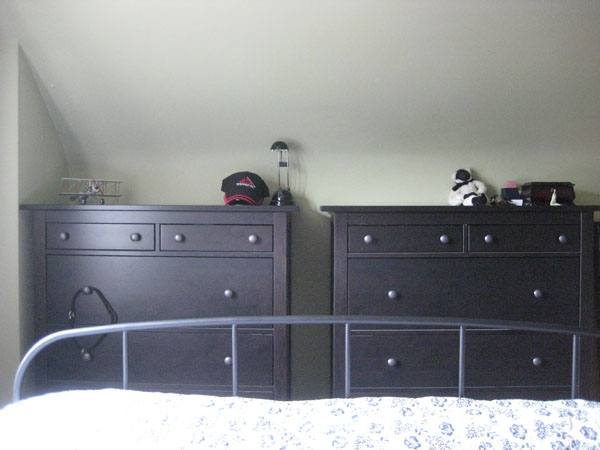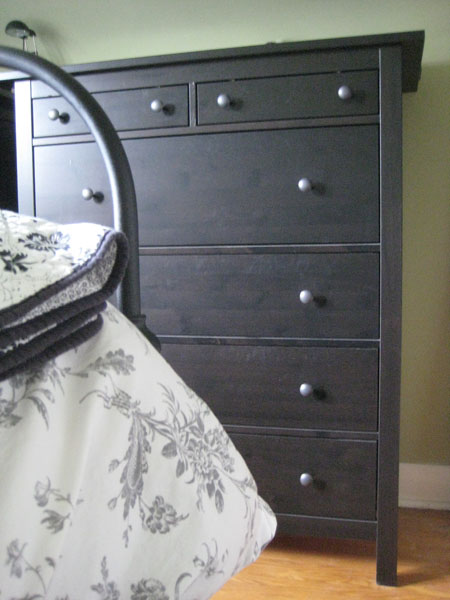 I'll probably swap out the rug once the walls are repainted (this is an old beige shag rug I threw down when we moved, but I think it might work better in our dining room.) (Can you put a shag rug in your dining room?)  And the curtains will go (far far away.)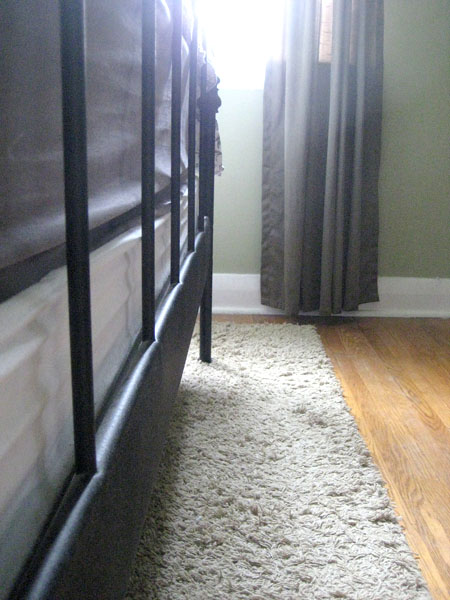 Of us all, I think Jacob is most excited about the room being painted.  While orange cats do look lovely in green rooms, he's partial to gray, I think.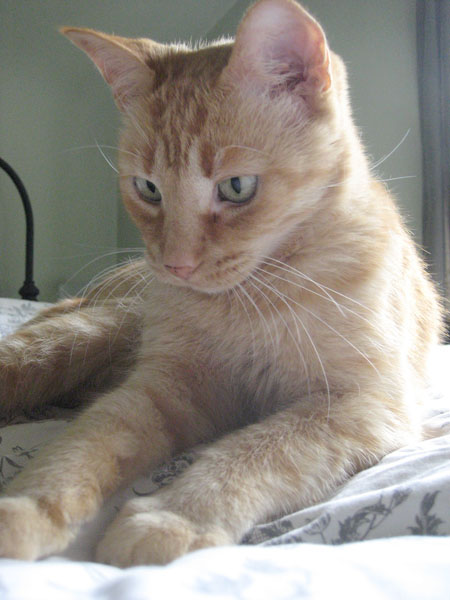 (Actually, I'm guessing he doesn't really care.  So long as there's a big comfy bed in the room, he's a pretty happy cat.  Cats are kinda wishy-washy like that about paint.)  (I wish I was – it would mean a lot less painting for me.)  (Sigh…)
Want something equally awesome? Check these out!: