A few months back we had a (very minor, but still rather scary!) fire in our basement laundry room (actually, technically the fire was in the washing machine itself) that started a bit of a mini laundry room reno, because:
a) the laundry room was dark and dreary
b) due to its apparently flammable nature, we decided the old washer might not be the safest appliance on the block
c) because our dryer was nearly as archaic as our washing machine, we figured we may as well buy an entirely new pair (my first ever new, and not just new-to-me, appliances – yay!)
d) see point a :)
The whole shebang ended up seemingly taking for-ev-ver.  There were (rather expensive) decisions on new machines to be made (read about that HERE.)  And then there was the sad sad moment when I noticed a scuff on top of my brand new shiny washing machine (I whined a wee bit about that HERE.)  I even succumbed to some Pinterest-inspired daydreams over what my little laundryroom could look like (HERE.)  And then there was painting and patching and shelf-hanging and all that fun stuff in between.
BUT, I'm happy to say she's done.  Well, done-ish.  Our little laundry room doesn't look A THING like my inspiration images (I'm blaming the smallness and lack of windows for that!) but it looks a lot better.  :)
Here's where we started (prepare yourself for overall laundry room ugliness)…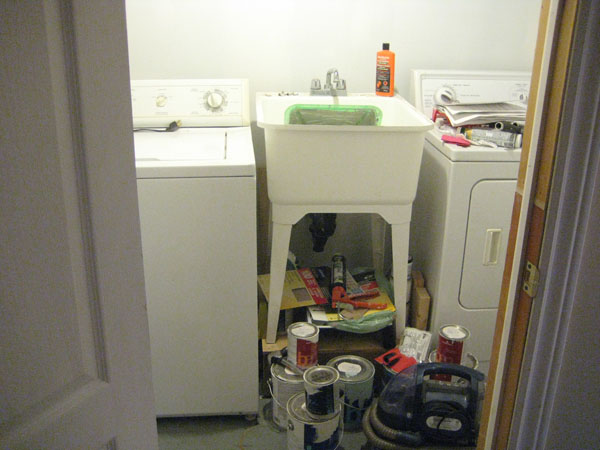 Ack, eh?  Not a pleasant (little) room for doing ANYTHING, let alone something already as arduous as laundry.
A couple coats of Benjamin Moore Gossamer Blue paint (leftover from my dining room painting project – aka free paint), a shelf, and a few other additions later (baskets!  I love baskets!) and it's a far more pleasant place to be…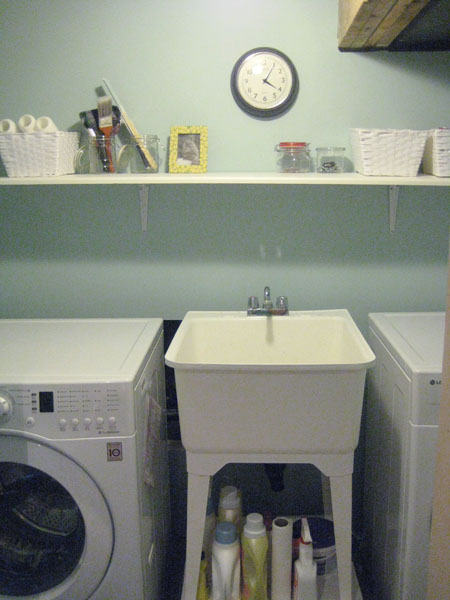 For the record, the room is TINY.  In case you're wondering why all of my laundry room pics only show a few feet of the room at a time.  Without removing walls (which I've considered, but I don't think Sweetie would approve) this is just the way it is!  Here are a few other angles (for the really ambitious, I'm pretty sure if you cut and pasted all of these pics together, you'd get a pretty complete picture of the room!)
I painted the wooden pedestal our laundry tub is perched upon (and bolted to, we found out!)  Just made things look a lot cleaner (Snowfall White paint fixes everything!)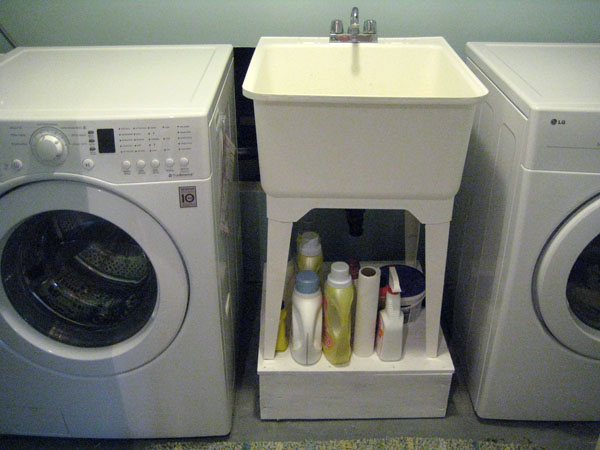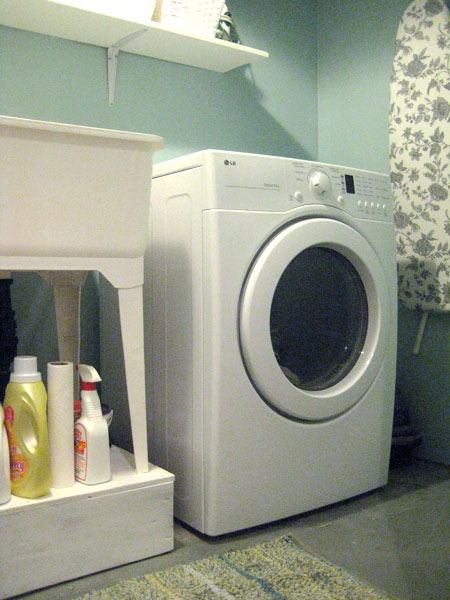 The shelf is just a piece of knotty pine that Sweetie picked up and put a routered edge on for me (that Sweetie is pretty handy, you know!) and then I gave 'er a good painting.  It's amazing how a little organization can make a laundry room a much friendlier place!
I repurposed a couple old jars (leftover from my pre-Slom-ed pantry) to hold paint brushes and that sort of thing.  And the white basket holds extra roller refills quite nicely!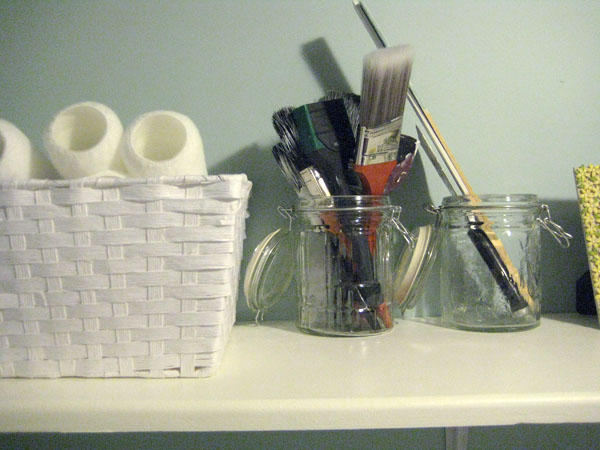 And, of course, no room in our house is complete without a picture of one of the cats.  (We're a little weird like that.)  This picture was taken over 10 years ago (when Jacob was just a young lad!) with our very first ever digital camera.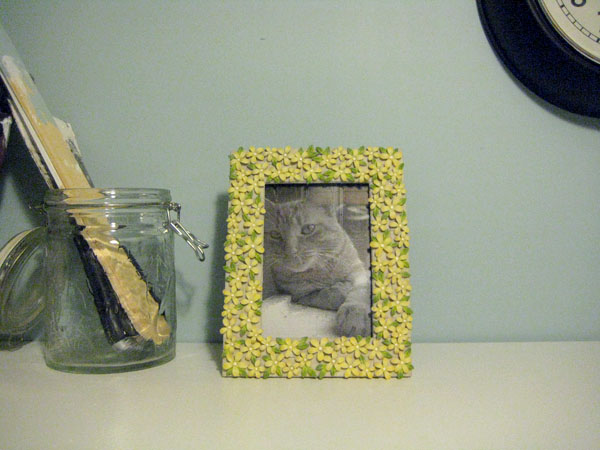 I hate ironing.  A whole lot.  But at least my ironing devices are nicely organized in the newly organized laundry room.  It almost makes me want to iron.  (OK.  I'm totally fibbing.  The room could be clad in marble and platinum and I'd still avoid my iron.  But at least it has its own spot now.  Where it will probably stay, untouched, for a really really long time.)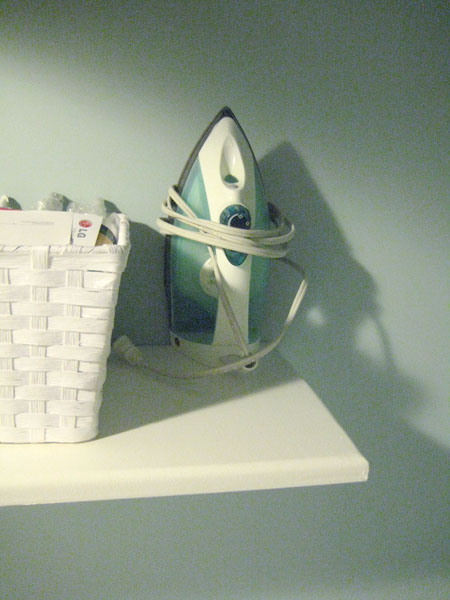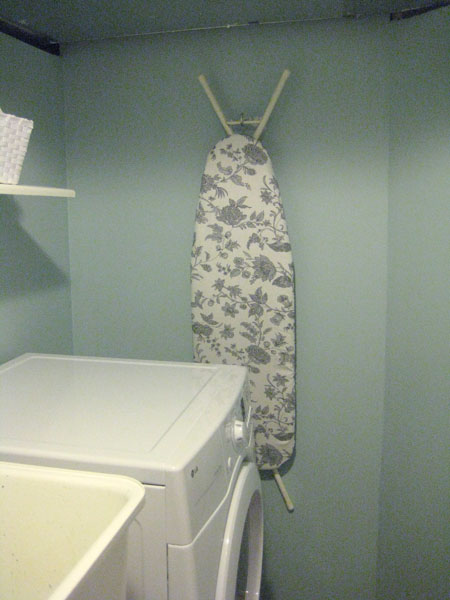 As the wife of an electrician who seems to collect electrical stuff throughout the day, I was constantly making little piles of marrettes and screws and other random electrical things (ie: I have no idea what they are, but I'm pretty sure Sweetie uses them for something) on the washer.  Oh.  And piles of change too.  Because apparently electricians carry a lot of change around in their pockets.  These jars (also leftover from the Slom-ification of our pantry) have meant the end of the random change/doodad piles.  Thus making me a rather happy electrician's wife!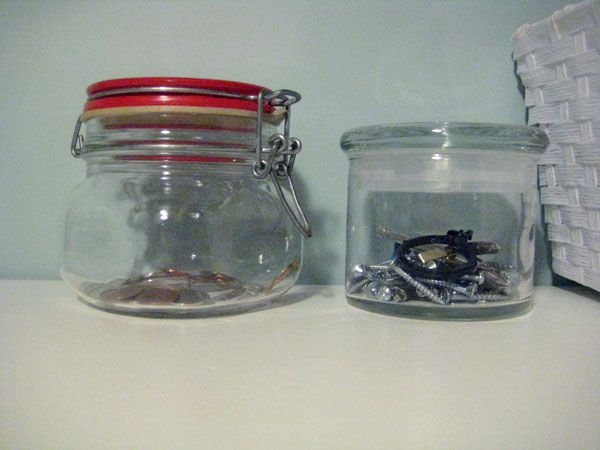 We even replaced the light in the room (er, rather, the naked hanging lightbulb) with a sweet (and inexpensive – I think the globe part was only $5) light fixture.  I don't have any pictures of the light installed in the room itself (since, well, that would involve turning off the light, which would plunge the room into darkness, which would make picture taking a bit of a challenge!) but here she is before Sweetie got all electrician-ish and got her all functioning and stuff…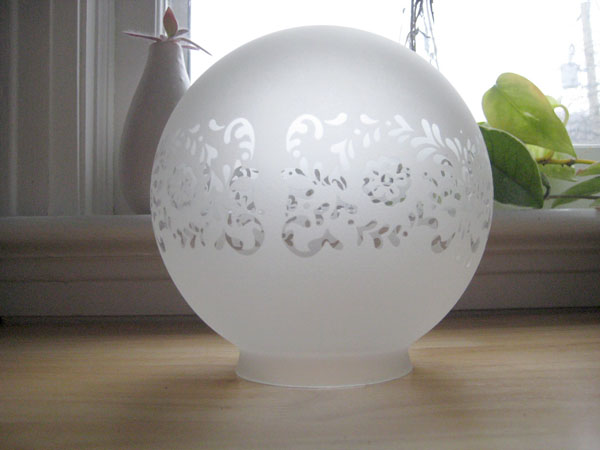 (I think the design kinda looks like lace.  Prettiest $5 light ever!)
And there you have it!  My tiny little laundry room (divided up into many many images.)  I mean, I wouldn't want to hang out in there for HOURS, or anything like that, but it's better at least, and (quite importantly!) neither dark, nor dreary now (such a pretty paint colour could never be dreary!)  The best part (I guess, from a practical position) is that we are pretty sure this washer will operate sans fire.  (Excuse me while I go knock on wood.)  And it gets to do so in a cheery little room (because I'm sure that having pretty teal walls makes my washer happy too.)
Have a great weekend all!
Leave a comment