A couple months ago, my friend Nad and I threw a baby shower for one of our BFFs, the (then) uber pregnant Tiff.  And it was a lot of fun!  We knew that our Tiffer was having a little baby boy, so we pretty quickly settled on a blue and green theme for the shower  (since a colour theme is way easier to follow than, say, trying to work with an armadillo theme, or a backhoe theme, or something rather obscure like that.)  (Blue is easy to find.  Armadillos?  Not so much.)  And, being the Pinterest junkie extraordinare that I am, I volunteered to look after decor.  Of course.  :)
I worked and I toiled for weeks and weeks and I'm happy to say that everything was perfect and I was absolutely ecstatic with the final outcome.  And (also important) Tiff's shower was a success!  Unfortunately, what did I NOT do?  I did not take ANY pictures of the final product.  At all.  Oops.  I know.  Insert a dramatic and sad muted-trombone "wop-wop" here.  Silly blogger.  Nad and I were so busy day-of making sure that everything looked perfect, and ensuring that guests were eating/drinking/mingling/being merry, that it never once dawned on me to take pictures of any of it.  And, sadly, despite all of the ooohs and aaahs that rewarded our decorating efforts, none of our guests took pictures of the decor either.   Not one.  Which, I suppose, I can't really fault anyone for.  The shower was for Tiff, afterall, and not at all about the decorations.  (But I still really wish someone – ANYONE – would have captured just a tiny little bit of our lovingly planned-out and assembled decor.)
Suffice it to say: it was LOVELY.  And I was proud.  And Tiff was happy.  So mission accomplished. :)
But despite that I don't have actual images of the actual decor to show you, I wanted to pass along some of the free baby shower printables that I found while planning.  These were all a huge hit at our baby shower, so I'm hoping that other shower planners might find these handy-dandy as well.  :)
INVITATIONS
We could have purchased those fill-in-the-blank invitations that you can pick up at any party store or Walmart or, well, pretty much anywhere.  That would have been the simple route.  And, well, that would be very unlike me.  I wanted to do a custom baby shower invitation, of course (which also required quite a lot more work, but the end result was very worth it, I think.)  We didn't have a big baby shower budget to purchase custom printed invitations, but, after a bit of an extensive search via my good friends at Google, I found these adorable customizable (including the colours!) umbrella invitations, courtesy of On to Baby…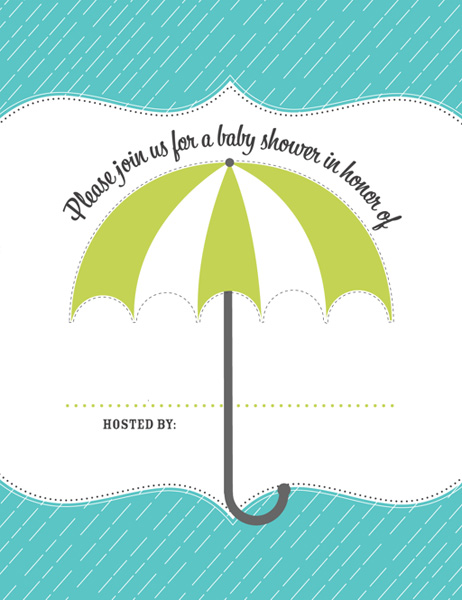 Obviously the actual invitations themselves had a LOT more detail (and included important pieces of information like, um, names and dates and addresses and such.)  But c'est cute, non?  We were thrilled.  And an evening spent with my printer and my beloved paper cutter later and – poof – we had invitations ready to go.  :)
DECOR
I made tissue paper pom poms, of course.  Tissue pom poms are my thing.  You could even, perhaps, call me the Pom Queen.  (Ha.  Get it?  Pom Queen?  Prom Queen?)  (Groan…  I know.  K.)  I made LOTS of them.  In blue, bright green, and white.  They were gorgeous, and a lot of time and love went into making each little fluffy ball of loveliness.  We hung them behind the main table in the room, and so many people commented on how lovely and pretty they were and how they made the room look super cheery.  I don't have any pictures of those.  Of course.  But trust me when I say they were gorgeous.  :)
What I CAN show you, however, is a free BOY subway art printable I used to add a little extra decoration to the main table in the room (printable courtesy of Simple Crafter):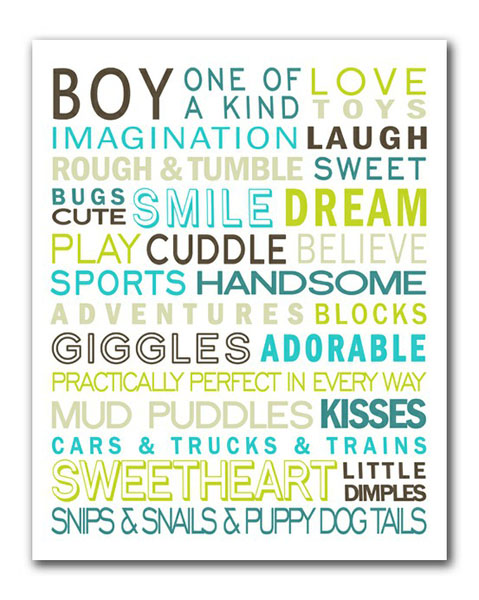 I printed this on card stock and framed it in an expensive HomeSense frame and placed it next to the fun diaper cake we put together (as you may have guessed, I don't have any pictures of our diaper cake either.)  It was just a little something extra and fun, and not at all necessary, but it was cute.  (And it now sits next to the change table in Tiff's little blue nursery.)
FAVOURS
Favours are one of those seemingly unnecessary extras, and Nad and I debated quite a bit over whether to do favours for the shower guests.  I am a big fan of the non-trinket favour, so I was pretty adamant that if we did do shower favours, they needed to be either usable or consumable (and not just some random item that would eventually be thrown away.)  Rachael Ray came to the rescue with a free printable and customizable chocolate bar wrapper…
Coincidentally, Walmart had Cadbury Caramilk bars on sale for $0.60 each around this time, so we were able to do favours for our group of about 20 guests for about twelve bucks (well, plus taxes.)  And (most importantly) people loved them.  :)
So there!  Those are a few of the free printables that made our darling Tiff's shower pretty and special.  If I can't share the photos, I can at least share the printables!
And, well, to put things into perspective: pictures may be worth a thousand words, but a happy friend with a beautiful baby boy (he's now about two months old and he's absolutely gorgeous) is worth way, way more.  :)
Want something equally awesome? Check these out!: