We put our tree up last weekend.  Our house is now officially Christmas-sified.  Yay!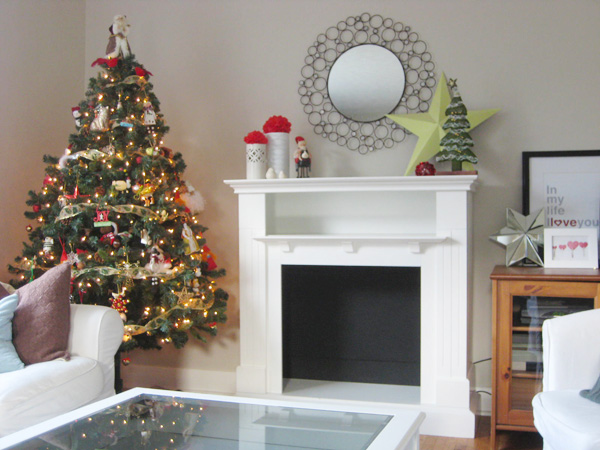 My favourite part of the room?  Our tree.  :)  Most of our Christmas tree ornaments were either gifts or purchased during our travels (favourite tradition: buying a Christmas tree ornament whenever we go somewhere special.)  Our decorations don't match.  They're a hodge podge of colours and sizes and shapes.  But they're meaningful to Sweetie and me, which makes them perfect for our tree.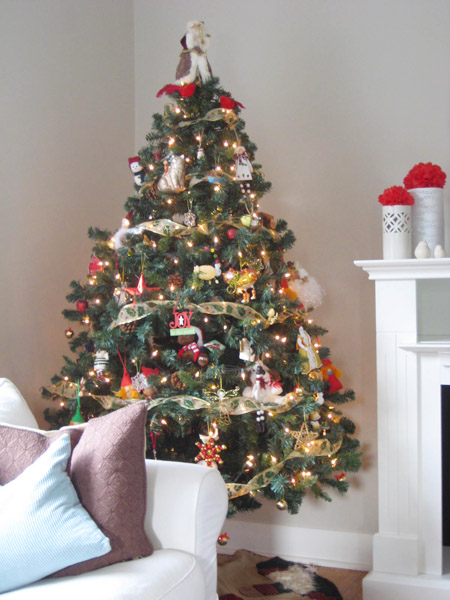 We have our stately (and rather smiley!) Queen, who traveled home with us from London…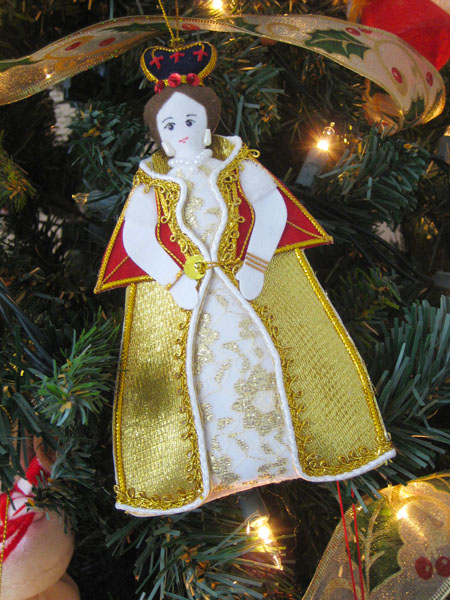 And this festive little moose in his rowboat came from Newfoundland (my absolute favourite place on earth)…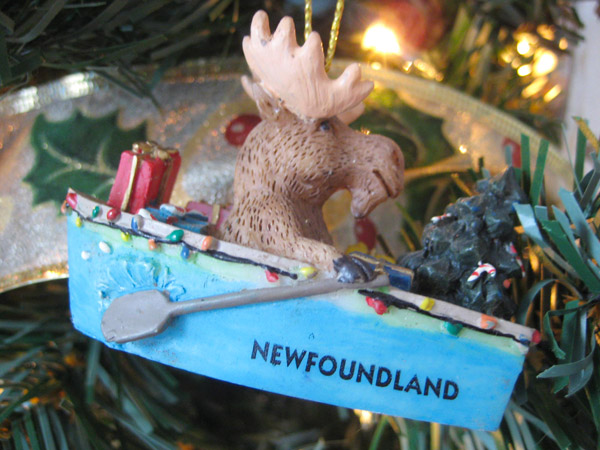 My friend Sandra gives us a cat ornament for our tree every year (so our tree is full of cats… which is rather fantastic, if you ask me.)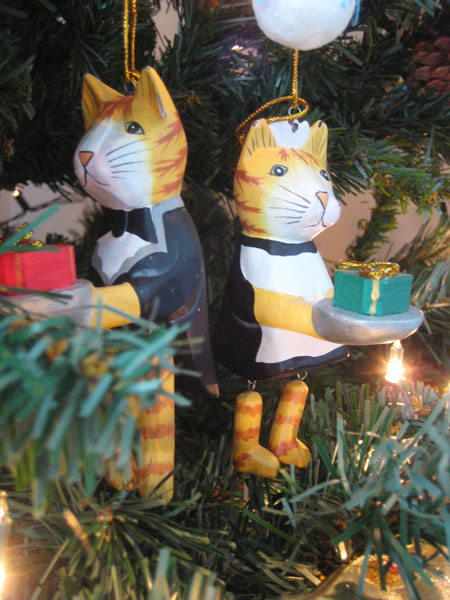 And this pretty glass orb belonged to my grandma Dorothy…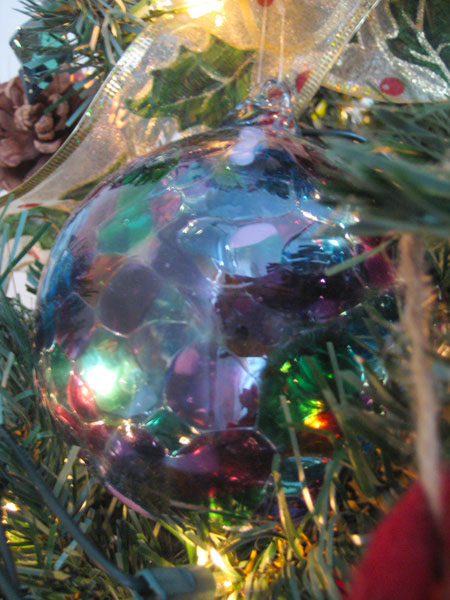 Hanging ornaments that are meaningful just makes our tree feel that much more special.  Yep, even if our tree isn't carefully coordinated or flawlessly decorated, it's perfectly us.  :)
There is, however, one Christmas item I DID purchase for myself, willy nilly.  And it may very well be my most favourite Christmas decoration of all time.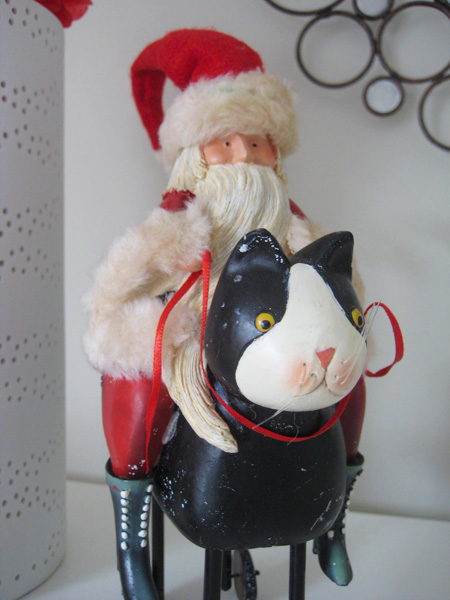 Yep.  That's right: Santa riding a cat on wheels.  It's completely ridiculous and I love it.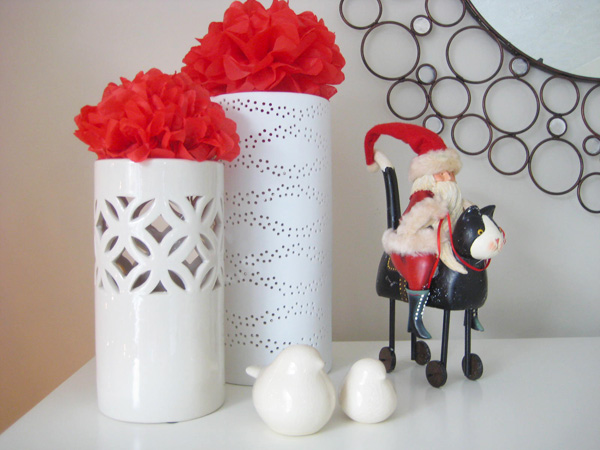 And that displaced green star (poor thing keeps getting moved from room to room) has finally found it's Christmas fireplace mantel calling…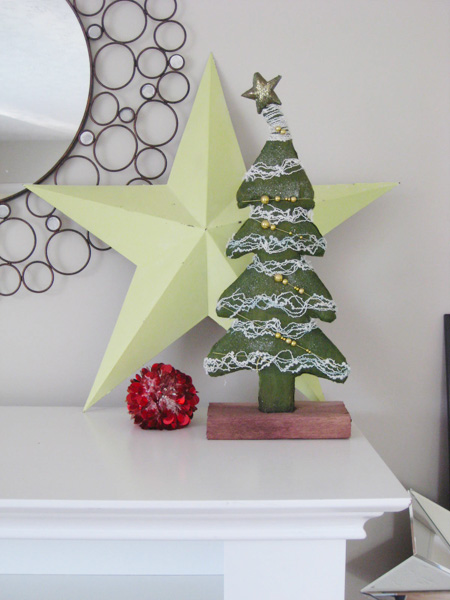 Speaking of which, my fireplace mantel makes me happy.  It still needs stockings (hung by the chimney with care) – I'm currently on the prowl for new, pretty, grown-up (ie: non-Dollarstore) stockings.  And it still needs some pretty new garland (I'm working on that – stay tuned for a garland update shortly!)  And I have a few other mantel-adornment plans up my sleeve.  But it's a start.  And I'm so happy to have a fireplace to decorate this year (albeit, a fake one.)  And, well, everyone needs a portal (of some sort) for Santa.  :)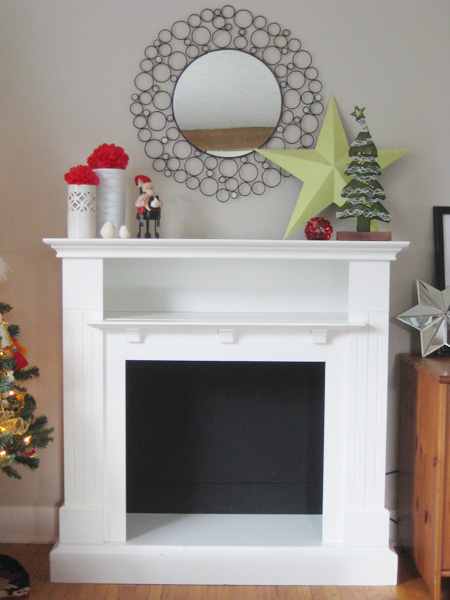 And, of course, kind-faced old Father Christmas keeps watch over the entire room from his place of honour at the top of the tree.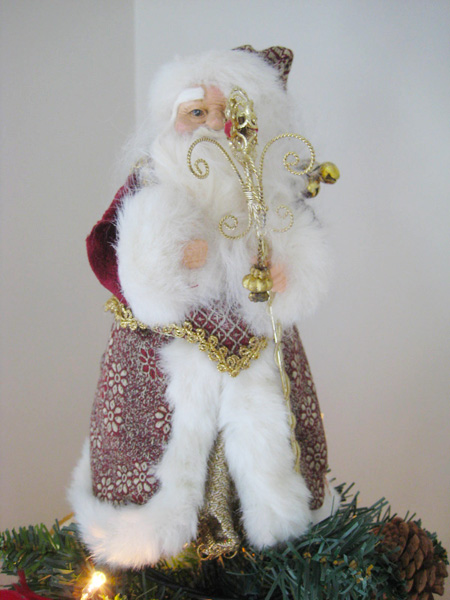 So there.  Those are our halls that have been decked with boughs of holly.  Or cat-riding Santas, if you prefer.  Yep, I am most definitely in the holiday spirit now!  Afterall, 'tis the season to be jolly!  And to roast chestnuts by an open fire.  And to build strange talking (and rather presumptuous) snowmen in the meadow.
Fa la la la la, la la, la, la!  :)
Leave a comment