When we first came to look at this old mauve-coloured house nearly two years ago, I walked away thinking that the master bedroom was painted black.  In fact, it's not black.  It's brown.  But it's a dark-ish brown and the blinds were continually drawn in this room during showings (theory: the home owners were really vampires), and the colour appeared even darker and more awful than it actually is (although it is, indeed, pretty awful.)
For your viewing pleasure (or, perhaps, disbelief), here's what our master bedroom looked like the first time we saw it…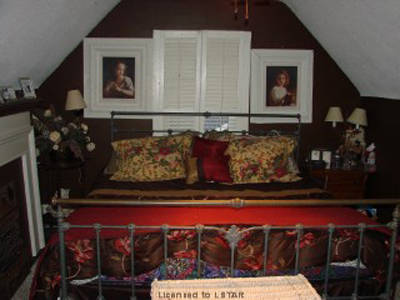 Ack, eh?  Yes.  Ack indeed.  Flowers and nic-nacs and tiny lamps with tiny lampshades and stuff everywhere.  Ev-ver-ry-where.  Once again, I think it's worth noting that we bought a house with rooms that looked like that.  We're very very very brave, my Sweetie and me.
(And yes, the two pictures hanging above the bed are indeed hung at different heights.  Because lazer level be damned, willy-nilly picture hanging is how the previous house owners rolled.  Those crazy loveable crooked-picture-hanging vampire-esque rebels.)
Of course, when Sweetie and I moved in, all that stuff (thankfully!) went away (and, miraculously, the room suddenly looked a gazillion times larger.)  But that didn't change the fact that the room is brown.
Icky brown, to be exact.
Here's another look at that wall colour, minus all the clutter and with a wee bit of natural light…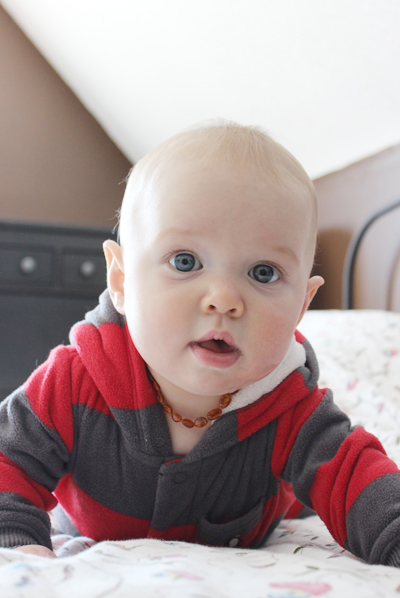 Well hello there, ridiculously cute little man!  :)  Behind all that squishy adorableness are my ugly brown walls.  A (temporarily) comfy black cat is also lounging somewhere back there.  In fact, this picture was taken mere moments before I had to intervene in feline/infant interactions and declare "No, we don't chew on the cat."  (A statement I never ever thought I'd have to make prior to having a baby.)
So what colour am I going with?  Alas, I'm not being particularly original or daring with this project.  Instead I'm falling back on the reliable, always lovely, Revere Pewter.  I painted our bedroom at our beloved little 1940′s house this colour and I loved it.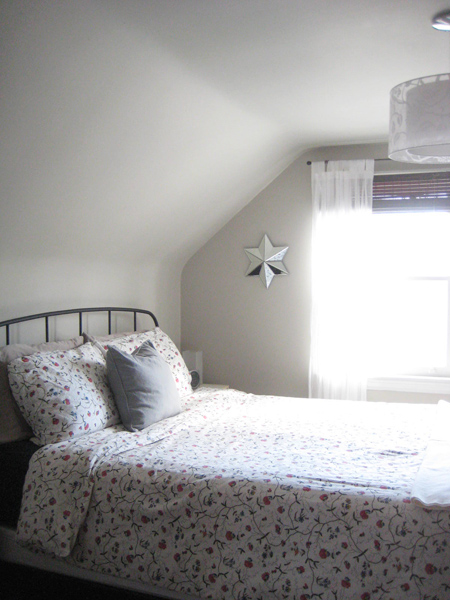 It's peaceful.  It's serene.  It's an actual colour and dark enough to be impactful, but not so much so that it's overwhelming.  Some have called Revere Pewter the perfect paint colour.  I call it lovely and soft and well-suited for a bedroom.  (And, particularly, for my bedroom.)
Now all I have to do is find the time to paint this aforementioned bedroom.  With a small boy who doesn't nap predictably (or, oftentimes, for very long), this might be a project best suited for the evening hours (once that same small sweet little man is fast asleep for the night.)  Assuming, of course, that I can stay awake long enough to attack those ugly brown walls with my trusted paintbrush.
But, ahhhhh…  Yup.  It feels good to return to home renos, even if I now move a whole lot more slowly than before.  Slow progress of any sort is still progress nonetheless.  :)
Want something equally awesome? Check these out!: