Call me crazy, but I sorta want a pretty floral sofa.  I'm blaming it on spring.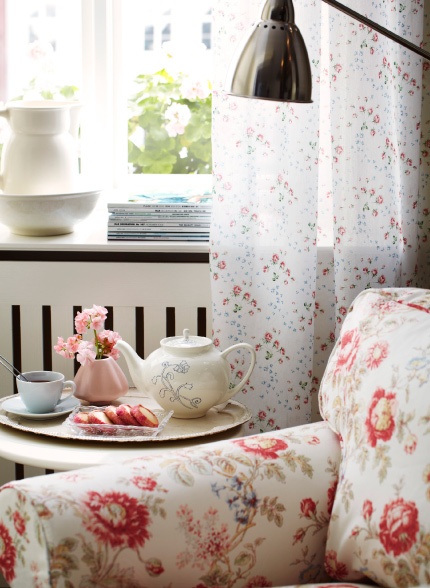 More precisely, I'd like a shiny new cover for our (currently white) Ikea Ektorp sofa.  The Byvik Multicolour cover would be lovely please.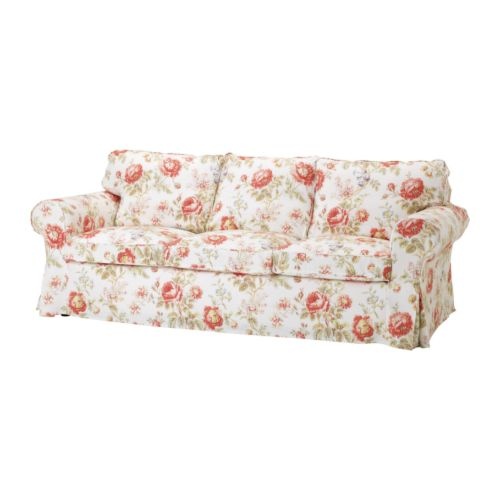 The same Byvik Multicolour cover that Ikea no longer offers.  Of course.  At least here in Canada, and maybe in the U.S. too.  Although (after a quick consultation with my friends over at Google) it appears that they might still sell it overseas.  Am I the only person in North America who craves a little pink patterned prettiness?  It's possible.
That said, Sweetie would likely disapprove of all this.  He has patiently accepted all of the pretty things I've brought (subtly) into our house to date.  A feminine print here.  An embroidered throw cushion there.  My tactic is to slowly introduce items – blend them in with the existing pieces, if you will – until they look natural and he slowly adapts and begins to believe that they've always been part of our decor.
It's the interior design equivalent of the frog-in-the-hot-water-versus-the-frog-in-the-slowly-heated-water experiment, really.  Too much all at once and Sweetie would likely flee and run away to live in our garage.  But discreetly introduce all the prettiness over time and he'll settle right in like a happy little floral-loving amphibian.
Sneaky, eh?
But a big pink flowery couch might be tricky to discreetly introduce.  Sweetie isn't always particularly observant, but a brightly patterned sofa is kind of hard to ignore.
Then again, there's always the "but patterns stay clean looking longer" justification, and he can't deny me that.  Sweetie is a construction electrician, which means he comes home from work exceedingly dirty almost every night.  A patterned sofa cover would make any dirt far less noticeable.  And dirt is a topic that Sweetie can appreciate and understand (and it's far more convincing than the "but it's pretty and I like it" argument.)
Yeah.  Maybe I'll lead with that.  :)
Leave a comment