I should really be far craftier than I am.
It's true.  I love yarn.  I love painting stuff.  I love making things pretty (oh how I love making things pretty!)  And, most of all, I love (love!) scrapbook paper.
You know that aisle in Michaels with all the pretty, perfectly stacked piles of colourful papers?  I get lost in that aisle for hours and hours.  HOURS.  Combining different patterns.  Swooning over prints.  Marvelling over all of the potential for serious prettiness.  Yep.  It's really rather silly considering I'm in no way a scrapbooker (since, honestly, I'm far too lazy for what appears to be a very finicky and fussy – albeit lovely! – hobby) and since (as previously noted) I'm not particularly crafty.
During my most recent trip to Michaels I picked up no fewer than fourteen (yup – fourteen) (see?  I'm obsessed…) sheets of gorgeous paper.  Did I have any particular plan for all these beautiful papers?  Nope.  I just really liked them.  I also bought a few super inexpensive (they were three whole bucks each, I think) ready-to-paint (or ready-to-leave-in-their-lovely-unpainted-state, in my case) picture frames.  And then I came home and started looking at the fireplace mantel in my dining room.
(Aside: I find it important to clarify that this particular faux fireplace mantel is located in my dining room, since we have no fewer than three faux fireplaces in this house.  The previous home owners were indeed faux fireplace fanatics.)
And then the wheels started turning.  And then I realized that the sheets of lovely coordinating scrapbook paper, and those unpainted frames might look sorta rustic-ish-ly cute on my dining room fireplace mantel.
And so began the rearranging.  (Does anyone else get a little OCD when it comes to fireplace mantel decorating?)  And the fussing.  And the tweaking.
And here is what I finally came up with…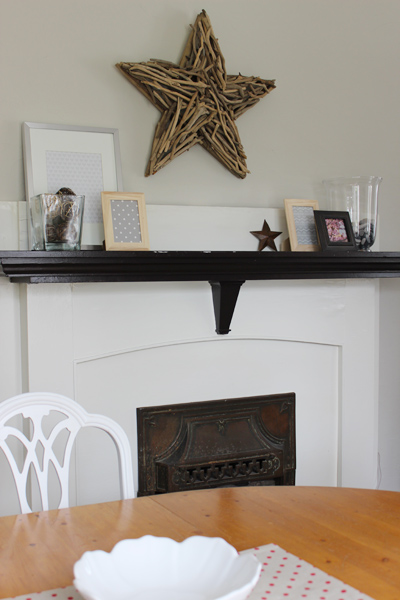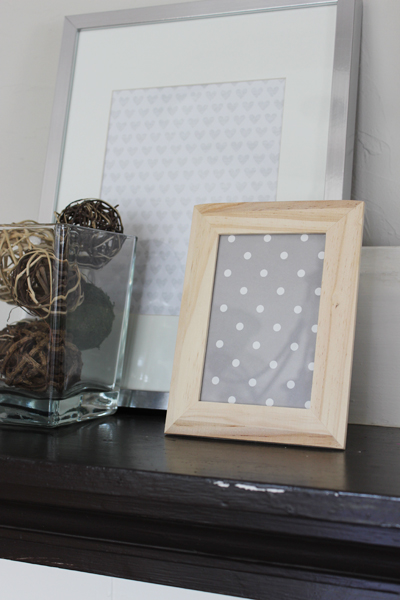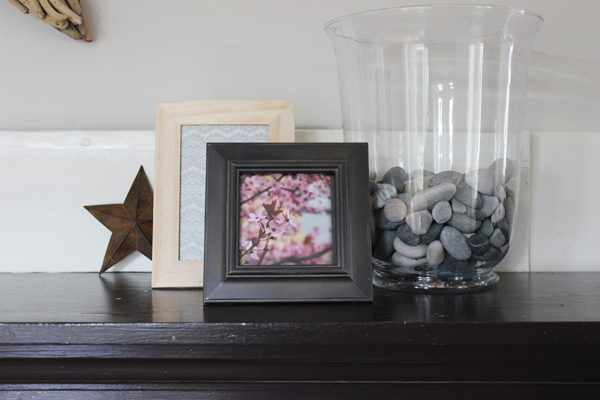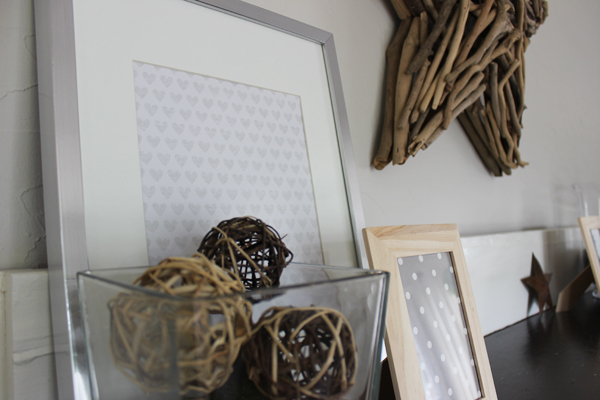 It's not done yet.  It needs something… more.  Perhaps a few miniature pumpkins in honour of fall.  Or some Christmassy bobbles and doodads (but not for a few weeks – I adore Christmas, but it's a little too early for that at the moment, even for me!)  For now, and until I get around to adding additional adornments to the mantel, those lovely papers are making me happy.
That all said, there will be more faux fireplace fussing to follow, I'm sure.  And definitely more frivolous scrapbook paper purchases made in the not-at-all distant future.  (I just can't get enough!)  (It's weird, I know.)
Want something equally awesome? Check these out!: