When we bought this house, the previous homeowners had just finished redoing the bathroom.  I think.  At least it looked like they had tried.  Somewhat.  There were sad-looking unfinished drywall patches.  There was a whole lot of glossy white caulking (apparently their solution to hiding the seam between the tile and the wall.)  And there was beigeness. Drab and dreary and muddy beigeness.  It was fine for a little while, but as time wore on I grew grumpy with my little unfinished overcaulked beige loo.
And then (as always happens) I just couldn't take it anymore.  So I grabbed my trusty paintbrush.  And a quart of BM Woodlawn Blue.  And a bit (A LOT) of caulking remover.  And a new mirror and a few little accessories.  And poof! My dreary drab little loo became a much cheerier loo.
And, because it's so much prettier now, I kinda want to show it off to you.  :)
(That was me trying to be all poetic.  Fail, eh?)  (Yep.  That's what I thought.)
Firstly…  a before.  See the beige?  It's very beige.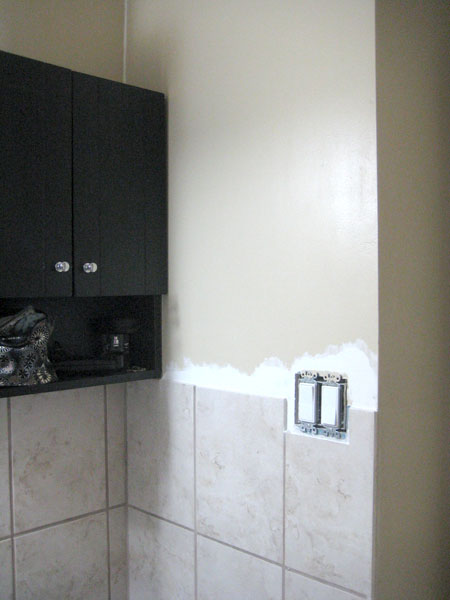 And when I pulled off the big globs of glossy white caulking, half the drywall came off too.  Of course.  (Hence all the patching above.)
After.  Painted lovely and cheery Woodlawn Blue.  :)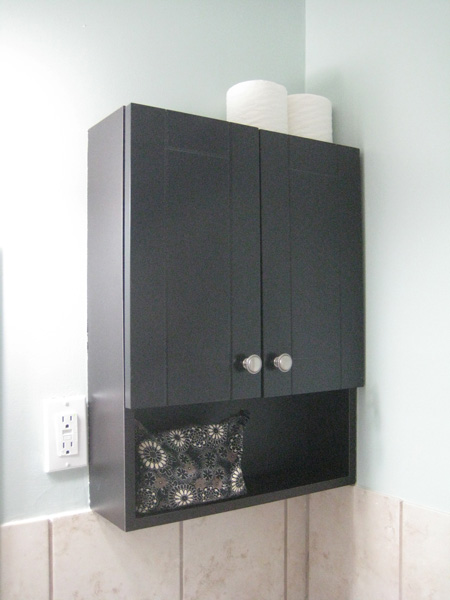 I also swapped out the standard (ie: cheap) door pulls for heavier, fancier pulls.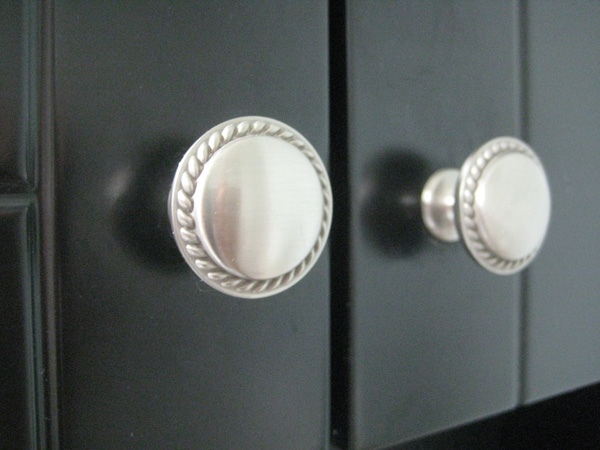 The new pulls make the cabinet look a little less like a Home Depot weekly special, no?  Plus, I just think they're pretty.  :)
Before…  The "nook" (not sure what else to call it…  calling it the "hole in the wall left by the old window that was no longer required because an addition was added to the back of the house making the window a rather silly and useless feature" just seems a little long-winded.  So let's just call it the "nook", k?)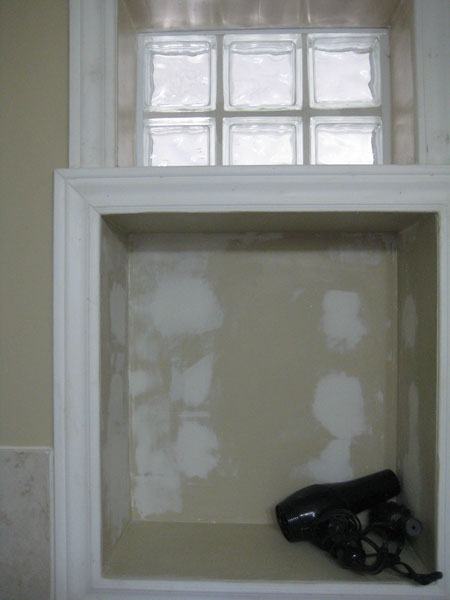 (See the drywall patches?  I believe that THIS would be the exact point where the old owners lost momentum.  Just a hunch.)
After, all prettied up!  (Ie: painted.)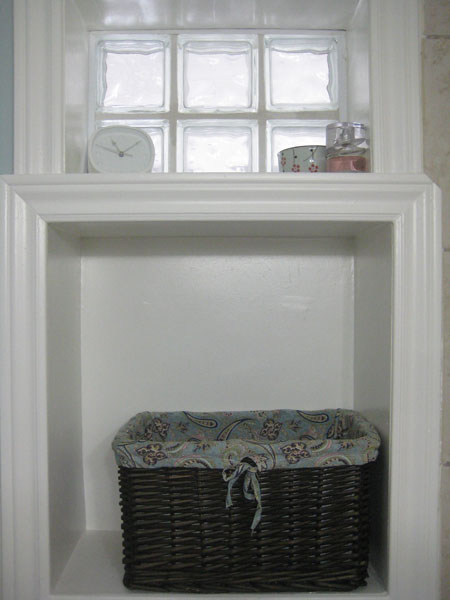 (The basket is where my blowdryer hides.  Shhh.  Don't tell.)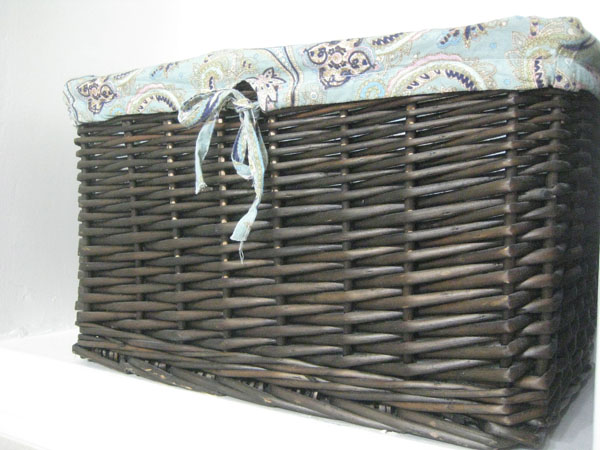 The ceiling before.  Yep, it was beige too.   In the early morning, it was a bit like showering in a tiny, lightless, cardboard box.  Fun.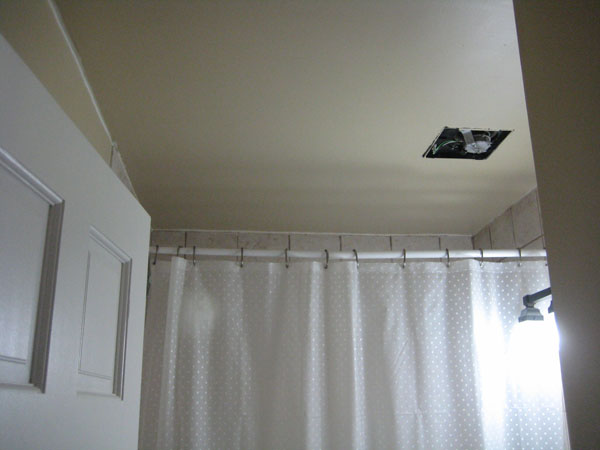 After (with a light, bright, white ceiling) (yup – more poetry for you!) (but a rather crumpled shower curtain…  just ignore that k?)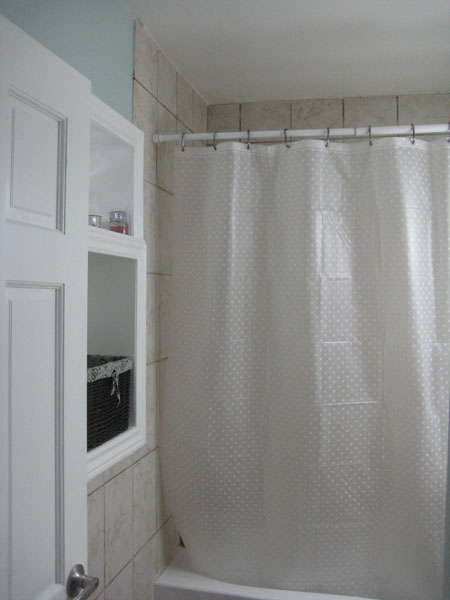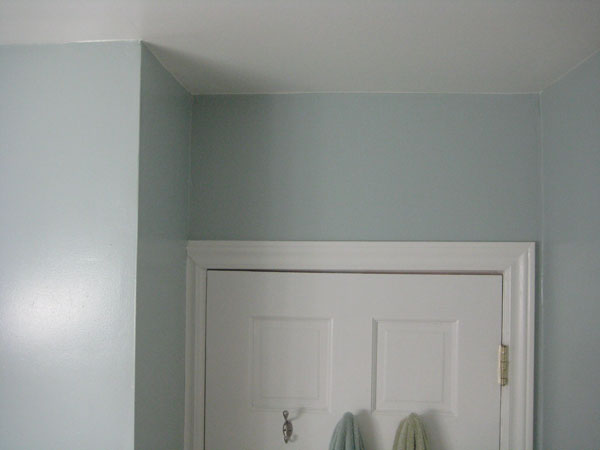 Much better eh?  I like to think so!  And because I DO think so, here are just a few more pics…
My old fashioney mirror (I love vintage-ish etched mirrors – they remind me of my grandmother.)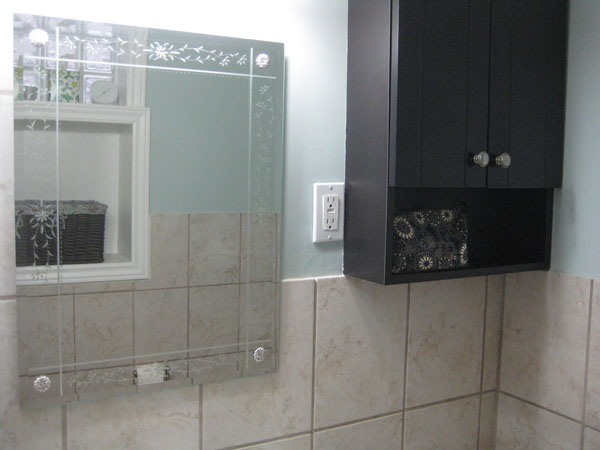 My pretty little soap dispenser (it's hard to make out in the picture, but the front says "pure soap."  I'm not sure why I like it so much – I just do :)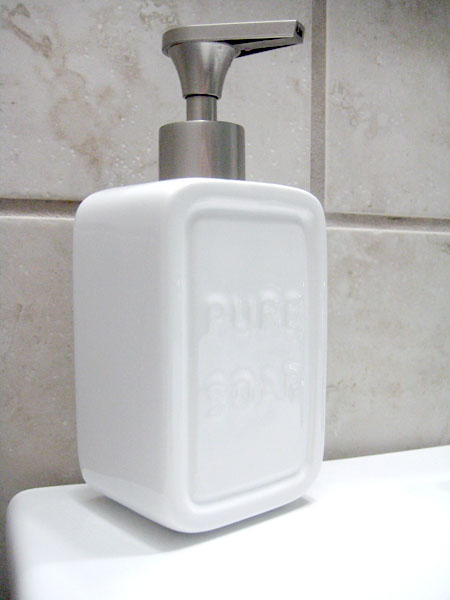 Peeking out toward the door through polka-dotty Joy, my beloved PVC shower curtain.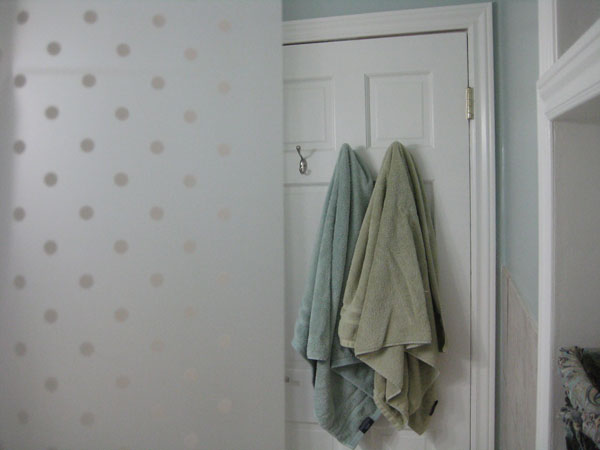 And here is everything in one pic (at least as much as I could cram in while standing in the farthest corner of the tub – it's rather hard to take pictures of a tiny little 5×6 foot loo while in a tiny little 5×6 foot loo!)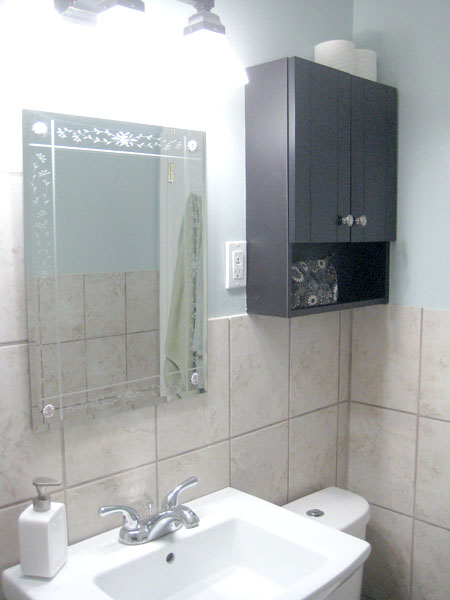 And there you have it.  :)  If a 5×6 foot, near-windowless washroom could be cheery, I think mine would be pretty darn smiley.  Or at least rather relieved to no longer be beige.  And heavily caulked.  And unfinished.  (Although I do still want to swap out the super-shiny, seagull-like faucet, but that's another story.)
Leave a comment