So, it's winter.  And it's really winter.  It's let's-hibernate-under-the-blankets-and-pray-for-beloved-spring-or-even-an-unseasonably-warm-weekend-might-suffice-for-now winter.  And, honestly, it's getting to be a bit much.
So I'm looking ahead!  I'm preparing for outdoor projects.  Because I need something to look forward to right now.  Something more beyond carbs and sleep and snuggling in under the blankets.
Sweetie and I already know that we have several projects looming once spring hits.  We need to critter-proof the house (since we've discovered that small four-legged furry creatures – the kind that squeak, btw, not the ones who meow – seem to find our house rather, unfortunately, hospitable.)  We need to re-insulate our laundryroom (since our laundryroom water pipes froze last week, but – luckily! – didn't burst.)  And we have tonnes (tonnes!) of yardwork currently pending (trees that need to be trimmed, gardens that need to be moved, wild flowerbeds that need to be tamed and made far less wild, bushes that need to be relocated…)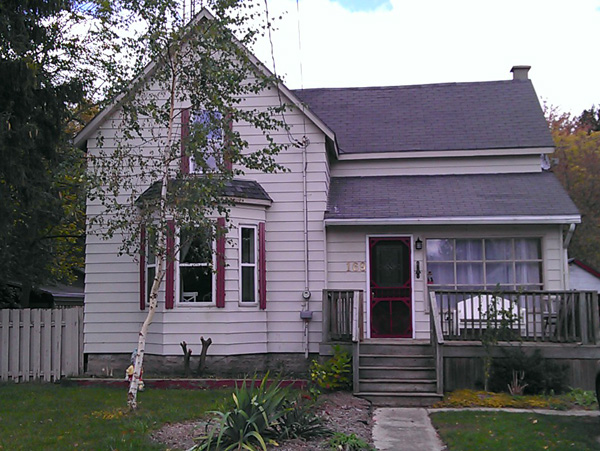 But most important to me?  Curb appeal.  Yep.  The old mauve house desperately needs a facelift.  The burgundy shutters make me cringe.  The weather-worn front deck looks neglected.  The big front window is far too dusty rose-coloured.  And the house just looks… tired.
Which is sort of how I feel in the dead of winter, I suppose.
I did a little Pinterest searching and found a bit of spring-project inspiration.  Because we don't have a lovely grandiose covered front porch (although I'd really like one!), I looked for similar "front deck"-style front porches as I searched through everything.  Unfortunately, most porches (or at least the Pin-worthy ones) appear to be of the covered kind (and, honestly, with good reason!  Who really wants to fumble with the front door locks in the midst of a rainstorm on a non-covered porch?)  But I did find this house, which, despite also sporting a covered front porch, is now my inspiration for this spring's big "make the house look pretty" project…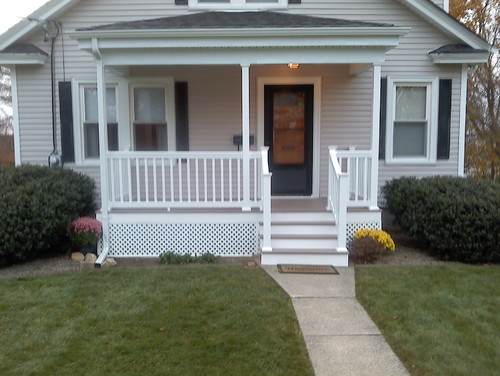 Pretty eh?  I sure think so.  The white trim, the dark gray shutters, the white-painted porch rails with the stained (or maybe painted?  I can't tell) porch floor…  It all looks so lovely.
And if I squint just a little, and look at the house out of the corner of my eye while chewing gum and folding laundry, I might even swear that there's a touch of mauve in that siding.
Or I may just be getting my hopes up.
Regardless, I'm now feeling super inspired, and I'm rather anxiously looking forward to outdoor painting weather.  Afterall, there are only a measly 41 more days till the first day of spring.
But who's counting…  :)
Want something equally awesome? Check these out!: