I seem to be alllll over the place with projects lately.  I may, in fact, have decorating-ADD.  There's my very unfinished (due to newly adopted cat occupation) sunroom project.  And my bedroom?  It still needs paint (although the walls are all patched now, so she's all ready to go!)  (once I, um, decide on a colour…)  So, while we're in project-limbo for the moment with those two tasks, let's just move right along to the next item on my list, shall we?  :)
And what would that be?  I think I need a gallery wall.  Actually, I know I need a gallery wall.  You see, there's a big empty wall (temporarily being quasi-under-filled by a rather random green star) that's begging me for frames.  Just look…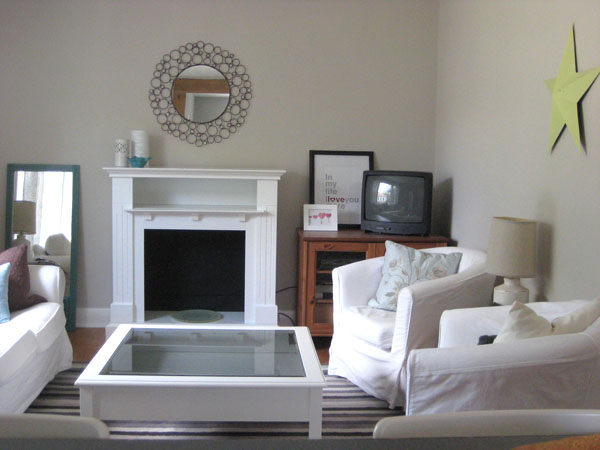 Or, more precisely…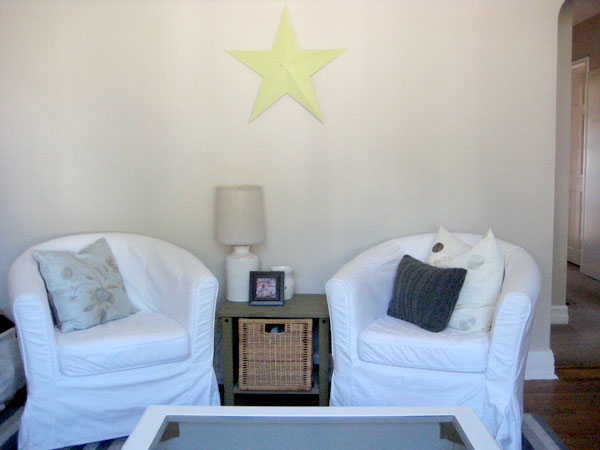 (For the record, I'm not sure why the walls look positively peachy in that second picture.  That's a little odd…  I promise – they're most definitely a lovely shade of Edgecomb Gray griege.)
I didn't notice the abysmal blankness so much when the living room was in its previous configuration.  But now that it's all (awesomely!) rearranged, you see that wall from the couch (where we most often sit in the living room) and the walls are seriously starting to plead with me for substance.  And, never one to say no to a wall, I'll obviously oblige.
Sadly, I'm not one of those people who can ingeniously lay out frames of several sizes/shapes and – poof! – have the whole shebang look brilliant once up on the wall.  Truth be told, this sort of approach kinda stresses me out (although it looks lovely when other people do it!)  (Yet another example of things I love in other people's homes!  LOL.)  Nope.  I crave simplicity, a) because I'm too lazy to be bothered with anything more complex than straight lines and identical sizes and b) I have a plan in my head, and it looks just like this (via the good chaps at decorpad)…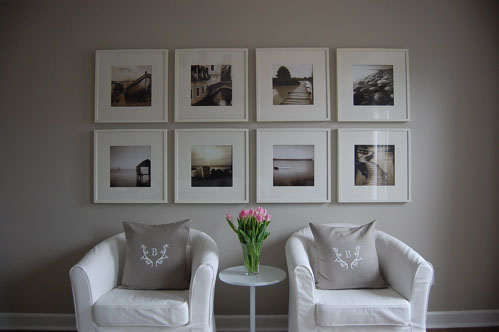 Please note the chairs (oh!  Look.  I have the same Ikea Ektorp Tullsta white slipcovered chairs.)  Please notice the configuration (side table between the two chairs?  Why, yes.  I have that too!)  And do you see that wall colour? (Benjamin Moore Revere Pewter, you say?  Golly, my walls are the next shade lighter on that same paint card.  What a coincidence!)  Yep.  This may as well be in my living room.  (Minus the pink tulips.  I'd actually really love some pink tulips please.)  Yes, if there was ever a sign that a gallery wall was meant to be in my little living room, I think this would be a big neon flashing florescent yellow one.  (This also might be a sign that I should paint my little green side table too.)  (I'll add that to the list.)
For this project, I'll obviously need a trip to Ikea (yay!)  From what I've read so far (and, yes, gallery-wall research is super important) the Ribba frames work particularly well for gallery walls.
And then, the big question?  What to include in those frames.  The obvious answer would be pictures of the cats.  Of course.  :)  And cats may indeed end up in a few of the frames.  Cats, and perhaps a few pictures from our wedding – it makes me a wee bit sad that we haven't put up any pictures from our wedding yet.  (Um, almost four years later…)
So yep!  That's the next project in queue.  To officially begin whenever we make it to Ikea next.  Which could be a ways off still (although I'm always looking for an Ikea-excuse!)  Regardless, it's good to plan ahead, no?  "Glorious gallery wall", you are officially on my to do list. :)
(And little green sidetable?  Consider yourself due for a paint job shortly too.  Blame decorpad for that one.  :)
Want something equally awesome? Check these out!: